Franco Nevada Corporation (NYSE:FNV) and Silver Wheaton Corp. (NYSE:SLW) are both large cap precious metals royalty and streaming companies with good market liquidity and a good history of performance for shareholders. According to their recent quarterly reports, Franco Nevada's production is about 83% gold with the remainder made up of silver and oil and gas royalties. Silver Wheaton's production is 63% silver and 37% gold. Both companies have great management teams and pay dividends. While each company has pros and cons and different levels of debt, on the whole, they both offer investors good upside if gold and silver prices start climbing again as they did for almost a decade leading up to their recent peaks in 2011.
However, in the next run up in the price of gold, Silver Wheaton 's stock (despite its silver concentration) would be a better choice for two main reasons: (1) silver has outperformed gold in previous up cycles in precious metals and that is likely to repeat in the next run higher; and (2) the large valuation discount on Silver Wheaton can be expected to narrow as its Canadian tax uncertainty is cleared up and, as analysts predict, it shows faster growth in 2016.
The chart below, capturing the period from 2009 to the present, shows that Silver Wheaton's stock price outperformed Franco Nevada's by a large margin - gaining about twice as much - while gold and silver prices escalated into 2011. The lower part of the chart shows how the silver price outperformed gold in the same time frame by a similar margin. Silver's outperformance during an upswing is not new; it also happened in previous gold bull markets going back to the 1970s.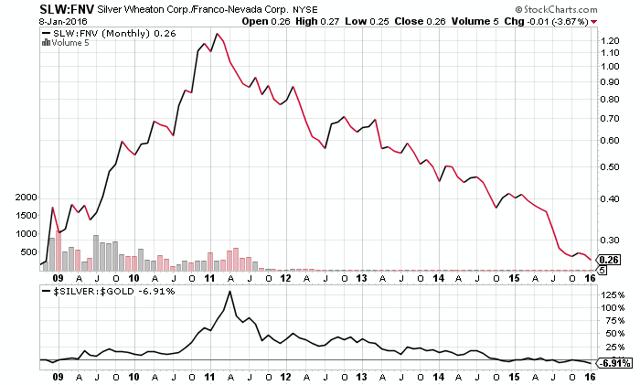 Click to enlarge
Silver Wheaton is deeply discounted
As for valuation, using typical measures such as price/cash flow (P/CF) and price/net asset value (P/NAV), the two companies used to be much closer than they are now. Silver Wheaton has been deeply discounted by the market since it reported that the Canada Revenue Agency intends to reassess its past income tax payments. According to its November 2015 investor presentation, the company says this could mean it owes an extra $265 million in income taxes.
Silver Wheaton is currently trading at about 14 times P/CF while Franco Nevada is at 24 times (using analyst estimates for 2015 cash flow of about $1 per share for SLW and about $2 per share for FNV and January 8, 2016 closing prices of $12.77 for SLW and $48.83 for FNV). Other measures like P/NAV, price/book and return on equity show a similar large discount for Silver Wheaton.
Once the tax matter is settled, this rather large discount of about 40% should narrow considerably. The stock could also get a boost if, as analysts predict, Silver Wheaton shows faster growth in 2016.
Looking into 2016, while analyst estimates depend heavily on assumptions for the commodity price and future production levels (and every analyst uses different assumptions), the average analyst estimate shown by Yahoo Finance suggests Silver Wheaton will do a lot better than Franco Nevada. Silver Wheaton is expected to show a 30% gain in revenues and 24% increase in earnings in 2016, versus increases of 7% in revenues and 4% in earnings for Franco Nevada (although things could change quite a bit if either or both make additional major acquisitions of royalty streams).
Summary
While in the short-term, if gold and silver prices fall further, Franco Nevada may perform better as it has since the bear market began. But for long-term gold bulls, Silver Wheaton is the better choice despite Franco Nevada being more heavily into gold production .
Gold and silver prices move predictably over longer time periods, with the silver price rising faster during major upturns in precious metals cycles. With Silver Wheaton's production being mainly silver, its stock can be expected to do better once gold and silver start a major upturn.
Silver Wheaton's large valuation discount is also likely to narrow dramatically as the tax uncertainty is resolved, especially since it appears at this time to have better growth prospects in 2016.
Disclosure: I/we have no positions in any stocks mentioned, but may initiate a long position in SLW over the next 72 hours.
I wrote this article myself, and it expresses my own opinions. I am not receiving compensation for it (other than from Seeking Alpha). I have no business relationship with any company whose stock is mentioned in this article.