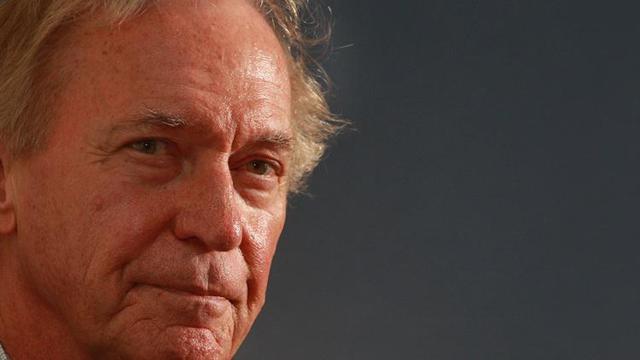 Click to enlarge
Greenbrier CEO Bill Furman. Source: Biz Journal
Greenbrier (NYSE:GBX) is considered the gold standard among railcar manufacturers. In FQ1 the company reported revenue of $802 million and eps of $2.15 on record earnings of $69 million; revenue handily beat analysts' expectations of $769 million. The stock was up in early morning trading on Thursday. Inexplicably, GBX did a sudden reversal mid-day and closed down over 10%. Something must have been said on the earnings call that upset the market. Here's my interpretation:
Greenbrier Management On Greenbrier's Diversification:
We expect to be able to continue our momentum even though circumstances in the industry are a little more cloudy as far as visibility is - in terms of orders and outlook. Record revenue and adjusted EBITDA in the first fiscal quarter, and this is possible only because we've had a strategically transformed Greenbrier with an integrated business model, diversified product offerings, operating across multiple geographies. The latter part is very important.
Shock Exchange Interpretation
Greenbrier is considered the gold standard because of its market share (about 30%), diversified product line and backlog. In the past the company has been criticized for being overexposed to energy. In constantly reminding investors of how diversified Greenbrier's product offering are, management is "protesting too loudly." During the FQ4 earnings call management also talked up how diversified its backlog was. The more management refers to it, the less I believe it. I now believe the company's energy exposure will weigh on revenue and earnings going forward.
Greenbrier On "Mild Hysteria"
The industry is going through a period of adjustment and industry forecasts have been revised reflecting the rail car market is expected to approach more normalized levels. I think it's very important in historic terms to look at the drivers of this, and it's also important not to overreact to it. We do not intend to overreact to what I personally see as a form of mild hysteria.
Shock Exchange Interpretation
Q3 industry railcar orders plunged 83% to 7,374 -- much lower than the 40,000 - 60,000 annual orders considered healthy. After the dismal orders data, Wells Fargo (NYSE:WFC) was bearish on the industry:
A moderating U.S. industrial environment that could restrain freight traffic and new car demand, ongoing tank-car regulation issues, and potential pressure on lease rates and subsequent new railcar prices could temper upside potential to earnings and share price for Greenbrier and Trinity Industries (NYSE:TRN) ... in our view.
I too have been bearish on GBX, having predicted that railcar orders have peaked. Predicting railcar orders have peaked and noting FQ1 orders were off 80% do not equate to "mild hysteria," in my opinion. The company expects to deliver 20,000 - 22,500 railcars this year. Given Greenbrier's 30% market share, this could equate to about 60,000 to 70,000 delivers for the industry. From 2008 - 2010 deliveries for the industry were in the 20,000 range -- about 70% below the current rate. For me not to point this out would be a disservice to my readers.
Greenbrier On 27% Energy Exposure
Fracking activity has slowed, and as a result demand for tank cars, carrying crude, and small covered hoppers has also slowed. We've spent the last nine months to a year balancing our production negotiating with customers reaching win-win solutions ... We don't see, as a matter of fact, the softness in order intake, as a cliff event in anyway, but rather a step down to a more normalized environment.

Tank cars for crude and sand cars, hydraulic fracking, our overall energy exposure represent approximately 27% of our backlog. Specifically, tank cars for crude transportation make up less than a 11% of our current backlog, and yet people seem to connect our company with the energy phenomenon.
Shock Exchange Interpretation
In October I said Greenbrier's best days were long gone; as fracking activity fell off, railcars needed to ship or store frac sand would also decline. I was excoriated by longs for my "doom and gloom." However, when management also confirms that fracking activity is down, longs put a positive spin on it. My impression is that the "win-win" solutions with customers refers to potential deferrals of railcar orders instead of outright cancellations.
In my opinion, the company's 27% energy exposure is likely what spooked the market. Though tank cars only represent about 11% of the back log, this product line will likely be the last to bounce back once its back log runs out; that's potentially a double-digit decline in run-rate revenue already baked into the backlog.
Greenbrier On Tank Cars "Off-Lease"
Our lease fleet utilization declined during the quarter due to two factors. First, the portfolio of about 4,000 railcars acquired during the quarter has an 87% utilization rate related to off-lease coal cars, and we have approximately 500 tank cars off-lease. Excluding these two items, our fleet utilization is a strong 97%.
Bascome Majors (Analyst)
I want to drill down one of your comments early, you said about 500 off-lease tank cars were partially responsible for the drop in your railcar lease fleet utilization you saw in the quarter. It was my understanding that you own just a few tank cars in your long-term lease fleet. So can you help us understand, am I wrong there, or these potentially newer cars that are sitting in storage without a live lease?
Greenbrier Management
We generally have a policy of not building in anticipation of orders although that's a policy that we across to our product lines sometimes have exceptions too. In this particular case, we - as we've said, we haven't had order cancellations, but we've negotiated aggressively with customers who have had issues.

This was a fairly small number of tank cars and storage compared to the tank cars that many in the industry now have with the oil issues, and energy issues, and the pricing oil has come down.
Shock Exchange Interpretation
Customers probably ordered tank cars for lease when oil prices were higher. Now that prices have declined, the leases are probably uneconomical. Though technically Greenbrier may not have cancelled orders, it may have deferred orders or worked out cash payments that would allow customers to forego the full cost of the lease.
Ultimately, Greenbrier's leasing backlog and revenue may fall faster than revenue from its Manufacturing segment. If the company cannot find a customer for railcars placed into inventory, it may have to eventually take a write-off for any diminution in value. During quarter Leasing & Services revenue was 3% of total revenue; it was up 7% sequentially and down 12% Y/Y.
In contrast, American Railcar's (NASDAQ:ARII) leasing revenue is about 18% of total revenue; it grew 80% Y/Y in its most recent quarter. From December 2014 to September 2015 American Railcar's backlog for direct sale fell 20%; its backlog for lease was off over 70%. That said, it has a much bigger problem than Greenbrier pursuant to the diminution in its leasing segment.
Conclusion
Greenbrier's energy exposure and fall off in its leasing business will remain headwinds. In my opinion, there are no positive catalysts to drive earnings or the stock higher. That is probably what the market was reacting to after the earnings call. GBX remains a sell.
Disclosure: I am/we are short GBX.
I wrote this article myself, and it expresses my own opinions. I am not receiving compensation for it (other than from Seeking Alpha). I have no business relationship with any company whose stock is mentioned in this article.