With the dip in the average Henry Hub spot from $2.99 at the beginning of the year to $2.09 in November, to a sub-$2 average in December, any attempted increases in the stock price for Chesapeake Energy (NYSE:CHK) have been short-lived. While I believe the natural gas environment is about to see some strength in pricing for the next few weeks on the back of colder weather, I don't believe Chesapeake is the company to sustain lower for longer prices and will run into a larger mess than what they're already in. While I believe CHK's debt is attractive, the equity is a shot in the dark. Perhaps, however, that's a risk you're willing to take.
Energy Pessimism
The bottom line for CHK is that it needs to see improved natural gas and oil prices. When the environment becomes more favorable, the company can repair its top and bottom line, cut debt rapidly, and restore the capex budget to previous levels. This is where my pessimism comes in.
Let's take a look at the short-term outlook:
The weather for late November and most of December was unseasonably warmer, creating a large sell off. Since then, natural gas prices have spiked on a cold snap in the Midwest and East Coast, causing a significant pick up for natural gas past the $2.00/bcf mark. Had natural gas stayed sub-$2.00/bcf for a longer duration, the financial stability of many leveraged natural gas companies would have been in serious jeopardy.
The Sept 28 level of $2.66/bcf was really the inflection point report before the aggravated decline to current levels. If we pass that level, I'd expect much support to be granted to natural gas prices, technically speaking.
The recent EIA report that showed 117 bcf being withdrawn from storage versus estimates of 100 million. However, this number can be misleading as the current stockpile is 3.643 tcf, about 535 bcf higher than the five year average. We're also higher than a year ago by 464 bcf. If we can see that number come down considerably as winter charts its coldest course, then we can start seeing some stability in natural gas pricing rather than these wild swings.
A continually overlooked downside catalyst remains the increased productivity of many domestic producers that enabled them to produce record volumes for the past two years. This is directly evident in the near 50% drop in natural gas rigs YOY. As natural gas companies continue to face a low-priced environments, efficiency gains are going to keep being a reality, further reducing the rig count and weighing negative on the natural gas spot. As an added consideration, CHK increased their output 3% YOY in Q3. Production expenditures were also down 9% YOY. They even cut capex by $500 million and were able to achieve this.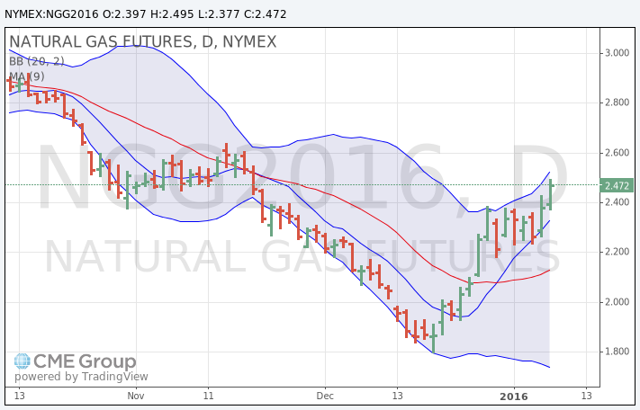 Click to enlarge
Source: CME Group
I also do not believe LNG is a tailwind for natural gas prices. The global arb opportunity is closing, and while some domestic firms like Cheniere Energy (NYSEMKT:LNG) are trying to take advantage of the available spread, the fact of the matter is that we're seeing a strong surge in planned capacity. I believe this could be seriously detrimental to natural gas prices in the long-term. For short-term, I do not believe natural gas cracks $2.80/bcf. That's a tough reality considering the breakeven point for is at $2.50/bcf for many of CHK's resource plays. The breakeven point for oil is averaging $41-$42/barrel.
When we pan over to oil, it's hard to be excited about the 1H 2016. We have Iran sitting on 10% of global crude reserves and 13% of OPEC's total crude reserves. Crude inventories are well above multi-year highs and the U.S. is not taking enough production offline as daily production is 9.2 million barrels. The lifted export ban has yet to show real effects on the energy sector and while we potentially may need to be more patient to see results, the fact of the matter that a company like Chesapeake cannot afford to wait.
Correlations
Take a look at the below graph of the HH versus CHK over the past year, as well as the WTI versus CHK over the same time frame. We notice the correlation is much stronger towards natural gas movement, and rightly so given their revenue composition. Natural gas is now up 41% in 14 sessions, but below, you can see how mitigated CHK's upside has been due to looming debt problems.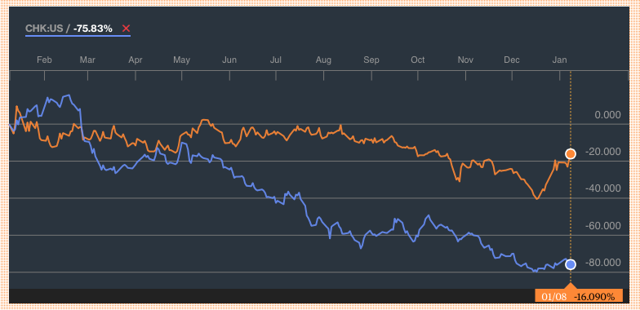 Click to enlarge
Source: Bloomberg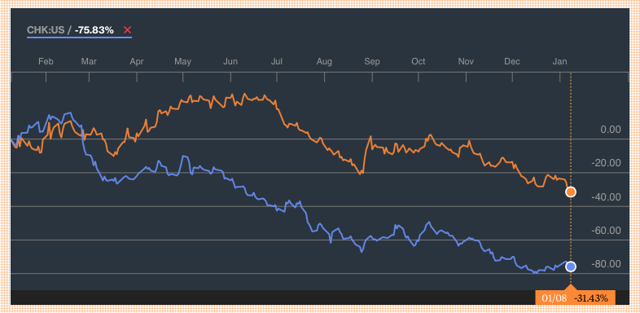 Click to enlarge
Source: Bloomberg
As a sidebar, I've seen full articles written on this company that only talk about the underlying oil environment, yet the company only has a 14% revenue exposure to the commodity. That means the rest is natural gas, i.e. your main consideration. I'm trading this stock based upon the natural gas environment, not oil.
The Debt
Chesapeake's growing debt problems are posing a major headwind to the company. On top of S&P downgrading Chesapeake's debt on December 28, we have Moody's changing the default risk level from B2-PD/LD to B2-PD, indicating that default has become more likely. The debt actions taken CHK, such as the $3.8 billion senior unsecured notes exchange for $2.35 billion second lien secured notes, have been in an incredibly pressured environment that may not be in the best interest of the company for future quarters.
Additionally, whether or not they hit the $1.5 billion debt reduction target remains to be seen on the Q4 earnings report. With $2.5 billion due through 2017, they do have $1.4 billion in cash and have not withdrawn from their $4 billion credit facility, but we've yet to see a positive response from shareholders in actions related to their debt. The likelihood of liquidity tightening is overwhelming and I wouldn't want to be a shareholder if an event like that occurs. Given the strong amount of coverage available on Seeking Alpha from various contributors, notably here and here, I will not be delving into the debt's specifics.
However, I will offer one piece of advice. When I see commenters talk up asset sales as positive for the company, have you ever stopped to wonder how relative the price for these assets are? Natural gas and oil are both at multi-year lows causing Chesapeake to sell at the bottom of the market. A more stable player is going to be laughing all the way to the bank when the downturn finally reverses. Sure, the short-term liquidity boost is nice, but finding equities that are worthwhile to invest in brings into account stability - and that doesn't seem to be a characteristic of Chesapeake.
Short Or Stay Away?
If you misunderstand the short-term catalysts for the underlying environment, the leverage of the particular company will wreck havoc on your position. That's really the unfortunate reality of energy investing at this point in the game. So, perhaps we can try and pick a longer investing time frame. As CHK declined 77% in 2015, we saw the risk/reward scenario for longs increase considerably.
The associated risk with taking a long position in CHK is astonishing given the likelihood of an adverse credit event sometime in 1H 2016. It's for this primary reason that I want to stay away from CHK. Still, it's hard to ignore the improved risk/reward with the 52 week highs at $21.49, representing a 79.34% difference from current levels.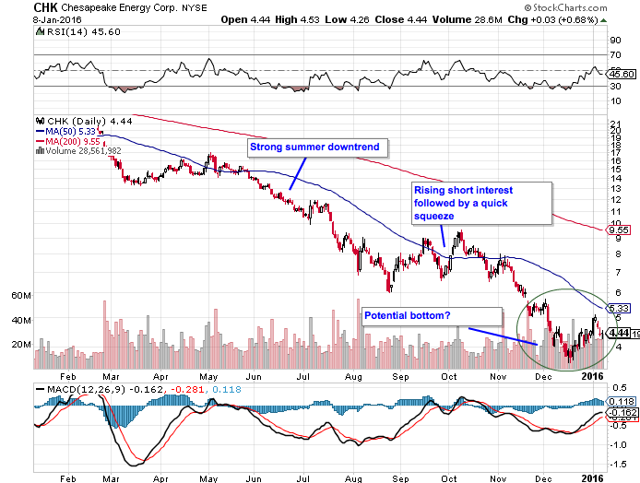 Click to enlarge
Source: StockCharts
Another excellent consideration for those pessimistic on the stock and thinking about shorting even at this improved risk/reward level is the short interest. A fellow contributor noted that it's at nearly 48% with a days to cover at 9.46. Now, why is shorting not a great idea at current levels (unless you're holding onto a short that you initiated at significantly higher levels)? One day's worth of movement could squeeze you given the stock's leverage. Furthermore, events for CHK in Q1 will be largely unpredictable and it's not a great idea to have unlimited downside risk.
Conclusion
Chesapeake is an unstable investment, but if it survives the lower for longer period it's going to look like one of the most undervalued equities. You can attempt to find a bargain in the company's debt and get paid first if the company goes bankrupt, or you can bet on the equity recovering in the short-term. On the other hand, the leverage is overwhelming and if it doesn't work out, you could lose a significant amount in just a single day. Chesapeake does not report earnings until the end of February, which allows a lot of time for natural gas and oil prices to either recover or remain lower.
Disclosure: I/we have no positions in any stocks mentioned, and no plans to initiate any positions within the next 72 hours.
I wrote this article myself, and it expresses my own opinions. I am not receiving compensation for it (other than from Seeking Alpha). I have no business relationship with any company whose stock is mentioned in this article.