In a previous article on Freeport-McMoRan (NYSE:FCX), I had discussed how the company's copper business could stage a turnaround in the long run due to its focus on low-cost production, apart from the fact that a supply shortfall in the end-market will help it witness better pricing. However, copper is not the only commodity that Freeport deals in, with oil and gas being a key component of the company's business as it contributes about a fifth of its revenue.
However, Freeport's move into the oil and gas business back in 2012 has turned out to be a disaster in light of the weakness in oil prices, as a result of which the company is consider spinning off its oil and gas segment. But, depressed oil prices will make it difficult for Freeport to find a buyer or partners for its oil and gas business, and until and unless there is a recovery in the end market, Freeport's oil and gas business will continue struggling.
Now, when oil prices were strong during 2013 and the first half of 2014, Freeport saw strong growth in its revenue and cash flow, as seen in the chart below, and this justified its decision to expand into oil and gas: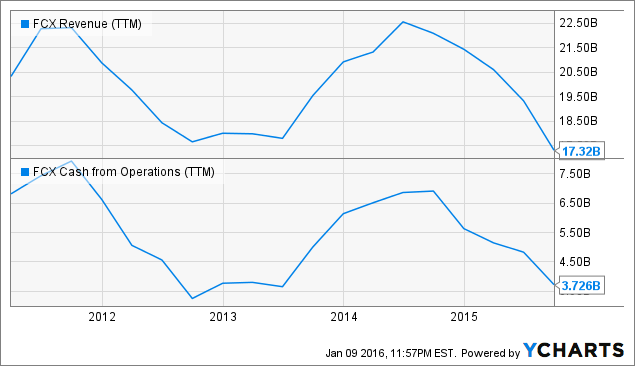 FCX Revenue (TTM) data by YCharts
As such, we need to see whether or not there is a possibility of a rebound in the oil and gas market, as this will be the key to Freeport's fortunes in this segment. Let's take a look.
The oil scenario
The situation in the crude oil market is very weak. In fact, last Friday, oil prices touched a 12-year low on the back of the strength in the dollar and oversupply in the end market. Now, for oil and gas prices to achieve some stability, it is important that the demand-supply situation in the end market improves. This will happen only when production declines and demand continues to improve.
The good thing is that there is a probability that oil and gas production could decline going forward due to a steep drop in infrastructure spending in the industry. For instance, in 2015, it is anticipated that oil and gas spending dropped to the tune of $250 billion as compared to 2014. This year, the drop is expected to be more severe at $320 billion as oil and gas companies feel the pinch of weak pricing.
This decline in capital spending in the industry should ideally lead to lower production capability as oil and gas needs consistent investments to sustain or discover new production. Now, over the longer term, this decline in infrastructure is anticipated to bring the oil market in balance from a demand-supply perspective. As shown in the chart below, oil demand will continue to remain consistent in the coming years, while the weak pricing will lead to a drop in supply: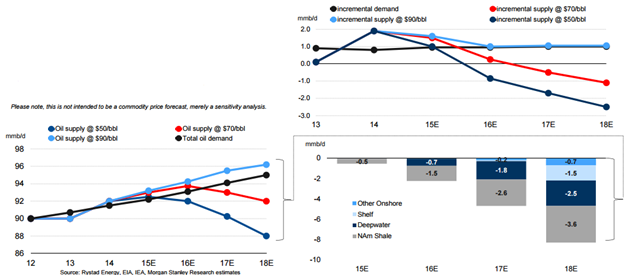 This will gradually lead to an improvement in pricing as supply falls below demand on the back of lower investments. More importantly, lower prices are expected to provide a boost to demand in 2016, with the IEA forecasting an increase of 1.23 million barrels per day in demand this year, up by 20,000 barrels per day from its prior forecast. In fact, as shown in the chart below, oil demand is expected to rise consistently in 2016 and remain at higher levels than last year: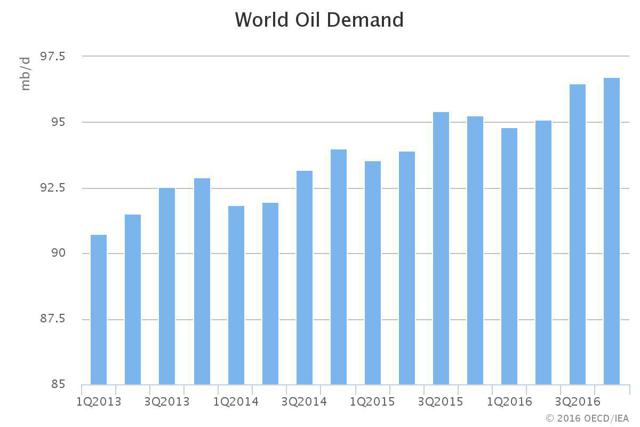 Click to enlarge
Thus, the possibility of a turnaround in oil and gas pricing over the long-term cannot be ruled out, and this will make Freeport's oil and gas business more attractive. This is because Freeport is already seeing decent growth in sales in its oil and gas business, while the company is taking smart steps to overcome the weakness in the end market. Let's see how.
Freeport is managing the oil business smartly
Freeport is seeing strong demand in the oil and gas business. For instance, during the third quarter, sales growth was witnessed in all the three categories of products that it sells. This is clearly evident from the chart given below:

Source: Press Release
The positive impact of an increase in sales volumes, however, was more than offset by the fall in the average realized price. The average realized price of oil was $55.88 per barrel, for natural gas it was $2.72 per MMBtu, and for NGLs it was $16.68 per barrel. The operating margins, as a result, almost halved as the following table shows:

Click to enlarge
Source: Press release
But, as seen above, Freeport was able to lower its cash production costs in the quarter, and since the company has planned to sit back and reduce capital expenditure going forward, it should be able to minimize the impact of weak pricing to some extent.
For instance, the company has decided to defer investments in some of its projects, while at the same time, it will continue to focus on Horn Mountain where it can generate more efficient production, with the well expected to start producing this year as compared to 2016. As a result, its capital expenses in the oil and gas segment are expected to drop by almost 30% this year to $2 billion, a level that it will maintain in 2017 as well. The following chart shows the anticipated drop in Freeport's oil and gas capital expenditure.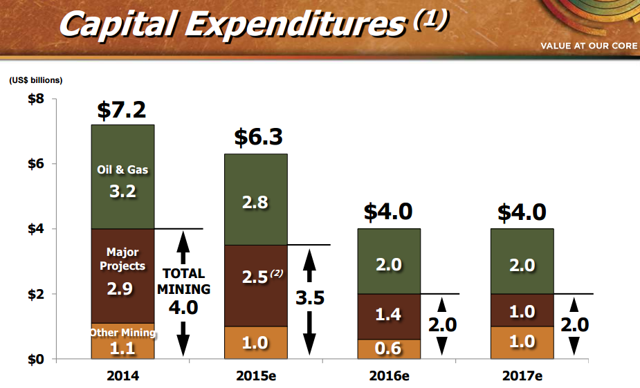 Click to enlarge
Source: Investor presentation
But, despite this reduction in capital expenses and deferral of projects, Freeport believes that its oil and gas sales will get better, rising 12% this year and 16% next year as compared to 2015.
Conclusion
All in all, Freeport is managing its oil and gas business in the right manner by reducing capital expenses and deferring projects. This will allow the company to prepare itself for better times in the oil and gas market in the long run, as a reduction in supply and consistent demand will lead to better pricing on the back of improving demand-supply balance. So, in my opinion, investors should not lose hope in Freeport's oil and gas business as there are chances of a recovery in this segment, which will allow the company to make a comeback from its 52-week lows.
Disclosure: I/we have no positions in any stocks mentioned, and no plans to initiate any positions within the next 72 hours.
I wrote this article myself, and it expresses my own opinions. I am not receiving compensation for it (other than from Seeking Alpha). I have no business relationship with any company whose stock is mentioned in this article.