Stocks are on sale again, and so is Bank of America (NYSE:BAC). The stock market has had a rough start to the year, but that doesn't mean that investors need to flee the market and run for cover. 2015 was an upsetting year for investors, that's true, but the market has overcome a lot of hurdles last year, too, all of which singularly had the potential for disaster. To name a few: The near Euro exit of Greece, the stock market crash and economic slowdown in China, a deteriorating high-yield debt market in the U.S., and a devastating commodity price plunge hurt companies and investors alike last year.
That said, however, Bank of America has managed to do well in 2015. And Bank of America's stock has done well, too, given the obstacles thrown at investors last year. The bank's equity value declined ~6% in 2015... that wasn't too bad, especially when comparing this return to the disaster that played out in the energy space or high-yield equity market.
Should you buy the selloff?
Stock markets consolidated sharply in the first week of 2016, with the Dow Jones Industrial Average and the S&P 500 losing about ~6% each. And BAC started to tumble, too, losing ~10% over the last week.
The important point, though, is that nothing relevant has changed with respect to Bank of America since the start of the year. I repeat: Nothing.
The only thing that changed last week was the price that investors are required to cough up in order to buy one of America's largest banks.
So, with stocks across the board selling off in a brutal first week of trading, should you take the plunge and buy (some more) shares of Bank of America?
That's surely what I am going to do this week. And there are plenty of reason why that makes sense at this point in time.
For one thing, BAC is now oversold. According to the Relative Strength Index, which flashes a value of 27.23, Bank of America's stock has now reentered oversold territory, making it likely that investors have become a little too concerned about the bank's profit outlook.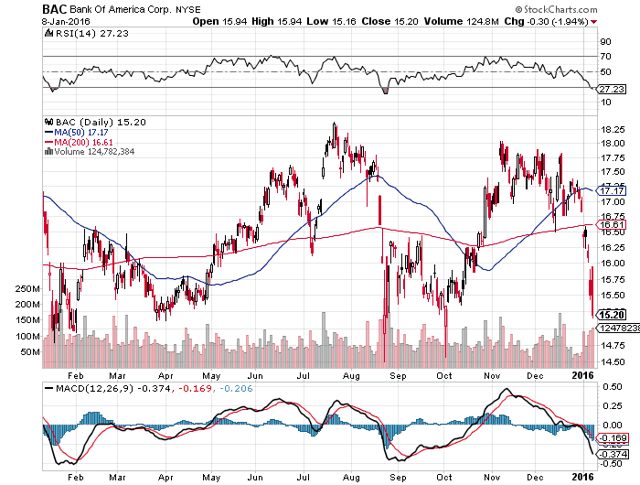 Click to enlarge
Source: StockCharts.com
The most convincing reason to buy Bank of America, however, relates to the bank's valuation. In the third quarter, Bank of America's balance sheet showed an accounting book value of $22.41/share. A lower share price implies a much wider margin of safety, and therefore, more total return potential over the long haul.
Right now, thanks to the market meltdown, BAC sells for only 68 cents (!) on the dollar... that is way too large a discount for a bank that will likely have grown its accounting book value again in the fourth quarter. Bank of America is scheduled to release Q4 '15 earnings on January 19, 2015, so we'll need to wait another week to know for sure.
Bank of America's intrinsic value, based on my estimates, remains in the $22+ range, based on accounting book value and my free cash flow projections.
Analysts may have trimmed their earnings estimates for banks, and Q4 '15 bank earnings as a whole may be uninspiring. Nonetheless, chances are that Bank of America will report a slight increase in accounting book value next week, which serves to increase investors' margin of safety even more.
Your Takeaway
If you liked Bank of America at $18, why wouldn't you want to buy it at $15? That's the question investors may want to ask themselves at this point. Nothing has changed with respect to Bank of America last week, only that the price has gotten lower... and if you are hunting for bargains, that's certainly not a complaint to have.
Top U.S. stock indices may have shed ~6% of their value in the first trading week of 2016, but I feel confident about owning U.S. banks now that their net interest earnings are going to get a boost from higher rates. As far as I am concerned, yes, now is a good time to double down on Bank of America again.
Disclosure: I am/we are long BAC.
I wrote this article myself, and it expresses my own opinions. I am not receiving compensation for it (other than from Seeking Alpha). I have no business relationship with any company whose stock is mentioned in this article.