Introduction:
As we end the first trading week of 2016, it is useful to take stock of the gaming situation in 2015 and also the outlook of the gaming sector for 2016. Despite a large number of the Seeking Alpha (NYSEMKT:SA) community (contributors and readers) who have attempted at calling the bottom in 2015, Wynn (NASDAQ:WYNN) and Las Vegas Sands (NYSE:LVS) have continued to see sharp sell downs in 2016, with the first week ending of 2016 seeing both WYNN and LVS down over 19% and 11% respectively. I have remained short during this time and have taken some profit off the table from the sharp sell down. I continue to remain short. In this article, I will reflect a little on 2015 and also the outlook for 2016. I think the sharp sell down in 2016 will start to present opportunities for investors but I remain short on further consensus earnings downgrades coming from 2016.
Year in Review: 2015
Despite many in the SA community arguing for the bottom in 2015, when I initiated on LVS in June last year, I argued that investors should stay out of the stocks as the headwinds in the sector did not justify how the gaming sector was still trading above its long-term average P/E of 18x, it was at 20x during my initiation. After the sharp correction seen in 2016, LVS and WYNN are now at more reasonable valuations with LVS and WYNN trading at 15x and 19x P/E respectively. Despite coming below and near to the long-term average, I am holding back on going long for now due to the lack of any clear catalysts, more on this later.
A slight positive as we approach 2016 is the issue of the smoking ban in the casinos, which in my view does not make any sense to do so. The positive is that the regulators seem ready to compromise on this issue even though they have not given much color on the issue. I think the approach here is a wait and see and if regulators are willing to compromise by allowing smoking rooms for instance, I think this could see a rally in the gaming counters. With that said however, I think we remain no less certain about this issue than we were in 2015.
The build it and they will come theme after the opening of Studio City failed to live up to its hype as analysts rushed to downgrade their fourth quarter projections for earnings in 2015. I will elaborate more on this later. For 2016, as more supply come on stream due to the completion of projects, I think all eyes will be on whether this can draw the crowds back to Macau. I think in all fairness, it remains to be seen, but am bearish about the ability of the new openings to drive up traffic in both a meaningful and sustainable manner.
I think the end of 2015 and beginning of 2016 show that we are clearly not out of the woods yet. GGR visibility into 2016 looks no more certain than it was in 2015 and the Chinese government's stance on Macau remains uncertain. As an investor, this uncertainty increases my required return (cost of equity) and therefore my estimate of what is the fair value of both LVS and WYNN. I think valuations are attractive from a historical basis especially for LVS but the lack of any foreseeable catalyst means that I'm not ready to change my position.
Gross Gaming Revenue (GGR) to stabilize?
One of the most common theme's I have heard from industry watchers is their prediction that 2016 will see GGR's start to stabilize, bottom and rebound. That analyst's have remained bullish on the gaming sector is nothing new, in an article I published in September last year, I pointed out that out of the 21 analyst covering LVS, none have a sell call on LVS. As we enter into 2016, many have again attempted to call for the bottom, are analyst more bullish this year than they were in 2015?
To answer the above question, I looked at Bloomberg's earnings estimates for both LVS and WYNN. You can see it for yourself below.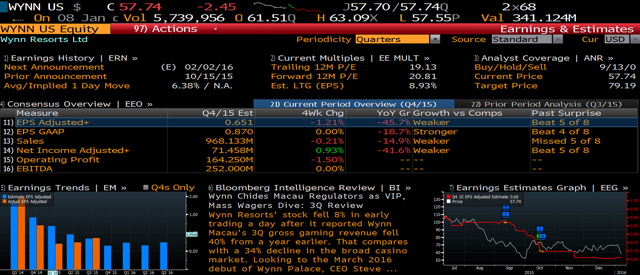 Source: Bloomberg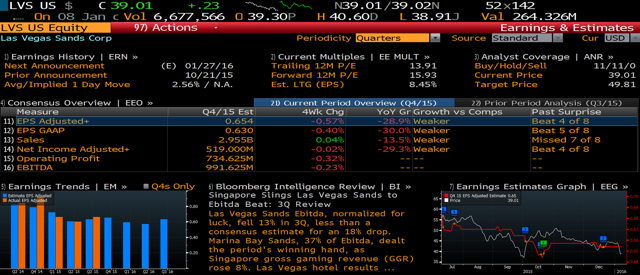 Source: Bloomberg
Referring to the two images above, over the last four weeks, analyst's consensus earnings estimates for the fourth quarter of 2015 has turned more bearish. Consensus earnings per share (EPS) for instance, have been adjusted down by 0.57% and 1.21% for both LVS and WYNN respectively. This reflects in my view, their negative outlook for the December period, which was supposed to provide uplift for gaming counters.
Market share league tables for 2016
Sands China, SJM and Galaxy took the highest market share for 2015. For 2016, new supplies coming from MGM Cotai, Wynn Palace, Parisian Macau and Lisboa Palace are expected to bring in an additional 1,000 new tables and 7,500 new slot machines. I expect the top three players mentioned above to maintain market share for 2016 given their appeal to visitors.
Valuations
Based on their last closing price on the 8th of January, WYNN and LVS is currently trading at 12.2x and 9.5x of their EV/EBITDA (trailing). I think investors will be tempted to accumulate positions in both LVS and WYNN after the sell down but think that it is still too early given that in 2016, we are likely to see the continued push towards mass vs. VIP, and rates being slashed for hotels and at the tables resulting in EBITDA and margin contraction.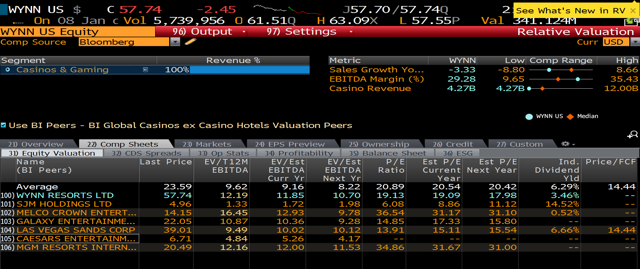 Source: Bloomberg
Considerations
I think the question that investors will want answered is for 2016, with new casinos coming on stream in Cambodia, Malaysia, Philippines, Vietnam and Korea, will this pose a threat in the short-term to visitor arrivals in Macau.
The new casino openings are expected to add an additional 1,300 tables and 7,238 new slot machines in 2016 and 2017. At this moment, I think the threat of these new openings will not have a notable impact on Macau given its attraction as a gaming destination, but the lower costs in the South East Asian countries listed above increases their attractiveness as a gambling destination. I will be watching this closely in 2016. The Shanghai Disneyland is also expected to open in the mid of this year.
Conclusion
We can expect to hear about the smoking ban update next month and also the results release of both WYNN and LVS, who are expected to announce results on the 2nd of February and 27th of January respectively based on estimates by Bloomberg. From a valuations basis (see section on Valuations), I think it is evident that LVS has the best valuations multiple relative to their peers and is also in my view, best positioned for a recovery. WYNN however, continues to have high multiples assigned to it, which as I have established above, is unjustified given the headwinds. After the strong sell down seen in the first week of 2016, I have taken some profit off the table for both WYNN and LVS, and am turning slight positive for LVS based on valuations, but I think the overall macro picture does not justify an upgrade at this point, I remain short WYNN and LVS.
Disclosure: I am/we are short WYNN, LVS.
I wrote this article myself, and it expresses my own opinions. I am not receiving compensation for it (other than from Seeking Alpha). I have no business relationship with any company whose stock is mentioned in this article.
Additional disclosure: I have appropriate stop losses in place for my short positions and I could add or reduce my position based on the latest news out of Macau. I have also recently taken profit off the table for shorts placed last month.