The fundamental requirement for both the Dividend Champions and Dividend Aristocrats is that a company has increased its dividends for 25 consecutive years or more.
But the two collections of stocks are not the same. The Aristocrats are compiled by S&P, while the Champions are compiled by David Fish. With the basic criteria being the same, it is fair to ask why the stocks aren't the same.
The answer is usually that the Aristocrats require a stock to be in the S&P 500, while the Champions do not. A few other discrepancies arise from slightly different reckonings of what constitutes a dividend increase in a year.
If you look at the Aristocrats, you might think that you are seeing all of the stocks with 25-year increase streaks, but you are not. In this article, I want to highlight the Champions that are not Aristocrats. Remember, all of these stocks have 25-year dividend increase streaks.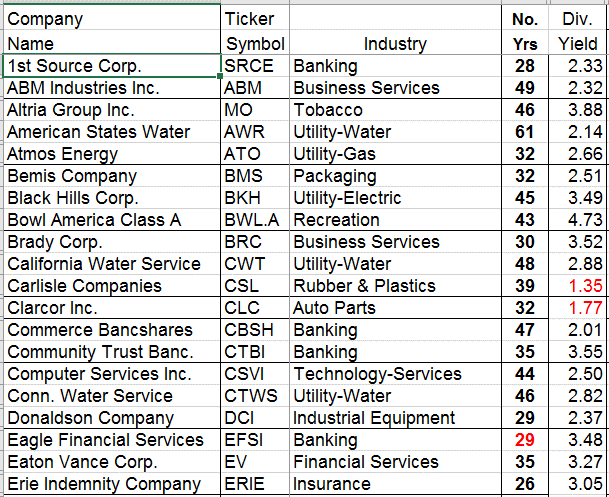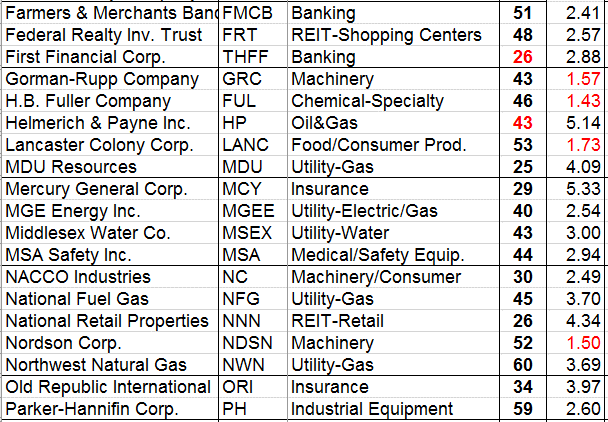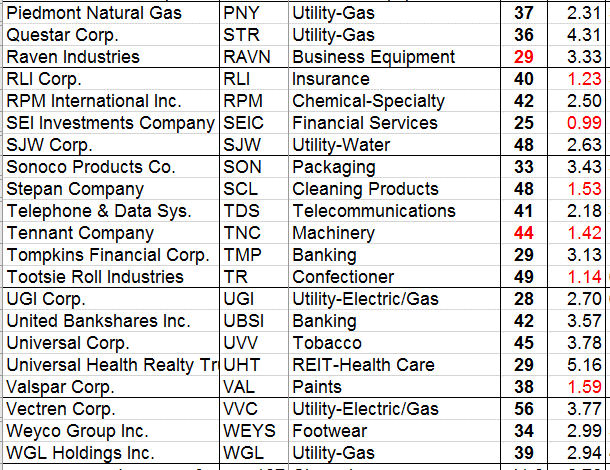 Seven of these stocks have overdue increases, meaning that it has been more than a year since their last increases: BWL.A, EFSI, THFF, HP, PH, RAVN, and TNC. It is fair to say that all 7 are in danger of falling off the list.
By presenting these stocks, I am not making any recommendations. Please do your complete due diligence before investing in anything. The fact that a stock has raised its dividend for more than 25 years, or that it has an acceptable yield, are not by themselves sufficient reasons for investing in that stock.
Also, note that the research that has been done showing that stocks with 25-year streaks outperform the market in total returns used the Aristocrats as its universe. That research does not necessarily apply to non-Aristocrats, although the logic would seem to apply.
Disclosure: I/we have no positions in any stocks mentioned, and no plans to initiate any positions within the next 72 hours.
I wrote this article myself, and it expresses my own opinions. I am not receiving compensation for it (other than from Seeking Alpha). I have no business relationship with any company whose stock is mentioned in this article.