The broader stock market, or at least the S&P 500, has entered 'correction territory,' in falling by some 6.3% over just the last couple weeks. While that may be painful for all involved, myself included, this can also be an opportunity to buy 'dividend aristocrats' which were previously unbuyable. Such is the case for a longtime favorite stock of mine, Leggett & Platt (NYSE:LEG).
Leggett & Platt makes and designs components found in home furniture, office furniture, automobiles and commercial aircraft. These products include bedsprings, commercial fixtures, and seating components for offices and automobiles. Leggett & Platt is a very consistent business. For example, the company has raised dividends each year for the past 41 years. In most markets in which it operates, Leggett & Platt brands are either number one or two.
Leggett & Platt is a name I've been watching for some time, and now the stock is as cheap as it's been for awhile. This article covers Leggett & Platt's fundamentals, including growth prospects, cash flow and valuation. I believe that Leggett & Platt is an ideal business for long-term, income-minded investors.
A steady business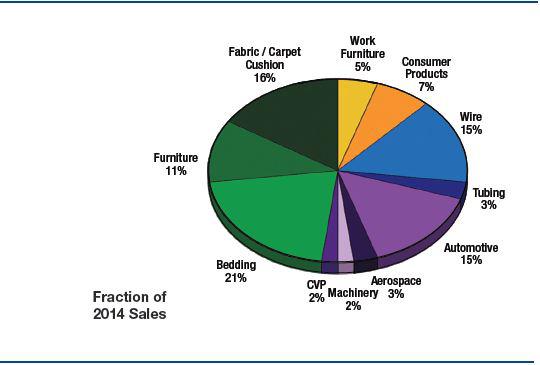 Courtesy of Leggett & Platt Investor Relations.
Leggett & Platt has found a nice balance between focus and diversification. Much of what the company makes has to do with sitting or sleeping, but the company is also exposed to a wide array of industries. The best part about this is that Leggett has few competitors of similar scale within most of the above industries.
Management has achieved very steady growth over the past decades, and expects 4%-5% annual revenue growth over the long term. Over the years, Leggett's earnings have pretty much gone up along at the rate of GDP growth. But with GDP growing at only around 2% per year, Leggett will have to innovate and introduce new products to hit its target growth rate.
One of those innovations has come from a shift to foam-top bed to more complex 'comfort coil' beds and sleep-adjustable beds. Last quarter, comfort-core spring sales were up 71% and adjustable beds were up 81% year-on-year. While this does 'cannibalize' sales of standard beds, customers spend a lot more on the adjustables and comfort cores. Management estimates we are in the 'first inning' of this conversion, and I believe this will propel earnings and revenue growth in coming years.
Dividends and valuation
Over the past ten years, Leggett & Platt has averaged a dividend growth rate of 3%. Management has a target dividend of between 50% and 60% of earnings (with the remainder of excess cash flow going to share repurchases). Currently dividends are already 45% of earnings, so there isn't too much room for dividend growth in excess of earnings growth. I don't think investors should expect a level of dividend growth beyond a slow-and-steady 5%-7%.
The good news is that this business remains a cash flow powerhouse. Over the last twelve months Leggett generated $313 million in free cash flow and paid $171 million, and I suspect the rest should go to buybacks.
According to data from FAST Graphs, Leggett & Platt has averaged a P/E of 18.6 times over the last ten years. Right now Leggett trades at 18.3 times expected 2015 earnings. While that may not seem too special, in fact, Leggett & Platt has not traded at its ten-year average P/E since January 2014. In other words, Leggett & Platt hasn't been this cheap for two years.
Conclusion
I believe Leggett & Platt is worth a shot right here. Shares are reasonably-priced and this is an unique business, with high barriers to entry, that will grow dividends slowly and steadily over time. Couple the dividends with a healthy buyback program, and I believe the returns on this one could be very good, especially over the long term.
Disclosure: I/we have no positions in any stocks mentioned, and no plans to initiate any positions within the next 72 hours.
I wrote this article myself, and it expresses my own opinions. I am not receiving compensation for it (other than from Seeking Alpha). I have no business relationship with any company whose stock is mentioned in this article.