For my 100th article here at Seeking Alpha, I wanted to take some time to walk down memory lane a bit and talk about my time here, as a reader and contributor, and the tools that I've come across that have helped me immensely in my growth as a portfolio manager.
About Me
First and foremost, I want to make it clear that I am not a professional in the financial industry. I studied English and Studio Art at the University of Virginia. The stock market wasn't even the faintest blip on my horizon when I was in school, I was dreaming of becoming an Olympic athlete, and then after a series of injuries, I decided I wanted to be the next Jack Kerouac (minus the drugs and other moral ambiguities, I've never been interested in those sorts of things, though his free spirit and wanderlust is inspiring). It's too bad, because once I began to pay attention to investing and the markets after graduation, I fell in love and have been managing my family's portfolio ever since. If I could go back and do things all over again, rather than focusing on graduating early to catch up with my wife who was a year older, I would have added an economics major, which would enable me to work in the industry that I now love. However, no use crying over spilled milk. I loved my time at University and firmly believe that the knowledge I picked up studying the humanities helps me manage my portfolio effectively in the present.
Today I work as a real estate agent, a vineyard manager, and a high school coach. I enjoy the life that I've built together with my wife. After some uncertainty of where we'd settle down because of her career (she's a professional distance runner), we recently decided to put down roots and purchased a little farm in central Virginia near our home town. I know that I am blessed and am thankful for all that I have. Though, I'll take the time to toot my horn, just a little bit here, saying that I haven't given up on working in finance one day and hope that my writing here and my transparency when it comes to the trades that I make (all of my trades are publicized via StockTalks here on SA) might eventually inspire someone to take a chance on this stock market loving English major...who was ranked 18th amongst financial bloggers in 2014 (out of over 4,100) by TipRanks and who returned 7.76% in 2015, significantly more than the DOW and S&P.
For those interested, I will be publishing my 2015 review pieces shortly, but I wanted this piece to be #100 - I've been looking forward to this milestone for some time now.
Ok, ok, enough of that. Truly, I don't take a lot of pleasure in talking about my performance like this. I've always been taught not to brag, but to let my actions do the talking. Though, my recent foray into real estate has taught me that sometimes shameless self promotion can lead to sales, so with that said, who knows, maybe this piece will come across the desk of one of my investing heroes and I'll receive an email with a new job offer. Crazier things have happened right (are you following the markets in China right now)?
I say all of this because I think knowing the background of an author helps readers connect to writers. Whether it's a novel, a poetry manuscript, or an article here on Seeking Alpha, when I come across a new writer I like to read back covers or profile pages to get a sense of who is speaking to me via the written word. I hope that this quick personal introduction has given you an idea of who I am as an investor/writer and if you aren't already a follower of mine here on SA, I invite you to become one, so that you can track my moves in the market, and comment on/critique as you see fit. I always enjoy intelligent reader feedback; the crowd based, community style forum that has developed here at SA is what I love so much about this site.
Seeking Alpha: A Wonderful Tool
And by covering the fact that I'm not a professional leads me directly to the main premise of this piece, which is the tremendous value that Seeking Alpha brings, especially for self directed investors. I came across this website not long after deciding to begin investing and began to integrate myself into the community that has developed here. The crowd sourced nature of SA's content means that there is a wide variety of resources and knowledge available for readers. I believe that the diverse nature of the contributor pool here means that there will be applicable voices to just about every investing situation. Sure, it took some time to sort through the different voices and figure out whose words I liked and respected, but as time has moved on, I've built a collection of authors whose opinions I value across the gambit of market coverage that SA offers. What's more, as the contributor base here has grown, so has my stable of respected opinions, making Seeking Alpha a one stop shop for me when it comes to getting quick, up to date market news and baseline analysis.
I say all of this about Seeking Alpha not as a paid spokesperson (besides the normal article rate and page view pennies that all premium content articles earn here), but out of gratitude for this site and its community. Before I touched on my performance in the markets and I purposely transitioned from that aspect of the introduction into my high praise of SA, because without a doubt, I wouldn't have been able to achieve these results without the resources that this site has offered. I began this piece with a personal introduction but my hope in writing it wasn't to focus on me, but instead on Seeking Alpha as a wonderful marketplace news platform, and ultimately, about YOU and the services that everyone involved in the different communities that have formed here can offer in your journey towards management success and financial freedom.
After beginning to browse this site as a complete newbie, it didn't take long for me to realize that dividend growth investing meshed well with my risk tolerance and long-term financial goals. Personally, though I admit that I am biased here, I believe that the Dividends and Income section is one of the most vibrant and generally helpful communities going on SA. There are so many seasoned, knowledgeable investors that frequent that section of the site that a question rarely goes unanswered. Like me, many of the regular commenters in the Dividend and Income sector are self directed investors, many of whom are retired and currently living off the fruits of their labors (in other words, their dividends). I've always been taught to respect my elders, which is why I view SA in such a positive light. Experiential learning is the best kind, in my opinion, and the hard earned lessons that so many have been willing to share with me have meant a lot and will hopefully help me to avoid similar pitfalls moving forward.
But, before I focus too much on the Dividends and Income section, which is where my articles typically appear, I want to point out that I've found valuable research and opinions in many of the different areas here as well. Lately, I've been doing some due diligence on some more speculative picks in the small cap biotech area for my Roth and I've been incredibly impressed with the knowledge base of the followers that certain tickers have in that area of the website; if Dividends and Income is the best sub-community on Seeking Alpha, I'd say that those guys are a close second. This just goes to show that regardless of your concentrations, comfort levels, and curiosity, Seeking Alpha is likely to have what you're looking for.
But, like I said before, I consider myself to be a dividend growth investor of sorts (I say of sorts because my focus isn't entirely on income - as a younger investor, I pay attention to total return, capital preservation, and growth as well). So, what I wanted to do with this piece is list some of my favorite assets that SA has led me to. I hope that these tools will prove as useful to readers as they have to me over the past couple of years.
I want to preface this list of tools and contributors by saying that I'm certain that the list will be incomplete, especially when it comes to the valuable contributors that SA has to offer. It's always difficult to do these sort of thank you speeches for fear of over looking well deserving candidates. So, before I even begin, I want to apologize to anyone who is left out - if we've had any sort of interaction in the past here, please know that you've helped me along in my journey and I truly appreciate it.
So, Let's Begin
David Fish's CCC List is one of my favorite investing resources. This spreadsheet is jam packed with useful information pertaining to long-term dividend sustainability. I always visit this website when performing due diligence. Having all of this information stored in one place has been such a time saver for me. So, Mr. Fish, thank you!
Another tool that I discovered on Seeking Alpha is F.A.S.T. Graphs, a valuation tracking tool that was created by fellow Seeking Alpha contributor, Chuck Carnevale. F.A.S.T. Graphs is a quick and easy way to get a basic understanding of an individual company's relative valuation, allowing investors to compare current prices and valuations to historical levels without having to do the footwork themselves.
Here's an example of what I F.A.S.T. Graph diagram looks like. I've been following T. Rowe Price Group's (NASDAQ:TROW) price falling as of late; this graph helps me to see that I'm correct in starting to believe that shares are becoming undervalued.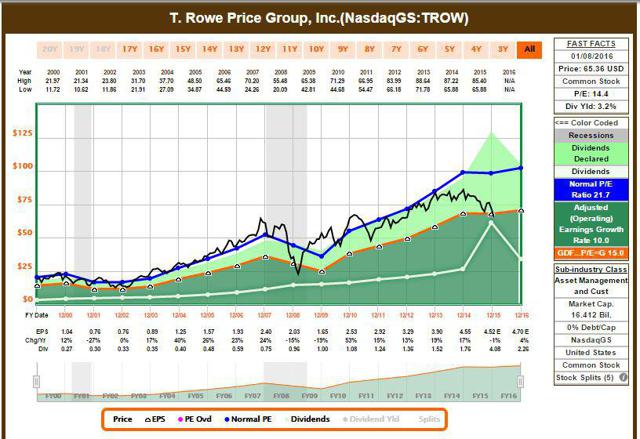 Click to enlarge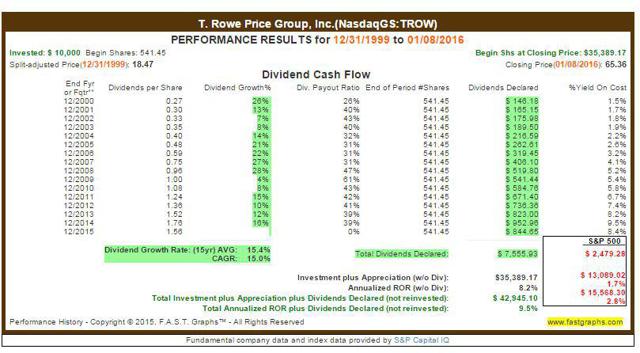 Click to enlarge
Mr. Carnevale also writes regularly here, providing in depth, value driven research, oftentimes with a focus on dividend yield and sustainability with retirement in mind.
I should say that F.A.S.T. Graphs is a paid service, though I am happy to give a positive personal review - I usually do all that I can to eliminate fees when investing, but the monthly F.A.S.T. Graph bill is one that I'm happy to pay for the value in time savings that I get in return.
Brad Thomas is another regular contributor here on Seeking Alpha, as well as other financial publications. Mr. Thomas focuses on REITs, which I've always found interesting from a yield standpoint. Largely inspired by Mr. Thomas's research, I've built several successful positions in REITs across several different real estate sectors.
Tim McAleenan Jr., who runs his personal website, theconservativeincomeinvestor.com, was an early inspiration for me as a fellow youngster (at least in relative terms to the average user in the Dividends and Income section). Living up to his site's namesake, Mr. McAleenan has proven to be a great source of information for me, always focusing on the fundamentals, especially where they pertain to income sustainability.
In the high yield space, I enjoy the coverage provided by ColoradoWealthManagementFund and BDC Buzz. I've always been interested in the yield that mREITs and BDCs offer, though due to my relatively low appetite for risk, I've managed to stay away, fighting my desire for those juicy double digit yields. With that being said, I've found the information provided by these two contributors useful and I imagine that when I get to the point in time in my life where I will need to push up the yield of my portfolio to meet living expenses, the knowledge that I've gained reading some of their articles will come in handy.
Eli Inkrot does great work for the Dividends and Income section, especially when it comes to his focus on the importance of time in the markets and the power of compounding. Mr. Inkrot writes entertaining financial narratives that give investors an idea of what real world DGI management looks like over the long haul - these articles do a lot of good for the investor's psyche, helping to maintain a focus on income, especially during trying times in the markets.
The Part-Time Investor's portfolio updates are some of my favorite to read. Like RoseNose (who will be discussed in a minute), I love the real world, do it yourself portfolio updates that The Part-Time Investor gives on a quarterly basis. The Part-Time Investor has also begun a series recently where he covers the most over and under valued Dividend Champions based off of current yield comparisons - I love these simple, yet elegant watch lists.
Mike Nadel is another of my favorite writers here. A former sports journalist, his pieces are to the point and easy to read. He's embarked on several interesting projects here as well, namely the DG50, a portfolio that he's created using the collective input of several highly respected SA authors. This portfolio outperformed the market in 2015, giving credence to my high praise of the noteworthy contributors who write here.
And now we come to the list of articles that I've written here in the past, focusing on prominent SA characters via Q&A sessions. I called this series "Learning From The Masters." I learned quite a bit from these interviews and from the feedback we received, I'd say the broader community did as well. I've been busy lately with a real estate business I started last fall and haven't written any articles for this series in a little while. However, I believe the information published here to be rather timeless, so below I'll list links to these articles...do yourself a favor and bookmark them for a rainy day. I didn't call these men and woman "Masters" for nothing, they're all influential members of the SA community with decades and decades of cumulative knowledge that they were willing to share.
David Van Knapp's work and comments are great for simple, to the point, grounded perspectives on long-term dividend investing. His advice about running one's portfolio like a business has meant a lot to me.
Chowder, famous for his Chowder Rule (current yield + 5 year DGR), is a wonderful voice when it comes to sound, logical, conservative, dividend growth investing principles.
Richjoy403 is an income investor, who like me in a certain respect, is willing to differentiate a bit from the typical, traditional, DGI mindset. Rich talks about income and growth as his two priorities. I've grown to respect his well thought out opinions wherever I see them. Newer investors/readers would have a lot to learn from this man.
Richard Berger (part 1) (part 2) will be a wonderful resource for those of you who may be interested in learning about boosting income with options strategies.
buyandhold2012 lives up to his namesake, spreading his buy and hold philosophy wherever doubt in the market exists. He maintains dedicated conviction in his management philosophy which has served him and his mother well over the years. I don't always agree with him (I sell shares from time to time), but you have to respect a man with such strong beliefs.
RoseNose is another self directed investor who has begun posting about her portfolio and management strategies. People (me included) seem to love her down to earth prose and honesty when it comes to her thought process in the markets.
And lastly, but surely not least, we come to Chris DeMuth Jr, better known as Sifting the World these days. StW isn't really built around dividend growth investing, but rather event driven opportunities. I follow StW because I find it interesting although I don't put these strategies to work in my portfolio. I think investors should always be taking steps to broaden their horizons and StW offers an excellent opportunity to do so.
And now that I've covered some of my favorite voices here, I'll end this summary piece with some generalized, philosophic points that I've latched on to when it comes to managing my own portfolio. Feel free to take these for what they're worth, or leave them. They work for me, but that doesn't mean they'll work for you.
It's important to form a relationship with the companies you invest in. View investments as partnerships. Don't buy and sell ticker symbols, but businesses that you understand and are willing to stand by for the long haul. This sort of mindset helps an investor to actually invest, rather than to speculate.
With that said, don't simply "buy and forget." I know that some will disagree with me here, sometimes staunchly so, but I believe that if an individual is going to take responsibility for managing their portfolios they ought to regularly check on their holdings, understand their valuations, and be willing to make calculated moves when company fundamentals change in a way that significantly affects an investment's value. In doing so, investors will be able to anticipate risks. Remember, price is what you pay, but value is what you get.
Have a plan and develop goals in the short-term and long-term. Develop a system which will enable you to achieve those goals. Stick to this system, though don't be afraid to tweak it as you learn. Be strong in your convictions while maintaining a willingness to be flexible.
Stay diverse. I don't have a rule for number of individual companies that I should own, or set in stone sector allocations, though I do believe it's important to spread risk around via diversification. With that said, diversification for the sake of diversification isn't good either. Make sure to only invest in businesses that you understand, otherwise you're putting yourself in a position where your finances could be in real danger and you wouldn't even know it.
Minimize fees. This applies to management fees, fund expenses, taxes, and payments for investment resources. Some of these are unavoidable, but it's still worth spending a bit of time analyzing the fees you're paying, just to make sure you're running your portfolio in the most efficient manner. I do all that I can do to minimize fees because my focus is on the compounding of income over the long-haul, any negative balance on my ledger hurts this compounding effect.
And lastly, love what you do. If managing your portfolio isn't something that you enjoy, or adds unnecessary stress to your life, it may be time to hand over the reins and allow a professional to manage your investments. There is no shame in this - I know Seeking Alpha is largely a site where self directed investors congregate, but if allowing a professional to manage your account allows you to put positive energy elsewhere, into other, more meaningful endeavors, then that seems like a no-brainer choice to me.
Alright, well that's that. Here's to 100 more articles here! As always, I look forward to your responses to this piece and others. Please feel free to follow me if you're interested in updates on my personal portfolio and the future pieces that I plan on writing. Best wishes to all, especially in these volatile market conditions.
Disclosure: I/we have no positions in any stocks mentioned, but may initiate a long position in TROW over the next 72 hours.
I wrote this article myself, and it expresses my own opinions. I am not receiving compensation for it (other than from Seeking Alpha). I have no business relationship with any company whose stock is mentioned in this article.