Click to enlarge
Bank of America's (NYSE:BAC) shares have faced downward pressure, along with the broader market, since the start of 2016. YTD, BAC's shares are down ~7.5% while the S&P 500 is only down ~3.5%, but is this underperformance a reason to sell your BAC shares?
BAC Stock Performance Compared To Peers
Let's start with reviewing the 2016 stock performance for the four major U.S. banks - BAC, JPMorgan (NYSE:JPM), Wells Fargo (NYSE:WFC), and Citigroup (NYSE:C).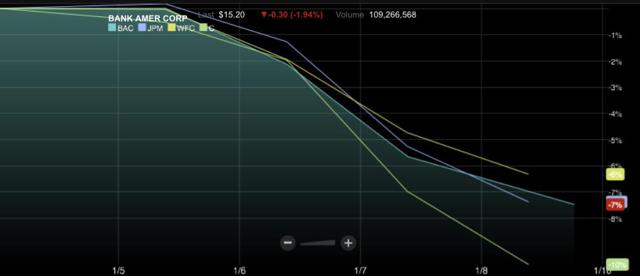 Click to enlarge
And the stock performance over the last year.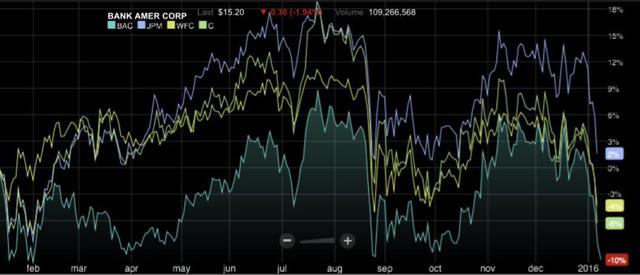 Click to enlarge
(Both charts courtesy of nasdaq.com)
As shown, BAC's shares have underperformed each peer (with the exception of C) so far in 2016, and over the last year, BAC has underperformed all of the other large U.S. banks. Is this underperformance a reason to avoid investing in BAC? Not necessarily, but investors do need to evaluate the bank's results/projections and decide if they believe that BAC's shares will continue to underperform over the next one, three, or five years.
Improving Earnings Will Eventually Lead to An Improving Stock Price
After reading a recent article (and the comments) on SA with the premise that investors should sell their BAC shares due to the underperformance of the bank's stock price, I immediately ran to my book shelf to find a quote from Peter Lynch and John Rothchild's "Learn To Earn" (disclosure: selections of the quote were emphasized by WG Investment Research):
This simple point - that the price of a stock is directly related to a company's earning power - is often overlooked, even by sophisticated investors. The tickertape watchers begin to think stock prices have a life of their own. They track the ups and downs, the way a bird watcher might track a fluttering duck. They study the trading patterns, making charts of every zig and zag. They try to fathom what the "market" is doing, when they ought to be following the earnings of the companies whose stocks they own. If earnings continue to rise, the stock price is destined to go up.
Are you considering an investment in BAC with the hope of making a quick profit in the first half of 2016? If so, BAC may not meet your investment needs. However, an investment in this bank will pay long-term dividends if you are looking to start a position in Bank of America around the $15/$16 range and plan to hold it for the next three to five years, as the bank's EPS is estimated to grow ~9% over the next five years.
How have earnings fared over the past two years? Below is a table that was created with the use of data from Fidelity.com:
| | | | | | | | |
| --- | --- | --- | --- | --- | --- | --- | --- |
| | Q1 '14 | Q2 '14 | Q3 '14 | Q4 '14 | Q1 '15 | Q2 '15 | Q3 '15 |
| Adj EPS | ($0.05) | $0.19 | ($0.04) | $0.25 | $0.27 | $0.45 | $0.37 |
| Consensus Estimate EPS | 0.05 | 0.29 | (0.09) | 0.31 | 0.29 | 0.36 | 0.33 |
| | | | | | | | |
| $ Earnings Beat (Miss) | ($0.10) | ($0.10) | $0.05 | ($0.06) | ($0.02) | $0.09 | $0.04 |
| % Earnings Beat (Miss) | (200%) | (34%) | (56%) | (19%) | (7%) | 25% | 12% |
The earnings are without a doubt trending in the right direction, as the bank's 2014 quarterly earnings were plagued with legal fines and settlements. Additionally, Bank of America is estimated to report EPS of $0.26 for Q4 2015, which would translate into the bank earning $1.36/share in fiscal 2015. This may not seem like much, but it would be an ~200% YoY increase in EPS.
As investors, we should be encouraged by the fact that earnings are increasing and are expected to increase in the upcoming year. The quote above says it best - "if earnings continue to rise, the stock price is destined to go up."
No Revenue Growth, No Worry?
The bears point to the fact that Bank of America is expected to see little-to-no revenue growth over the next year. This may be the case but the bank has levers to pull to maintain the bottom-line earnings growth. One factor that gets lost in the shuffle is the fact that Bank of America has significantly reduced expenses in the recent past.
At Q3 2015, the bank reported a 31% YoY decline (from $20.1b to $13.8b) in non-interest expenses, which was a $6.3b (pre-tax) positive impact to the bottom-line. Bank of America focusing on reducing expenses, coupled with the financial crisis finally being a thing of the past (i.e. no material legal fees), is a catalyst for improving earnings over the next few years.
In 2016, Bank of America may lack the revenue growth previously expected by analysts, but the bank should be able to maintain its earnings growth by continuing to reduce expenses in each quarter of the year. At some point, the rising interest rate environment will benefit the bank's top-line revenue growth.
On the other hand, a prolonged period of time with little-to-no revenue growth is an issue. This is where the investor's time horizon should be considered when evaluating the anticipated revenue growth (or lack thereof).
The Loss of the Fidelity Partnership, A Non-Issue For The Time Being
On January 4, 2016, Fidelity announced that it would be dropping its 12-year credit card partnership with Bank of America. This is not new news, as it was reported in mid-2015 that Fidelity was considering dropping the bank.
What's the financial impact of this lost partnership? No one knows (unless you are an insider), so let's not jump to conclusions that this is a significant loss for Bank of America. Yes, no one wants to lose big customers but it's part of business. It will be important to listen to management's commentary on the earnings call related to this previous partnership (if it is material enough to disclose), but for the time being, investors should wait for more information before saying the roof is falling (or that "you should sell this puppy").
Bottom Line
Bank of America is currently trading at an attractive valuation, as shares are trading at ~1x tangible book value and at a forward P/E ratio of 9.7. Global concerns, the unsettled oil and gas industry, and other headwinds are dragging the bank stocks down right along with the broader market. Furthermore, well-known investors are calling for further downward pressure, so BAC's shares will indeed be pulled down with other stocks if this is the case.
But, what is your investment time horizon? If it is longer than one year, Bank of America should be considered for your long-term buy-and-hold portfolio.
If you found this article to be informative and would like to hear more about this company or any other company that I analyze, please consider hitting the "Follow" button above.
Disclaimer: This article is not a recommendation to buy or sell any stock mentioned. These are only my personal opinions. Every investor must do his/her own due diligence before making any investment decision.
Disclosure: I am/we are long BAC, C.
I wrote this article myself, and it expresses my own opinions. I am not receiving compensation for it (other than from Seeking Alpha). I have no business relationship with any company whose stock is mentioned in this article.