On May 5, 2015, Occidental Petroleum (NYSE:OXY) announced a dividend increase to the new $3.00 rate. Normally this kind of news is very good, especially for a company in an industry that is seeing some of the lowest commodity prices in years. However, one of the reasons that Occidental was able to do this was that it had received a $6.1 billion dividend from California Resources (NYSE:CRC) before the division was spun off from the parent company, Occidental Petroleum. That dividend was to give Occidental Petroleum some badly needed liquidity during the downturn that followed.
At the time of the spinoff, in 2014, Occidental Petroleum had a very full capital budget plate.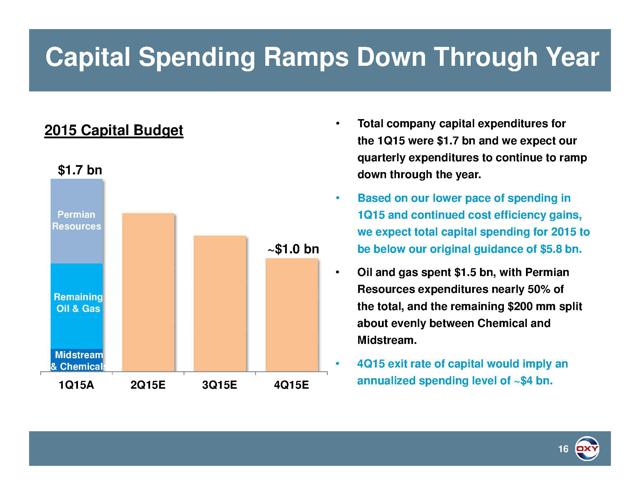 Source: Berstein Strategic Conference Occidental Petroleum Presentation, May, 2015
The company would normally have a choice between paying dividends with its reduced cash flow or pursing capital projects. By spinning off the California Resources Division with its six billion dollars in debt, Occidental Petroleum did not have the obligation to pay back that debt. This enlarged the pool of money that it had available to pay dividends. Therefore its capital projects could be paid using the reduced cash flow. Since the dividend costs the company about one-half billion dollars every quarter, that six billion dollars, which is shown on the company statements as restricted cash limited to things such as paying dividends and share buybacks, provided enough money to pay about twelve quarters of dividends (although the company was also repurchasing shares for awhile too).
The company still needed to borrow money to meet its goals for its capital projects, and other needs, but it now needed to borrow four billion less in 2015, and there is enough restricted cash for three more dividend payments (with a little left over) in 2016. In the meantime the cash needed for capital projects keeps decreasing. The quarterly amount needed has already dropped $700 million from the first quarter of 2015 to the fourth quarter of 2015 and it will drop more.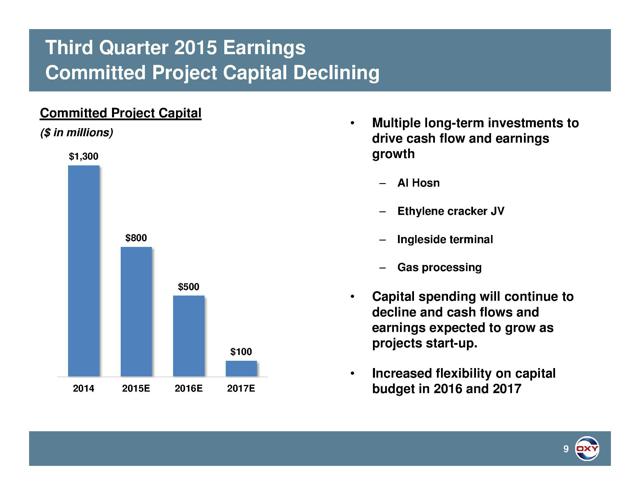 Click to enlarge
Source: Occidental Petroleum Third Quarter, 2015, Earnings Report
From the third quarter earnings report, the big capital projects are completing, and the future capital needed to finish the rest of the projects is dropping quickly. So as the restricted cash is depleted, more of the reduced cash flow is available to operations for drilling and development, and the payment of dividends. Best of all, these capital projects are adding to cash flow and earnings at a time when the company really needs earnings.
Al Hosn, for example produced 50,000 BOE per day instead of taking capital expenditures for development.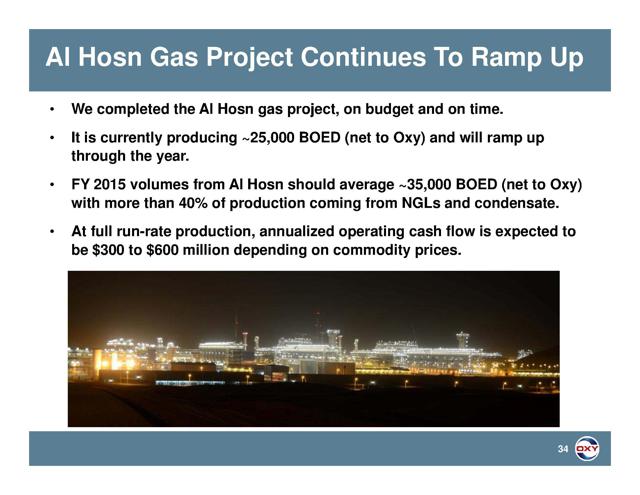 Click to enlarge
Source: Berstein Strategic Conference Occidental Petroleum Presentation, May, 2015
The cash flow swing from a project like this is tremendous. Even with commodity prices at record lows, and the project profitability at the low end of projections, the receipt by the company of a minimum of $75 million a quarter instead of paying hundreds of millions of dollars (sometimes per quarter) is a huge aid to the company. The effect is comparable to bringing hundreds of oil wells online at one time and not having much of a decline rate (unlike the Permian).
The next large project to come online will be the OxyChem Ingleside Ethylene Cracker in early 2017. Capital expenditures will steadily wind down throughout the year as this project nears completion. It will materially add to cash flow in the next fiscal year regardless of commodity pricing for oil and gas. This project also lessens the dependence of the company on the oil and gas exploration division. Such projects would help the company maintain the dividend in future industry downturns.
Cash flow from operations was $8.9 billion for fiscal year 2014. However for the first nine months of fiscal year 2015, it has only been $2.4 billion. With commodity prices continuing to decline, the cash flow may not total $3 billion for the whole fiscal year. So the decline in capital spending and the increase in cash flow from the completed projects are very welcome accomplishments. Capital expenditures for next year will be $800 million less than they were in 2014. But with the cash flow from operations decrease, even that reduced capital budget may be a stretch. After all the company needs to maintain its production levels.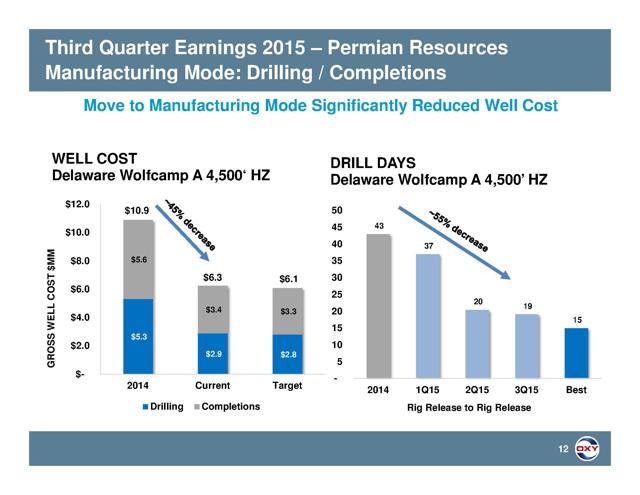 Click to enlarge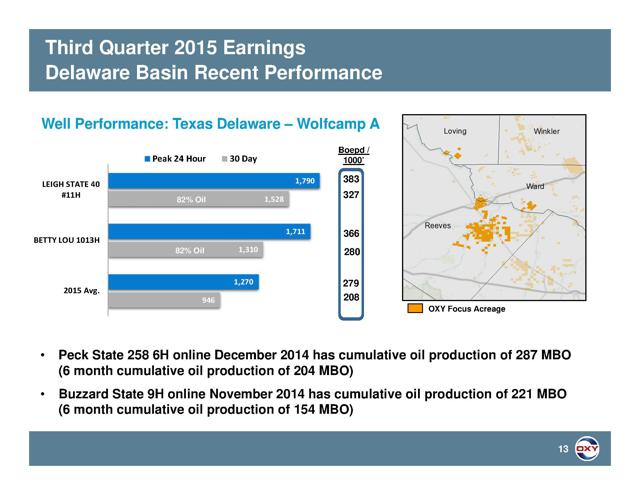 Click to enlarge
Source: Occidental Petroleum Third Quarter, 2015, Earnings Report
From the third quarter earnings report, the company appears to be playing catch up. EOG Resources (NYSE:EOG) in its latest quarterly report to shareholders reports that it is drilling wells to the Second Bone Spring Sand interval in 9.6 days.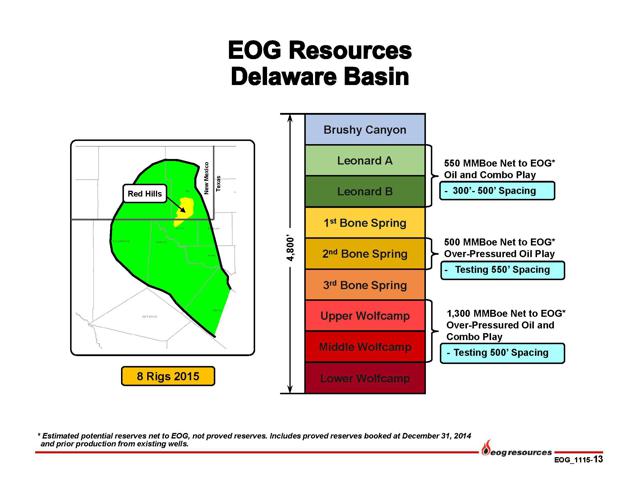 Click to enlarge
F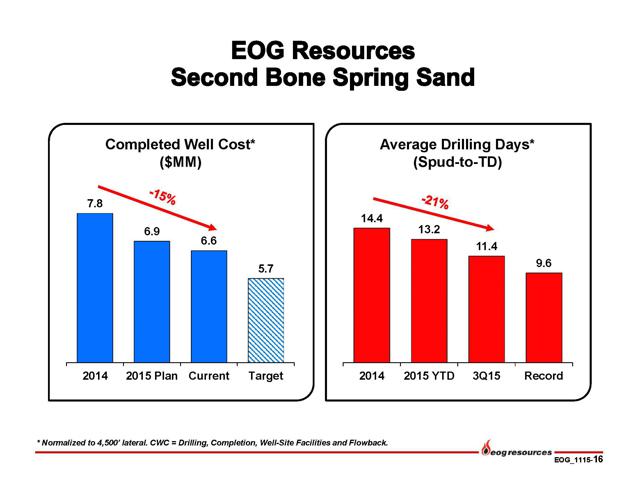 Click to enlarge
Source: Third Quarter, 2015 EOG Resources Presentation
From the third quarter presentation, EOG Resources, is drilling to a higher zone than Occidental Petroleum. However, the distance between the zones from the top slide, does not appear enough to justify another ten days (approximately) of drilling. From Michael Filloon's latest article on the Permian and EOG Resources, the Wolfcamp, to where Occidental Petroleum drills, has more oil than the Second Bone Springs interval. However, even there, EOG appears to have a so much greater 30 day flow rate than the Occidental wells, that possibly EOG Resources could have a profitability advantage even with the higher percentage of gas and liquids produced. EOG Resources reported to shareholders that its best wells were flowing more than 3,000 BOE per day initially. That is far better than the best wells that Occidental shows in the slide above, even though Occidental drilled to a different zone with a better oil cut. The point here is that there is some evidence that Occidental may not have the lowest costs in the Permian and therefore has some work to do to bring costs down more than management admits. Exact comparisons are hard to come by so the reader can look as this as an indication or a "straw in the wind".
On the total wells costs Occidental currently has cheaper total costs, however, getting those drilling days down would lower the costs significantly. Plus the flow rates per well needs to increase significantly above what the Occidental shows in its second slide. EOG Resources usually has superior well productivity and therefore may be an appropriate benchmark for Occidental until it catches up (and hopefully surpasses EOG). EOG Resources does tend to spend more money on fracking, well design, and completion, but it usually gets its money back in increased and more profitable production. Right now, at first glance that looks to be the case.
The company did report $3.4 billion in impairment charges in the third quarter of 2015. Those charges are another indication that costs are not where they should be or that the assumptions used for depreciation, depletion, and amortization were not as conservative as they should have been in past fiscal years. Occidental Petroleum does use the successful efforts method of accounting, and that tends to be the more conservative method. However, the company can make some aggressive assumptions even using that method. Those aggressive assumptions can result in large writeoffs when commodity prices drop and stay low.
Still the company does report that the Permian is profitable for the company, however, the indications from the slides above are that it could be more profitable. This project will receive a significant amount of the capital budget next year, so cost savings in this project will help the company's outlook significantly. The company does report that its cash costs are down to $10.87 BOE for this project. While that is a good figure, the company needs to set a goal to bring that figure down more. Oil and gas prices are below most of the figures on the slide presentation, and therefore to meet its cash needs next year the company needs to cut costs dramatically again and increase production.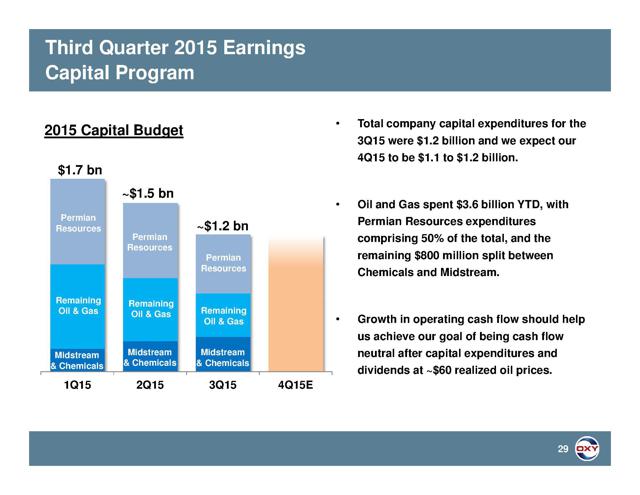 Click to enlarge
Source: Occidental Petroleum Third Quarter, 2015, Earnings Report
From the third quarter earnings report, the company states that it expects to spend its cash flow only at $60 per barrel oil prices. At the time of the third quarter report, oil prices were nowhere near that price and they have declined since then. This slide was obsolete before it was ever shown during the conference call. There are forecasts for oil to achieve that pricing level during the second half of 2016, but this company has to get there first.
It has a fairly strong balance sheet with long term debt less than 25% of shareholder equity, even after all the impairment charges. The current ratio is better than one-to-one even if the restricted cash is excluded. The long term debt-to-cash flow ratio is roughly two-to-one. The company has a high enough rating from the debt agencies that the borrowing additional money to fund its projects is very possible if the company decided to do that. However, it also makes raising the dividend in the middle of a downturn look foolish, when all that does is increase the amount borrowed. That dividend currently uses about $2 billion of greatly reduced cash flow. When one considers that the next few quarters will be lucky to have cash flow at an annual rate of $2 billion, the company clearly has some tough decisions to make for next year.
As of the close of the market on January 8, 2106, the company has a $48 billion market cap and $6.9 billion long term debt. Adding those two together and dividing by the very generous assumption of cash flow of $3 billion (which the company might not have) gives a ratio of 18.3-to-one. That is an extremely expensive ratio for an oil company and may well explain why Occidental decided to raise the dividend. That event kept the focus off the operations, cash flow, and other operating concerns. While the company does have the option to borrow quite a bit of money, and even lower its credit score (but still remain investment grade - not speculative), that choice does not seem wise when most observers cannot predict the end of the downturn of commodity prices.
The stock price has held up amazingly well considering the lack of cash flow and the impairment charges, however, now is clearly not the time to invest in this stock. That cash flow needs to probably at least double from where it is now, and that would take a very substantial move in oil and gas prices or a tremendous amount of cost cutting (and production increases). This company's common stock is going nowhere, except probably down for the next few quarters and maybe even years. The fundamentals are not there to hold up the price of the stock in the most probable scenarios. Therefore investors need to stay away from this stock until cash flow doubles. If there is one thing that really needs to be emphasized more in the company presentations, it is the cost cutting and very specific (and detailed) goal setting by project. The presentation does not come across with that drive to cut costs and be the best in the industry.
Indeed when an investor looks at the beginning of the presentation he sees something very different.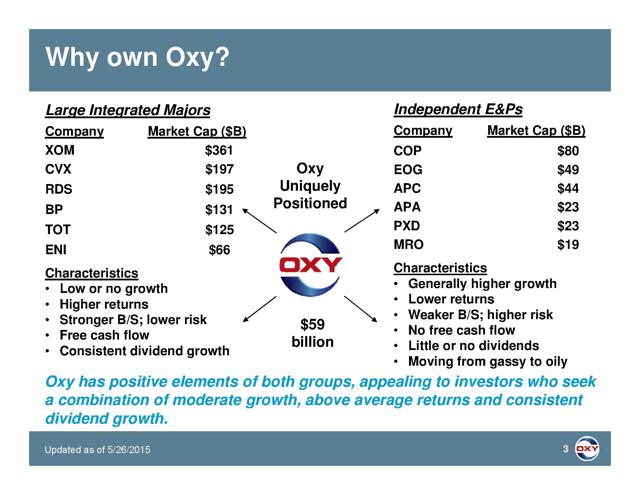 Click to enlarge
Source: Berstein Strategic Conference Occidental Petroleum Presentation, May, 2015
The presentation begins with this slide. But really investors want to know how an investment will make money for them. Now admittedly the quarterly report focused a little more on costs, but there was really no indication from either presentation that the company has the drive and ambition to be the most efficient operator out there. That is a very dangerous attitude to have in a commodity industry especially during a period of low pricing.
The quarterly presentation that the EOG slides came from started out talking about cost reduction, production improvements, and gave some numbers. Plus management reiterated that they are not done decreasing costs and gave a glimpse of the future. If commodity prices continue their current downturn, Occidental could well see its remaining cash flow dry up, whereas a company such as EOG, with that focus on cash flow should be able to keep ahead of the commodity price declines and maintain a comfortable cash flow. Plus EOG has some hedging protection whereas Occidental really has none.
Occidental Petroleum talks about diversification, and the Ethylene cracker is definitely a good diversification (on integration) project). However, this strategy only works if the costs remain low in each division when compared with the rest of the industry. It is going to take a lot more work than raising the dividend for Occidental to maintain its current stock price. There are many other companies with lower market value plus attractive debt to cash flow ratios than this company and investors should wait for that ratio to come down to at least eight-to-one. By then several of the other more attractive companies (Marathon Oil (NYSE:MRO), for example is cheaper) that I have written about in other articles will have shown a significant profit for their investors. Granite Oil (OTCQX:GXOCF), for example, pays a dividend with much more cash flow support than this company.
Disclaimer: I am not an investment advisor and this is not a recommendation to buy or sell a security. Investors are recommended to read all of the company's filings and press releases as well as do their own research to determine if the company fits their own investment objectives and risk portfolios.
Disclosure: I am/we are long GXOCF.
I wrote this article myself, and it expresses my own opinions. I am not receiving compensation for it (other than from Seeking Alpha). I have no business relationship with any company whose stock is mentioned in this article.