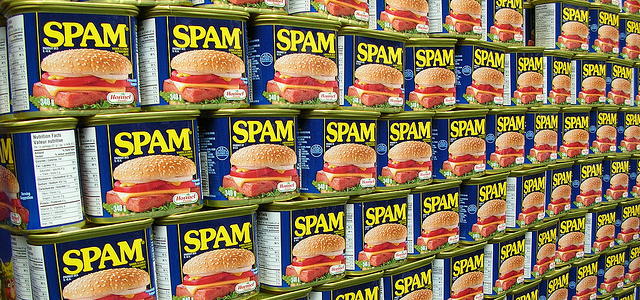 It is time again for the next instalment of my "Food Fight" series. This series looks to analyze many of the main names in the food sector and compares them to their peers. Last time we turned to Campbell Soup Company (NYSE:CPB). This time we are turning to the dividend aristocrat, Hormel Foods (NYSE:HRL).
Hormel includes a huge number of extremely familiar food brands within its portfolio including the eponymous Hormel brand, Stagg Chili, Jennie-O range of meats and Muscle Milk nutritional brands. Indeed, looking at a snapshot of their brands, few of you would struggle to find one you're not familiar with: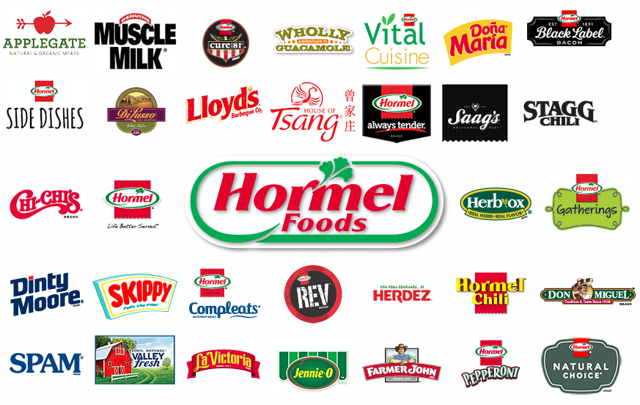 Click to enlarge
This brand collection is all the more impressive for its scope. Indeed, Hormel's sales are nicely spread across the well-diversified set of food brands it holds. According to its 2015 Annual Report its sales breakdown looked like this: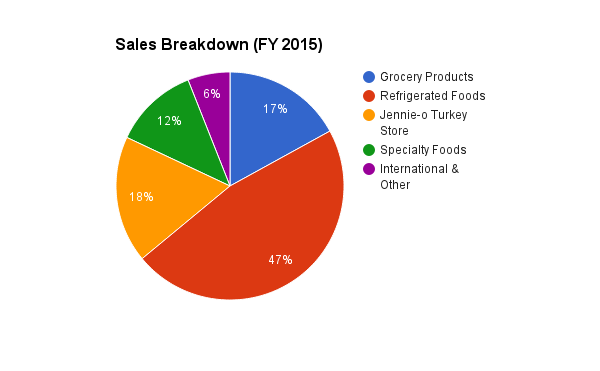 The importance of its refrigerated meats division is clear to see. Recently, its acquisition of Applegate organic meats has helped to ensure that this segment continues to appeal to consumer demand and its shift towards more natural and organic products.
However, looked at from a profit perspective, the segments are more evenly spread: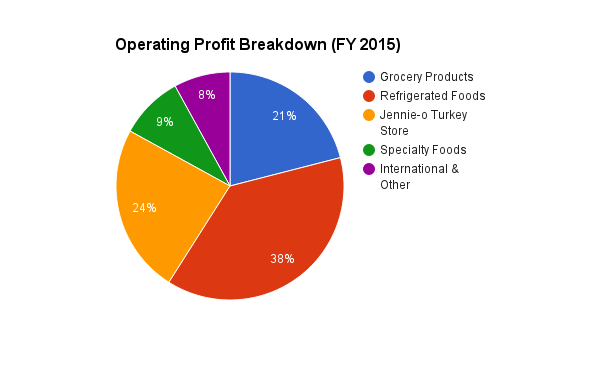 All in all, its brand portfolio looks strong and well-balanced. Something which is very attractive to see in such a business. But let's move onto the business nut and bolts beneath the brands.
Revenue Growth
First, revenue growth. Hormel has seen pretty consistent revenue growth for much of the last five years. Growth has flattened last year, however: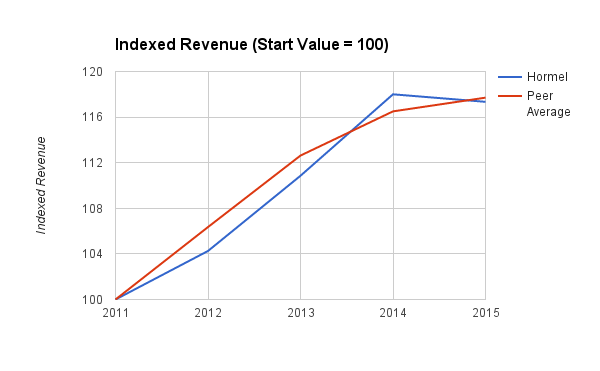 This has therefore left Hormel pretty much exactly in line with its peers over this time period. However, going forward it looks as though Hormel is set to outperform its peer group: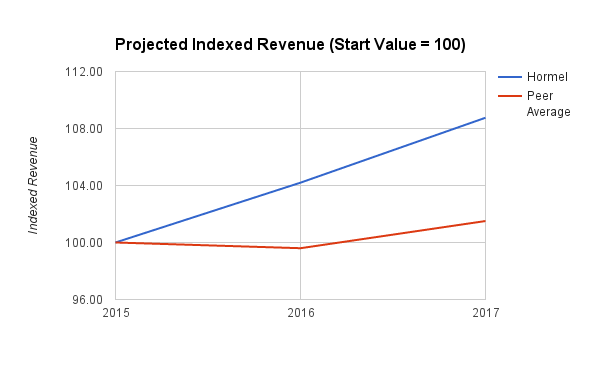 Whilst most in the food sector look likely to see fairly flat revenue growth over the next couple of years, Hormel is set to return to pretty tidy growth. This is good news for current or prospective investors in Hormel.
Operating Profit Margins
Hormel has actually underperformed its peers with regards to its operating profit margins over the last five years. Despite the strength of its brand portfolio it has struggled to cross the 10% margin which a vast majority of its peers easily surpass: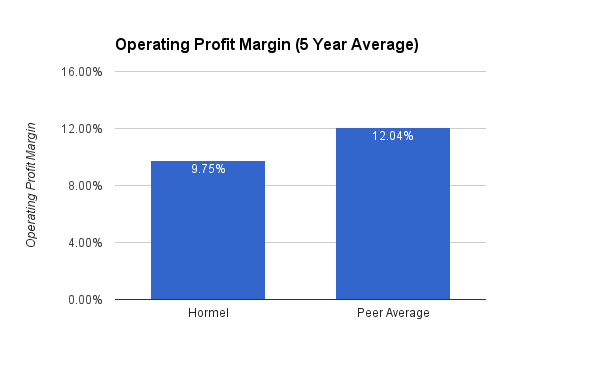 However, this does not tell the whole story. In fact, Hormel has been consistently improving its margins over the last few years: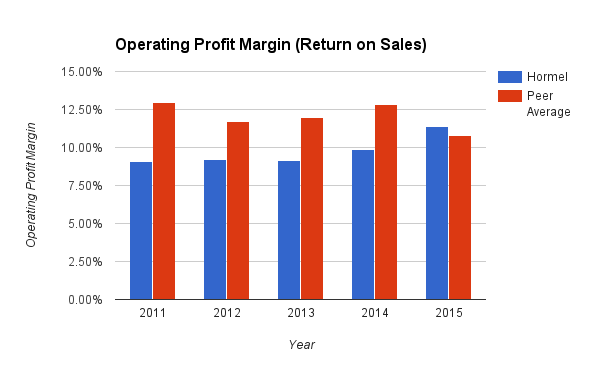 Judged by the peer average over the last five years, it would suggest that Hormel still has some scope for expanding those margins. With momentum seemingly on their side, this possibility looks pretty nice indeed. Nonetheless, Hormel has shown itself highly able with regards to growing these margins which is a good sign going forward.
Cash Flow
Where Hormel has also proven itself very capable is with regards its free cash flow: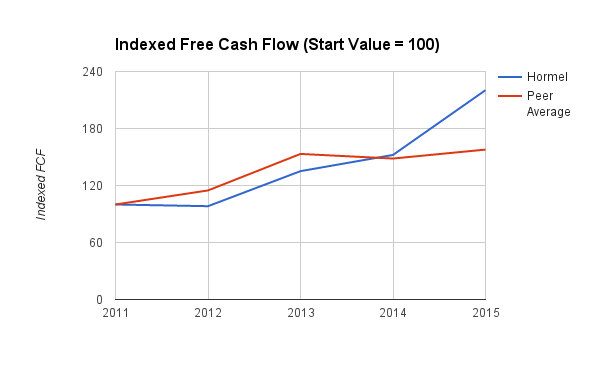 It has grown FCF consistently and ahead of its peers over the last five years. What is more, it has managed to do so in a more efficient manner.
It has increasingly managed to convert more of its sales revenue into FCF over the last five years: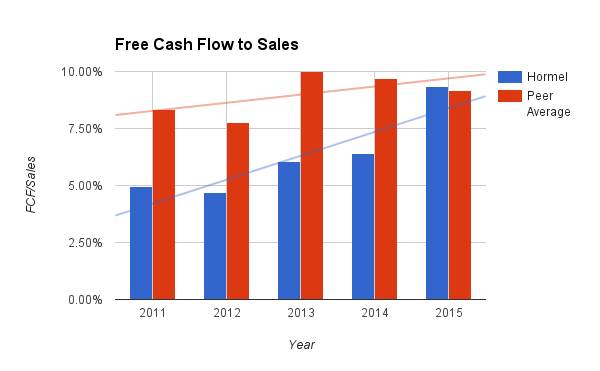 From being a peer group laggard in this regard it has now come in line with its peers. As a result, I see no reason why it cannot retain its FCF/Sales ratio as it is at present. In light of this and anticipated revenues growth for the next couple of years I see no reason why FCF should not continue to grow at a healthy rate.
This efficiency in generating cash becomes even more apparent when we look at Hormel's CROIC (cash return on invested capital):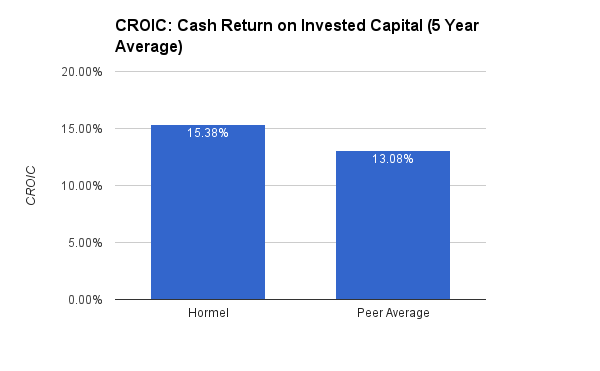 Over the last five years it has managed to average a CROIC of over 15%. This is very impressive and is nicely ahead of its peers who have managed to put together an already very impressive 13%. What this means, is that for every $1 of capital invested in Hormel it has managed to produce $0.15 in cash.
What is even more encouraging to see is that this efficiency in generating cash from its capital has been rapidly improving in recent years (as you'd expect from our discussion above):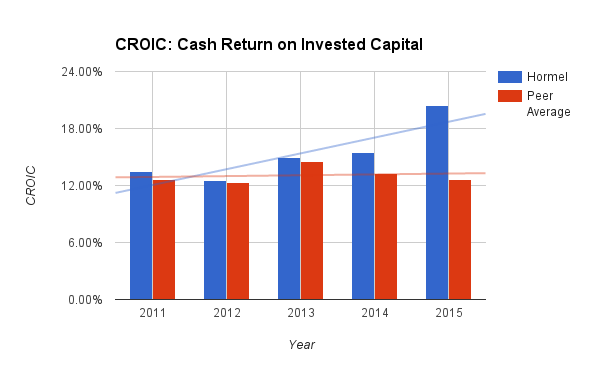 Indeed, at FY 2015 time Hormel produced a CROIC over 20%. Very impressive indeed.
Excellent Debt Position
This is not the only place where Hormel outshines its peers. It does again when we look at the debt it carries. High leverage is common across the food sector as their steady cash flows means they have easy access to generous debt facilities.
However, Hormel is only modestly leveraged. Throughout the last five years it has retained a debt to equity ratio well below the average of its peers: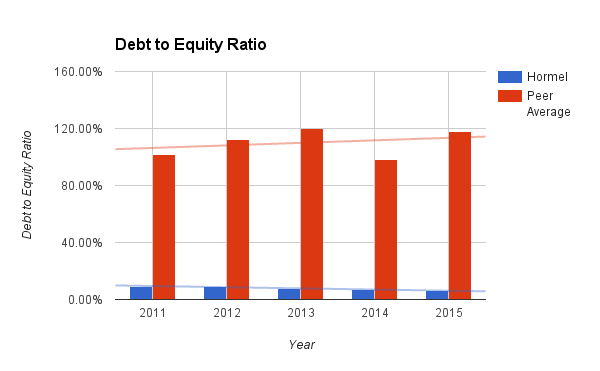 It is therefore of little surprise in light of its low debt levels and strengthening cash flow position that it has a superb amount of FCF coverage for its debt: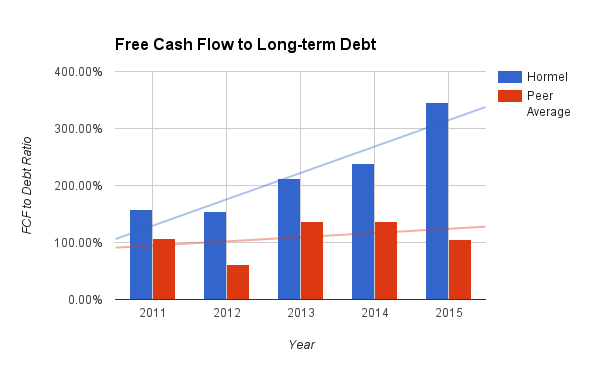 At FY2015 time, their FCF coverage of their debt was sitting at a massive 346%. In theory, this means that they could repay the entirety of the debt in a little over three months using only their FCF.
It is little wonder, therefore, that we find that Hormel attracts very generous credit ratings from the main agencies compared to its peers (read my separate article on how I normalize credit ratings):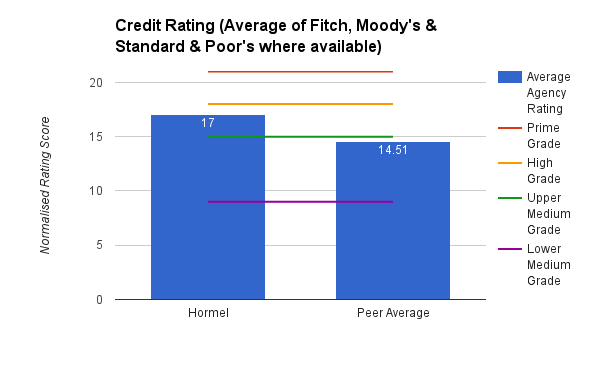 All in all, this shows that Hormel is in very rude health with regards it debt. It is modestly leveraged and has very generous coverage of the outstanding debt by its FCF. All are good signs for investors.
Dividend
Hormel recently entered the realm of being a Dividend King (50+ years of consistent dividend growth). However, its reputation as a dividend stalwart has drawn many investors to its stock.
It is, therefore, perhaps unsurprisingly that Hormel's stable yield is fairly modest at just 1.28%. High yield hunters may be a little put off as a result. This is especially once we look at it more deeply: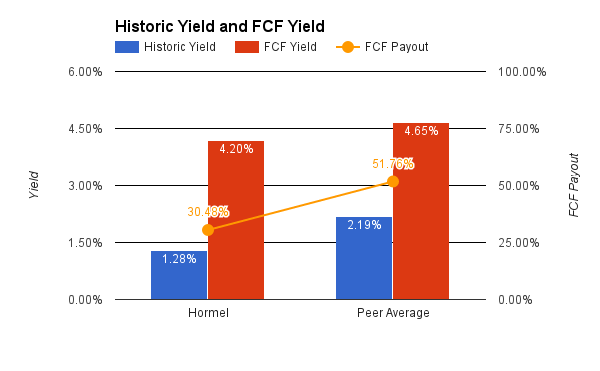 Hormel's yield is a lot lower than the peer average. However, its FCF yield (the yield if its decided to pay out all of its FCF as a dividend) compared well with its peers.
Its FCF payout ratio also sits at a modest 30%. There is still, therefore, plenty of room for the dividend to grow into the future which looks great for long-term investors. Nonetheless, the low relative yield directs us to a potential sticking point: valuation.
Valuation
Needless to say, with Hormel obviously a high-quality business operating in a stable industry with a superb record for consistently rewarding shareholders, it is not currently trading cheaply.
Indeed, it is currently trading well ahead of its already pretty richly valued peers: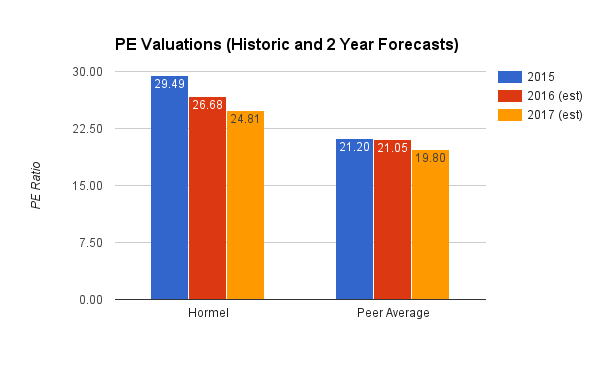 Now I could understand why you would be happy to argue that it deserves a premium to its peers considering its performance and the health of its books. However, this does seem (even with solid growth included) a bit steep. What is more, judged from the perspective of its own historic fair value, Hormel is also overvalued at present.
Fair Value
So what is its fair value? I calculate my fair value by taking the average PE for the company over the last five years. In the case of Hormel this is 19.54.
I then use this as the basis for ascertaining its fair value by multiplying the predicted earnings per share for the next two years by the historic average PE value for the company and averaging the result. Doing so provides us with a basic fair value of $59.40.
I then adjust this by the amount of cash held on their books. Doing so provides us with a cash-adjusted fair value of $60.72.
Hormel was last trading around that value back in September 2015. Since then, however, it has been trading at a quite significant premium with it currently sitting about 25% above this fair value: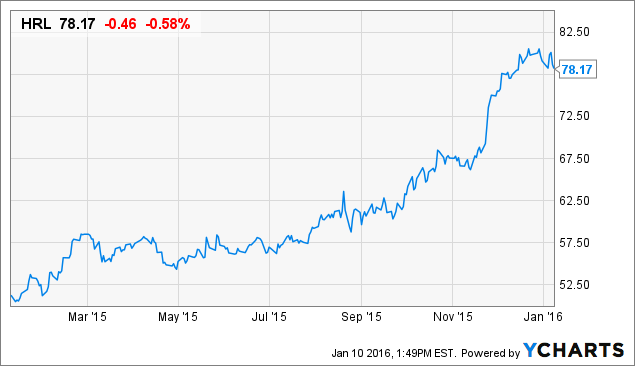 At $60, it would be currently yielding about 1.6%. Still below its peers, but far more generously than at present. What is more, with a yield of $1.15 predicted for the year coming (a prospective 15% increase on top of the 16% received last year), this would be a yield of 1.9%: a much more tantalizing prospect. Nonetheless, trading at $78 at present this is not so attractive.
Conclusion
Overall, I find Hormel a very attractive stock and one I would be very happy to see nestled into my portfolio for the long haul.
However, at its current price I find it hard to justify opening a position in it. I would have to wait for a significant pull-back to around the $60 mark before seriously considering opening a position (note: assuming the stock split occurs later this year, the target price will be $30).
Its consistent ability in improving its efficiency metrics is very impressive and still offers more room for improvement and it remains at the top of my watchlist. Now I just have to wait.
Notes
The companies compared are: McCormick & Co (NYSE:MKC), Unilever (NYSE:UL), General Mills (NYSE:GIS), Campbell Soup Company, Mondelez (NASDAQ:MDLZ), Lancaster Colony (NASDAQ:LANC), Hershey (NYSE:HSY), Nestle (OTCPK:NSRGY), Kelloggs (NYSE:K), J. M. Smucker (NYSE:SJM), ConAgra (NYSE:CAG), Mead Johnson (NYSE:MJN), Danone (OTCQX:DANOY), Tootsie Roll (NYSE:TR) and Tyson Foods (NYSE:TSN). In each comparison, the company being specifically analyzed is not included in the peer average.
Unless otherwise stated, all graphs and tables and the calculations contained within them were created by the author. Creative Commons image reproduced from Flickr user 63056612@N00.
Disclosure: I am/we are long UL.
I wrote this article myself, and it expresses my own opinions. I am not receiving compensation for it (other than from Seeking Alpha). I have no business relationship with any company whose stock is mentioned in this article.