By William Stanley and Mark Painter, CFA
Generally
BDCs are non-bank entities sanctioned under the Investment Company Act of 1940 to make loans to mid-market domestic companies generally defined as companies with $10 million-$1 billion in annual revenues.
Congress recognized that small and mid-sized companies needed an alternative to banks.
BDCs must invest at least 70% of total assets in:
- Securities of non-listed (major exchanges) U.S. operating companies
- U.S. operating companies with listed securities and market capitalizations less than $250 million
Typical Investments include:
Senior secured debt, senior unsecured debt, subordinated secured debt, subordinated unsecured debt, mezzanine debt, convertible debt, convertible preferred equity, preferred equity, common equity, and warrants.
Some of these instruments are issued through private placements and may trade in the private over-the-counter markets for institutional investors.
BDCs may borrow to the extent of their total assets less total liabilities (excluding borrowings) equaling at least 200% after such borrowing, with a number of exceptions.
Opinion
BDCs as a group are an interesting lot which proliferated in the non-traded space starting in 2009 with FS Investment Corp. Since that time many other non-traded BDCs entered the market with perpetual low interest rates and lucrative payments to the sponsor as these non-traded entities are sold through Broker Dealers for commissions. Much has been written about Non-Traded REITs while comparatively less about BDCs.
After 2008 and the ensuing tightening of credit markets, BDCs filled a void by lending to many private firms to supplement senior secured, junior loans and equity co-investments from other alternative sources.
Advocates argue that these entities are lending and supporting the backbone of U.S. growth. Detractors suggest that they are high risk investments that are more akin to equity than debt and the economics of the non-traded variety are diminished by the big upfront sales commission paid to the brokers who sell these programs.
BDCs compete with private equity funds, commercial banks, investment banks, commercial financing companies and certain hedge funds. Many of whom do not have the burden or restrictions imposed by the 1940 Act.
As managers, we view BDCs as down the food chain from high yield debt being especially difficult to assess. This being said, let's take a look at how a BDC is constructed.
Equity or Debt
So what are BDC shares, equity or debt? The investor is an equity holder while the assets within the company are primarily loans. Thus, BDCs must be evaluated as operating through the underwriting team, track record, default rate, industry dispersion, etc. As with many non-investment grade debt instruments or entities lending to such, generally the time to invest is early in a recovery cycle.
Underwriting
If the three most important considerations in real estate are location, location, location, then the three most important considerations in BDCs are underwriting, underwriting, underwriting.
The recent decline in oil and its impact on feeder industries and lenders is still being sorted out. Intuitively, we know that cheaper oil is better for consumers, but the collateral damage to energy-related jobs, lenders, and others is just beginning to be felt.
Defaults are coming and many will hit BDCs particularly hard, particularly those with high exposure to energy companies, along with some specialty oil patch focused banks.
SBICs
BDCs may create subsidiaries licensed by the Small Business Administration ("SBA") as Small Business Investment Companies ("SBICs").
The SBIC subsidiary issues debt guaranteed by the SBA and is excluded from the capital requirement set forth under the 1940 Investment Company Act. SBA-guaranteed debt generally carries long-term fixed rate debt lower than bank rates.
The SBICs may borrow to a maximum of $150 million, with $75 million of equity capital.
Proliferation Since 2008
After 2008, banks entered a low or no risk lending mode opening the door for BDCs. Additionally, investors were searching for high yield alternative to 2% 10-year Treasuries.
The Players
Publicly traded BDCs are a relatively new entrant to the marketplace and offer similar characteristics to REIT and Master Limited Partnerships in that they are pass-through entities for taxes and hold an asset that by itself is generally not an operating company.
A review of the Top 5 players in the traded BDC space show wide disparities in performance.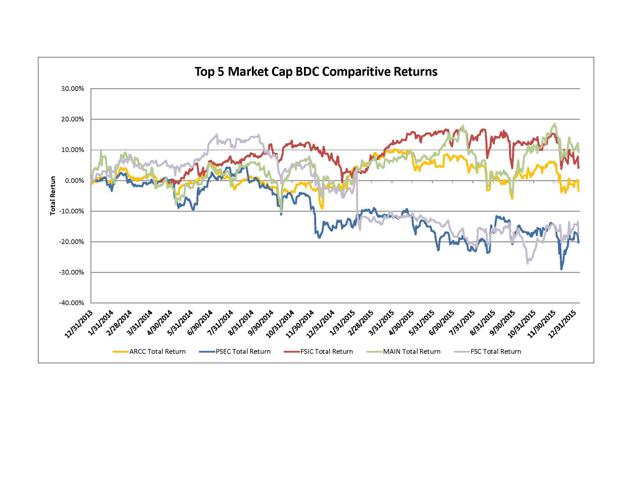 Conclusion
We believe the following:
We are at a point in the economic cycle when investors are well advised to steer clear of debt with less than pristine credits.
The recent sell-off of the high yield market is the tremor before the quake
Buying yield blindly without understanding the portfolio and underwriting quality is ill advised as returns will vary widely as shown above.
The impact of energy company defaults and recapitalizations has yet to be felt.
There will be an opportunity to purchase BDCs at a significant discount, but in the face of a worsening credit cycle, it would be wise to avoid until a bottoming of the credit cycle and many book values have already been reduced.
Disclosure: I/we have no positions in any stocks mentioned, and no plans to initiate any positions within the next 72 hours.
I wrote this article myself, and it expresses my own opinions. I am not receiving compensation for it (other than from Seeking Alpha). I have no business relationship with any company whose stock is mentioned in this article.
Additional disclosure: The preceding were co-authored by William Stanley and Mark Painter,CFA, William Stanley previously served as a director for Business Development Corporation of American from 2009 - 2014 and Mark Painter, CFA is a portfolio manager for The Stanley-Laman Group, Ltd.