2016 started on the wrong foot for equity investors. The first week of the year's performance seemed to be the worst ever where the S&P 500 index lost about 6% in just five days of trading.
In fact, if taking a slightly longer perspective than just a single week, we can see that the weakness started in mid-December 2015. The next graph shows the behavior of the S&P 500 in the recent year represented by the SPDR S&P 500 Trust ETF (NYSEARCA: SPY).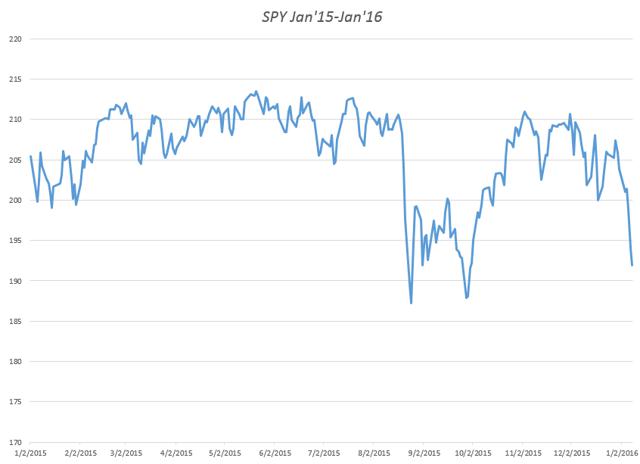 Click to enlarge
There is no doubt that the 0.25% interest rate hike and the expected FED actions in 2016 were the trigger for a temporary downturn cycle. The low volume during the holiday's season might have softened the meltdown in the markets, but as soon as the New Year kicked in there was no doubt that the markets are trending south. At least in the short-mid-term.
While there are many other explanations for the current negative sentiment, whether the everlasting drop in oil and commodities' prices which raised the concern about a global-demand slowdown or whether it was the stock market collapse in China which seemed to be gaining momentum even though the government took measures to mitigate it, the bottom line is that the U.S. markets are in the middle of a correction.
There are many who claim that this is more than a correction. While previous corrections were followed by a hike to a new all-times-high record, this time the correction of the August-September deep was not followed by a new record. By mid-December the S&P 500 was able to correct only to the levels of 2,100 points and then started to drop again.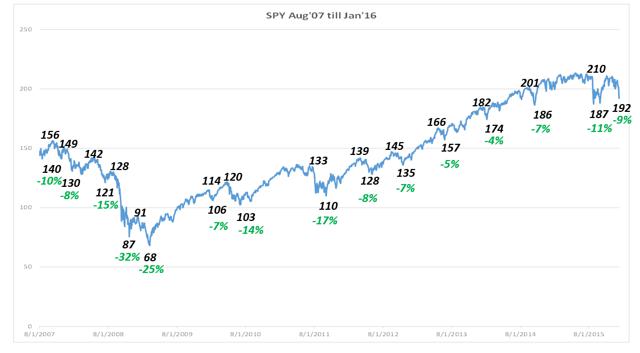 Click to enlarge
The current situation is very sensitive. If the markets will set a new local-low, meaning if the S&P 500 would go down below the deep that was set in August'15, at 1850-1870 points, there would be more investors who would be concerned that we are heading towards a bear market. The memories from 2008 are still fresh in the minds of many investors and therefore going to these territories would only increase the levels of anxiety and volatility.
My strategy:
My current portfolio includes 21 holdings: Avista Corp. (NYSE:AVA), BHP Billiton (NYSE:BBL), Baxalta (BXLT), Cracker Barrel Old Country Store, Inc. (NASDAQ:CBRL), Care Capital Properties, Inc. (NYSE:CCP), Cummins Inc. (NYSE:CMI), Chevron (NYSE:CVX), ConocoPhillips (NYSE:COP), Deere & Company (NYSE:DE), Eaton (NYSE:ETN), Johnson & Johnson (NYSE:JNJ), HCP (NYSE:HCP), Main Street Capital (NYSE:MAIN), National Health Investors (NYSE:NHI), Realty Income (NYSE:O), Omega Healthcare Investors, Inc. (NYSE:OHI), Philip Morris International (NYSE:PM), AT&T (NYSE:T), Unilever (NYSE:UL), Ventas, Inc. (NYSE:VTR) and Wisconsin Energy (NYSE:WEC).
Though some of the stocks have suffered from a significant price drop the dividend cash flow was hardly impacted.
In the event of additional pullback in the markets to test the August'15 lows I would like to take a different approach from the one that I used to take in previous corrections, which was to pick up specific stocks.
Betting on the Schwab U.S. Dividend Equity ETF (NYSEARCA:SCHD)
While low stock prices increase my immediate appetite to take higher risk through positions in sectors which suffered the most (like Energy or Mining), the best practice is to remain disciplined and follow the strategy.
One way to control the risk in high volatile periods is to maintain high diversification across multiple stocks and sectors. The best vehicle to use in order to achieve that is through an ETF.
A potential issue is that an ETF could have a high overlap between my existing portfolio and the ETF's holdings.
Another disadvantage of an ETF is the management fees.
I therefore chose SCHD as the best ETF to build a new position in following the study that I have published here.
There are four main advantages that SCHD holds which makes it the best adder to my portfolio:
Low overlap to my existing portfolio: SCHD have 43% of its fund invested in it top ten holdings. The top-10 list includes Exxon Mobil Corporation (NYSE:XOM), Procter & Gamble (NYSE:PG), Verizon Communication (NYSE:VZ), JNJ, Pfizer (NYSE:PFE), Microsoft Corporation (NASDAQ:MSFT), Coca-Cola (NYSE:KO), Home Depot (NYSE:HD), CVX and Intel Corporation (NASDAQ:INTC). Out of these 10 companies, I hold only two in my existing portfolio (JNJ and CVX). By adding SCHD I actually increase my portfolio's diversification.
Add the best in class companies' stocks across multiple sectors: By investing in SCHD I would not only increase the diversification within my portfolio across new sectors, like Technology and Retail-Home-Improvement, but would invest in the best of breed companies in each of these sectors. There is no doubt that we are heading towards a double-risk situation of global-slowdown combined with a stronger dollar. This would have a negative impact on the growth expectations of most of these companies due to their global exposure, but as leaders in their domains I would expect that the majority would utilize their advantages in Size, Technology, Research and Capital investments to step out stronger from the approaching downturn cycle. Companies like JNJ and KO have done it many times before in the last decades and would most likely do it again.
Low managerial fees: SCHD expense ratio is only 0.07%. This is by far the best managerial fees one could expect from this type of an ETF.
Achieve 4% dividend yield: In 2015 SCHD paid out $1.15 per share, which based on current share price represents a 3.1% dividend yield. I would aim to generate a position at price that is closer to $36 which implies a yield of 3.2%. Based on historical dividend growth rate the dividend grew in average by 12% going from 2012 to 2015. The average of the Top-10 holdings' recent year's DGR was 8.4%. The actual increase from $1.05 dividend in 2014 to $1.15 in 2015 was actually higher than that at 9.5%. That means that beyond the Top-10 holdings the ETF has dividend growth coming from the other 95 holdings of the fund. By maintaining the 8-10% yearly growth, the fund could get to my 4% target in three years' time. By building a position in multiple steps I would aim to reduce my average Buy-price and therefore achieve the 4% goal even earlier than that.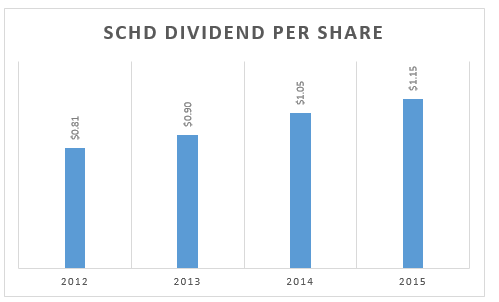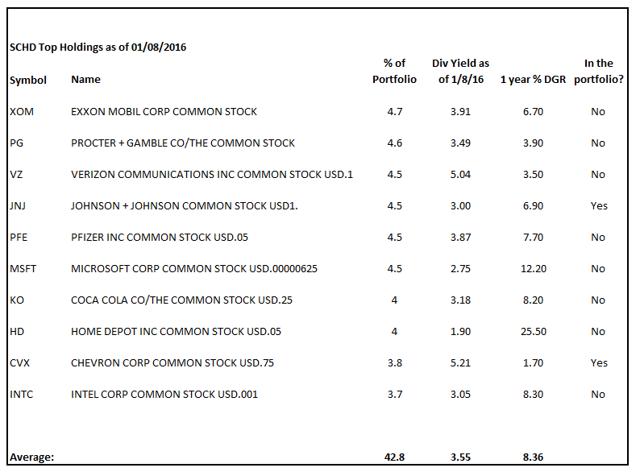 Click to enlargeSummary:
The current sentiment in the markets is very fragile. After an awful first trading week it would take more than just a couple of positive days in the markets to regain the trust. With high volatility and anxiety multiple opportunities could be generated. My goal is to try to cover as much ground as possible and therefore would aim to add SCHD to my portfolio. The first entry Buy-price target is set on $36.
As always, I appreciate your inputs and feedback.
Happy investing.
Disclosure: I am/we are long AVA, DE, NHI, O, OHI, PM, MAIN, CCP, VTR, HCP, WEC, CVX, COP, JNJ, CBRL, BXLT, T, UL, ETN, BBL, CMI.
I wrote this article myself, and it expresses my own opinions. I am not receiving compensation for it (other than from Seeking Alpha). I have no business relationship with any company whose stock is mentioned in this article.
Additional disclosure: The opinions of the author are not recommendations to either buy or sell any security. Please do your own research prior to making any investment decision.