Introduction
It has now been almost two years since I wrote an article about Lake Shore Gold (NYSEMKT:LSG) titled 'Sunshine after rain', and after that article I continued to keep an eye on Lake Shore Gold, as the company was completing a remarkable turnaround. The company has been able to consistently improve its operating performance and reduced its operating costs at the same time.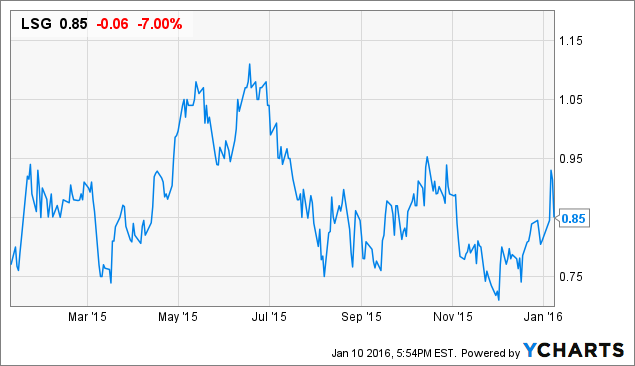 The final numbers for 2015 are in, and the company looks forward to 2016
I am always looking a bit forward to the first few weeks of a new year as that's traditionally the period wherein companies announce the 2015 achievements and are also already looking forward to what they are expecting for 2016.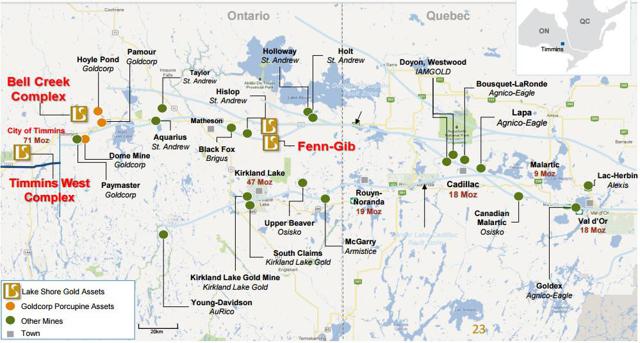 Click to enlarge
Source: company presentation
Lake Shore Gold is no different, and I'd like to take this moment to have a closer look at the 2015 achievements and its guidance for 2016. The company's Q4 production rate of 42,500 ounces was pretty much in line with expectations, and the gold was recovered from just over 355,000 tonnes of ore that contained an average grade of 3.9 g/t. This brings the total production for 2015 at 179,600 ounces at an average grade of 4.4 g/t (so you can definitely see the grade has been slipping a bit which isn't really a reason to be concerned, as the mine plan was anticipating this).

Click to enlarge
Source: press release
The 2015 production rate was approximately 4% lower compared to FY 2014 when Lake Shore produced approximately 186,500 ounces of gold. The lower production rate was widely anticipated as Lake Shore's average gold grade slipped by approximately 9% to 'just' 4.4 g/t, but this was partly compensated by a better performance at the mill, which saw a total increase of processed tonnes of approximately 5%, to just in excess of 1.3 million tonnes.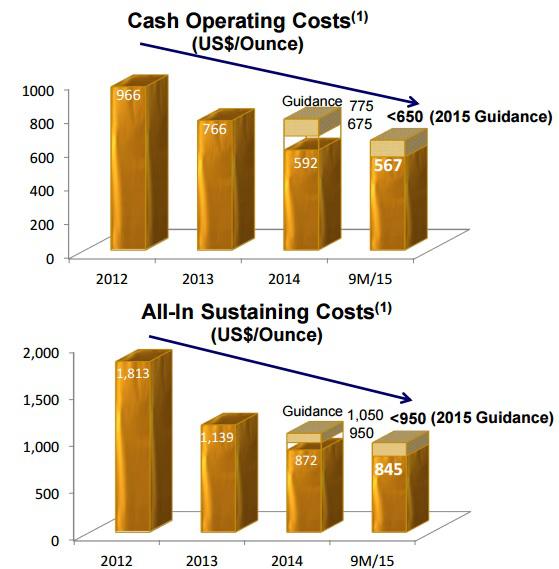 Source: company presentation
So, taking everything into consideration, Lake Shore Gold's shareholders can be pretty happy with the 2015 performance. But as I don't like to 'live in the past', I always care a little bit more about a company's plans for the (near-term) future.
It looks like Lake Shore plans to keep the production rate at the current level in 2016, as it now plans to produce 170,000-180,000 ounces of gold (mid-point: 175,000 ounces) at a cash operating cost of less than $650/oz and an all-in sustaining cost of less than $950/oz.
What does this mean for the shareholders? Is the company undervalued?
Okay, that's all very nice, but what does this mean?
Well, the production rate is actually pretty decent, considering the annualized production rate in the final quarter was pointing at a production of 170,000 ounces for an entire financial year. So by putting the 170,000 ounces as the lower end of the production guidance, Lake Shore Gold essentially tells the market it does expect the production rate to pick up again (as the company has a history of underpromising and overdelivering).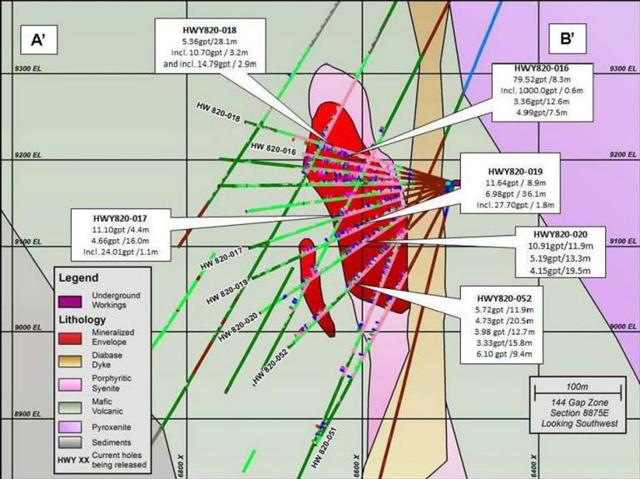 Click to enlarge
Source: company presentation
The low all-in cost (fueled by operational improvements at the plant as well as the much cheaper Canadian Dollar) will allow the company to once again be free cash flow positive as the net margin of $150/oz should result in a positive free cash flow of at least $20M, which will further improve and strengthen the balance sheet which contained $100M worth of cash and bullion as of at the end of 2015.
The 144 Gap zone will also play a very important role in the current financial year as this newly discovered zone remains an important priority for Lake Shore Gold. The company says it remains on track to publish a maiden resource estimate at 144 Gap in the current quarter, but it looks like Lake Shore is very optimistic about this discovery as the FY 2016 production guidance is already including the potential to recover gold from the eastern portion of the 144 Gap zone.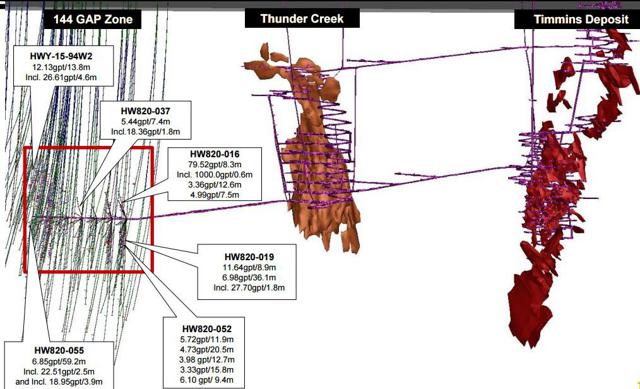 Click to enlarge
Source: company presentation
Lake Shore thinks it will be able to recover 10,000-15,000 ounces of gold from the pre-commercial production activities at 144 Gap East and that would be very interesting if that would indeed occur because that would be a huge step forward to determine the viability and attractiveness of the 144 Gap East zone.
Investment thesis
Lake Shore remains very appealing but I do think the company is pretty much trading at fair value right now. The total market capitalization is approximately $400M and even though I remain impressed with the company's operating performance, the free cash flow yield at $1100 gold will remain limited.
However, I do understand a premium is being paid for the potential of the 144 Gap zone where a maiden resource estimate will be released in the current quarter. That being said, this could mean the expectations for 144 Gap are pretty high and if the resource estimate would come in below the market's expectations, some disappointed shareholders might be inclined to sell their stock. I'm on the sidelines until I'm in a better position to finetune my expectations based on the effective results of the 144 Gap zone (rather than my guesstimates).
Disclosure: I/we have no positions in any stocks mentioned, and no plans to initiate any positions within the next 72 hours.
I wrote this article myself, and it expresses my own opinions. I am not receiving compensation for it (other than from Seeking Alpha). I have no business relationship with any company whose stock is mentioned in this article.
Editor's Note: This article covers one or more stocks trading at less than $1 per share and/or with less than a $100 million market cap. Please be aware of the risks associated with these stocks.