Dick's Sporting Goods, Inc.'s (NYSE:DKS) share price has had a horrid twelve-months leaving shares down 36% during that time. Like many retailers, the unseasonably warm weather at the end of 2015 caused inventory to pile up, and as the company looks ahead to spring, it's trying to burn through the excess inventory and margins are being hurt. This caused the company to cut its earnings forecast and the market reacted - badly. So is it up from here?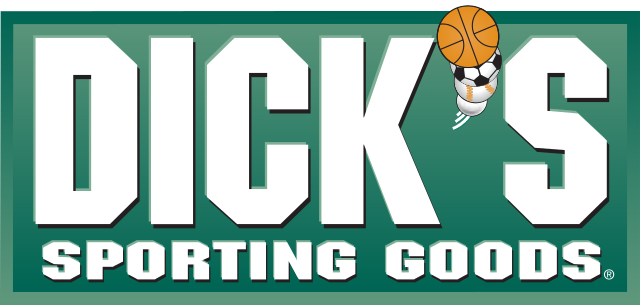 Background:
Dick's Sporting Goods is an authentic full-line sporting goods retailer offering a broad assortment of brand name sporting goods equipment, apparel and footwear in a specialty store environment. The company owns and operates Golf Galaxy, a golf specialty retailer and e-commerce websites and catalog operations for both Dick's Sporting Goods and Golf Galaxy. As of Q3 2015, the company's store count increased to 646 DICK'S stores and 19 Field & Stream stores, including four combo store locations.
Today:
As shown below, you can see the effect the weather has had on inventory and why investors have been spooked. Increased levels are never good for retailers, especially when you deal with seasonal goods. More often than not the only way to get rid of it is to mark it down, which undermines margins and overall profitability.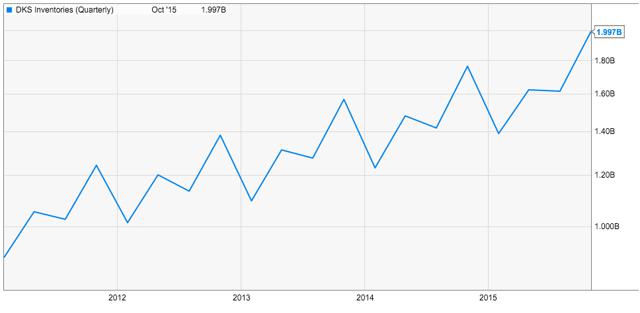 Click to enlarge
Source: YCharts
We believe there is more to the overall sell-off than just the weather though. The company's share price started its downward trend in April 2015, as shown below, on what we believe to be concerns over the company's digital investments.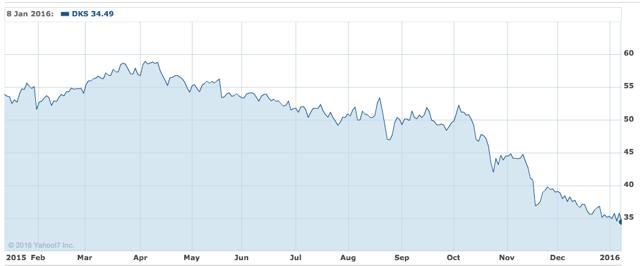 Click to enlarge
Source: Yahoo Finance
The company previously ran its e-commerce platform through eBay (NASDAQ:EBAY), but by 2017, will have it running in-house. Analysts have been very skeptical over the high level of investment the company has made in doing this, and have voiced concerns that they don't believe it will offer a meaningful IRR.
We, however, are encouraged by what management had to say on the Q3 call about the omni-channel platform. Their research has shown that customers who shop in its omni-channel platform spend three times more than the typical customer, and perhaps even more encouraging, e-commerce sales double when the company opens a new store in a new trade area.
This kind of performance certainly makes the investment look like it will create a good IRR and, more importantly, position the company well in the future. We feel consumers nowadays do want more than just a brick-and-mortars store and accompanying e-commerce site. They want a seamless integration of the two, which bodes well for Dick's. When we shop for golf clubs, for example, we may shop online for price, but we ultimately want to get a feel for the club before buying.
At present, digital sales only account for around 7% of total sales, so there is a large amount of growth ahead. By 2017, management has targeted $1.2 billion worth of digital sales, which would account for 16% of total sales right now.
The good relationships that Dick's has with key brands such as Nike (NYSE:NKE) and Under Armor (NYSE:UA) should be a boost to sales in the long term. On the earnings call, management had this to say about its close relationships:
"With Nike, we opened up six Brand Jordan shops during the third quarter and have opened an additional four this quarter. We've also partnered with Nike to develop a new full-service footwear deck. With Under Armour, we're working to create a next generation shop concept that we plan to roll out next year. And we're also working with new partners such as Polo, and are opening 75 Polo shops this year."
We find this to be extremely encouraging, the continued relationships with these brands will be a significant catalyst for revenue growth in the next few years, as well as keeping Dick's relevant.
An attractive feature of the company is its robust balance sheet and strong levels of free cash flow, despite the heightened levels of capital expenditure in recent years. We like our investments to be liquid and hold strong levels of free cash flow which makes Dick's an attractive option for us.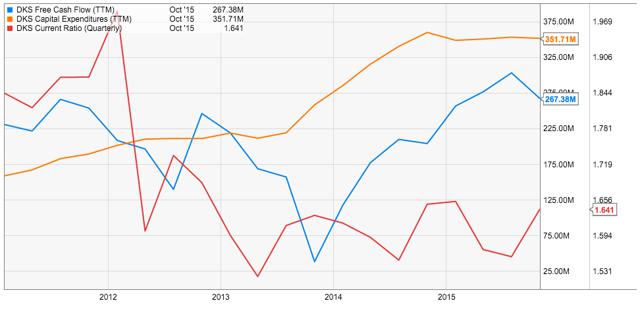 Click to enlarge
Source: Ycharts
The company plans to continue opening new stores, expecting to add up to 150 stores from mid-2015 to 2017. Management believes this and investments in e-commerce will bring the top line to above $9 billion annually, which is an increase of 25% from where it stands right now.
So with all this in mind, we feel that Dick's Sporting Goods' share price may have suffered a bit of an injustice in the last twelve months. While we don't see it necessarily reaching the heights it has in the last year, we certainly think there is significant growth ahead.
Valuation:
Management offered guidance of earnings per diluted share in the range of $2.85 to 3.00 for the full year, excluding a litigation settlement charge. The litigation charge is estimated to have a 4-cent effect on earnings, so we're forecasting earnings per share of $2.90 for the full year on revenue of $7.9 billion. A small increase in earnings year over year.
Next year, however, we feel the company will be better positioned to improve earnings per share significantly in comparison to FY 2015. We're forecasting earnings growth of 8%, meaning earnings per share of $3.13, based on increasing store numbers and improved margins due to better inventory control.
The company is trading well below its 5-year average price to earnings ratio of 20 times earnings, finding itself trading at just 11.46 times earnings. As we feel negative sentiment could hold the price to earnings ratio down a little, we believe it is prudent to value it at 14 times earnings. By doing so, it gives us a one-year price target of $43.82, or return of 27% from the last close price of $34.32.
Disclosure: I am/we are long DKS.
I wrote this article myself, and it expresses my own opinions. I am not receiving compensation for it (other than from Seeking Alpha). I have no business relationship with any company whose stock is mentioned in this article.