By David Urani
Okay, so the Greek deal is finished (fingers crossed), hooray. Nevertheless the European markets took a dive, including the German DAX off 0.5% and the French CAC 40 off 0.2%. The weakness could be attributed to skepticism on feasibility (bailout assumes some optimistic growth projections for Greece) and a larger haircut for private bondholders, perhaps mixed with some "sell the news" trading.
But today I want to focus on the other side of the equation, which is the euro itself. The currency is up 0.8% for the day because, despite the bailout skepticism, the action by the EU and Greece reinforces the cohesion of the European Union. That means the euro currency regains some of its lost dependability. Consequentially, the dollar is down 0.6% in relative value for the day, extending its recent downtrend.
Dollar/Euro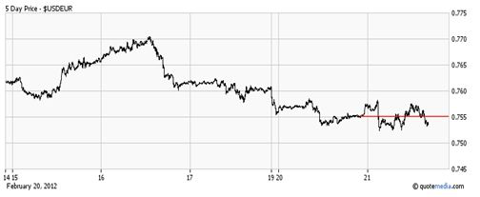 Click to enlarge
Unfortunately for us, commodities traders can sense these things and the result is a not-so-inconspicuous rise in prices of oil and metals. In futures trading, the immediate reaction to this Greece deal is increases of 1.6% in oil (to above $104), 1.7% in gold, 2.8% in silver, 3.1% in platinum, and 3.3% in copper.
Oil (black) & Gold (green)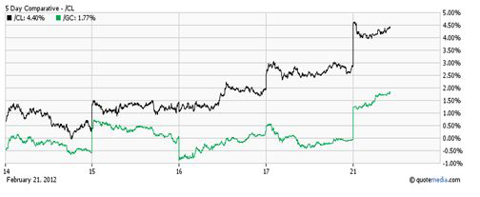 Click to enlarge
For our economic health here at home this is a no-no, particularly for oil (more specifically gasoline). We noted the ascent of gas prices this morning, which for me can become the next biggest obstacle to our recovery. The thing is, the currency movements so far look like they could override some of the fundamentals including high oil production in Saudi Arabia (although the Iran threat is still there). Not to mention, prospects for improved worldwide demand can obviously spur prices even higher (particularly for oil and copper) if one were to believe that we are indeed in the midst of recovery.