The V20 portfolio is an actively managed portfolio that seeks to achieve annualized return of 20% over the long term. If you are a long-term investor, then this portfolio may be for you. You can read more about how the portfolio works and the associated risks here. Always do your own research before making an investment. Read last week's update here!
Current Allocation
*Only available to Premium Subscribers
Planned Transactions
*Only available to Premium Subscribers
-------------
What a great way to start the year. The S&P 500 (NYSEARCA: SPY) was down by 6.0% and the V20 Portfolio shed 12%.
Portfolio Update
Despite the losses incurred this week, I do find it quite amusing that the V20 Portfolio seems to be replaying what happened last year. In January 2015, the V20 Portfolio allocated a large portion of capital to Conn's (NASDAQ: CONN) and it subsequently declined by 16% in the following weeks. Funnily enough, the shares of Conn's are now again trading at around our entry price in January 2015. Of course, through careful portfolio allocation and security selection, the portfolio is now up by 24% since inception, not flat like Conn's stock. This compares to S&P 500's loss of around 4% over the same period.
Our biggest loser this week was Conn's, having shed 31% of its total value in just five days. The company released its December sales and delinquency data today, and despite the way the market reacted (-15%), its content was quite benign. Total sales increased by 2.5% but comps were down by 5.6%. Excluding impact from exiting certain electronic products, comparable sales increased by 1.8% year over year. Greater than 60 days delinquency continued to fall, as expected (according to my analysis, not the market consensus), to 9.9%. Clearly the only number that the market focused on was the 5.6% decline in comps. Considering that the decline was merely caused by the exit of certain products, this will not be detrimental to the company's long-term profitability.
The saga at Dex Media (NASDAQ: DXM) continues. After the Monday deadline was reached, the forbearance period was extended once again, this time ending on January 18th.
I didn't mention the V20 Portfolio's newest position during the last update (subscribers get real-time updates), so I'll briefly talk about it here. RMR Group Inc. (NASDAQ: RMR) is a real estate company that operates four REITs. The company's complex organizational structure is hiding the stock's true value and the company's revenue stream is secured by decades-long contracts. The stock was the odd outperformer this week, rising 10% despite market headwinds. This could signal that the market is finally recognizing the safety of its future cash flows, and hence its fair value.
There were no other material news for any other holdings, hence the overall decline can be attributed to the ever-changing market sentiment.
On Volatility
As I've mentioned time and time again, the V20 Portfolio is a volatile portfolio, and this past week was a good demonstration. I thought I might take this opportunity to bring up a similar hiccup from last year. The volatility exhibited by the V20 Portfolio in 2016 also occurred back in March of 2015, when the portfolio declined by 13% and subsequently recovered in a matter of days. Now I'm not saying that the exact same thing will happen this time (though it may), but it is important to always keep volatility in mind and judge whether you can handle it, psychologically and financially. The V20 Portfolio is not designed for those looking for "safety" as measured by volatility, though it may in fact be safer than many other portfolios from a value perspective. Holding a concentrated portfolio consisting of the best stocks one can find is how the V20 Portfolio was able to significantly outperform in 2015, and in my opinion, there is no better way.
Performance Since Inception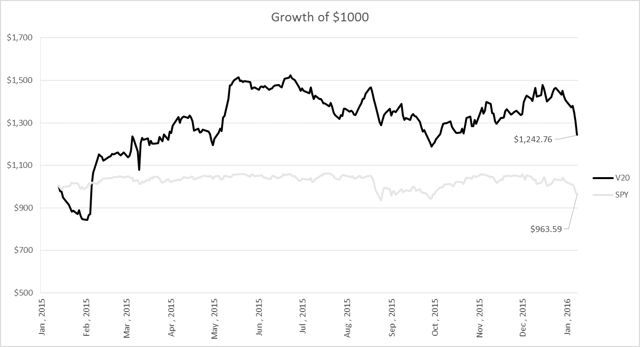 Click to enlarge
Disclosure: I am/we are long CONN, DXM, RMR.
I wrote this article myself, and it expresses my own opinions. I am not receiving compensation for it (other than from Seeking Alpha). I have no business relationship with any company whose stock is mentioned in this article.