Celgene (NASDAQ:CELG) presented at the J.P. Morgan Healthcare Conference Monday morning. Despite the strong presentation, Celgene's stock price headed down, along with most biotechnology stocks. I believe the new data today was not what caused the stock to fall. Rather, enough investors are buying the line that since biotech stocks did so well from 2009 to 2015, they are doomed to fall this year. I will explain why I reject that line of reasoning after looking at Celgene-specific issues.
First, there will be a change of leadership. Bob Hugin will give up his CEO role, but will stay on the Board of Directors as Executive Chairman. Nothing wrong with that. Bob has done a fantastic job with Celgene and will still be around to provide strategic direction. It is a much bigger company than when Bob became CEO. The new CEO, Mark Alles, has been President and COO, so you can bet he has been well vetted for the job. In turn, Jackie Fouse will become President and CEO. She has been Chief Financial Officer and President of the Hematology and Oncology franchise. There is no reason to think this change of leadership will affect long-term earnings success. In fact, it shows the kind of foresight and long-term planning Celgene is known for. Some investment managers, and perhaps trading algorithms, automatically count leadership changes as negatives, so the change could have a short-term effect on the stock price. For more on the backgrounds of these executives, see the Celgene Leadership Changes press release.
[images are from Celgene, today's presentation]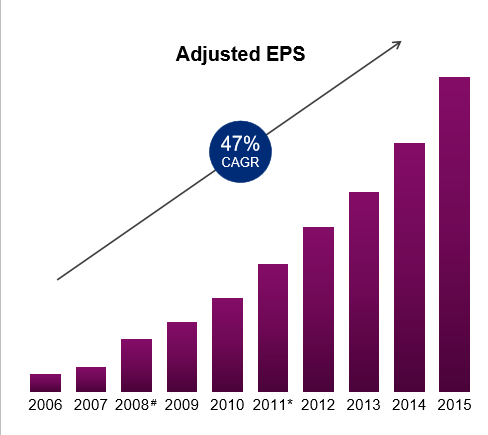 Preliminary Q4 and 2015 results should not have hurt the stock price either. Product sales for 2015 were about $9.16 billion, up 21% y/y. Product sales for Q4 were about $2.54 billion, up 9% from 2.33 billion in Q3. Adjusted diluted (non-GAAP) EPS for 2015 was $4.71, up 27% y/y. GAAP diluted EPS should be between $1.89 and $1.99. Those figures include dilution from the Receptos transactions of $0.14 and $0.40 respectively.
Celgene's stock price as I write is volatile, so I will use $102.00 to calculate current approximate trailing twelve-month P/E ratios. For GAAP that is 54.0 to 51.3. For non-GAAP the P/E is 21.7. Those are low ratios for a company growing earnings as fast as Celgene, with a pretty visible ongoing growth path through at least 2025.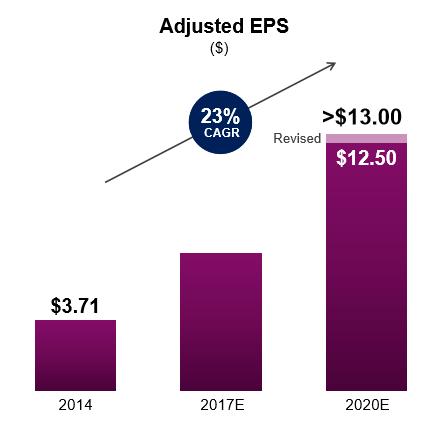 Then there was 2016 guidance. Net product sales are expected to be between $10.5 and $11.0 billion, which would be up 17% y/y. Adjusted operating margin should improve to 53.5%. Non-GAAP EPS range expected between $5.50 and $5.70, with GAAP EPS estimated between $4.26 and $4.64. Note the GAAP EPS is a big, big jump from 2015 results. Some people may have expected stronger guidance, but this guidance is great and seems to be no reason for selling.
One further theory for the drop is China. While Celgene does sell product into the Chinese market, there is no reason to think that people will stop taking their meds just because commodity demand and industrial production have slowed down.
That leaves the theory, or the fear, that biotechnology stock prices, having outperformed the market for so long, must lose ground in 2016. That makes as much sense and believing that if a coin flip is tails, the next flip must be heads. How much biotech stocks are worth in the future will depend on how much they generate in earnings. In the day-to-day stock market, which is an auction market, prices will be determined by trading decisions. So there is often a disconnect between market pricing on any given day and how much a company can generate in profits in the long run.
Biotechnology companies are not guaranteed to outperform the market. But there is a good reason they can continue to. They create value by creating new therapies that are protected by patent laws. Individual companies may fail to have their therapies approved by the regulatory agencies. But every year, many new drugs will be approved, and those approvals will drive increased profits for the companies that achieve them.
Celgene does seem to be at the lower end of biotech stocks for the day, but not at the bottom, as a percentage. Here are a few names for comparison:
| | |
| --- | --- |
| company | Stock price change, 10:45 PM Jan 11, 2016 |
| Celgene (CELG) | -7.48% |
| Celldex (NASDAQ:CLDX) | -13.28% |
| Gilead (NASDAQ:GILD) | -1.90% |
| Medivation (NASDAQ:MDVN) | -12.99% |
| Biotech Index (NASDAQ:IBB) | -4.50% |
Many traders have a herd mentality, and that makes sense. If a big fund decides to cut back on biotech, most traders are forced into amplifying that by cutting their longs or even going short to try to profit on the trend. But long-term investors are better off buying when prices are low, and so can actually benefit from the "mistakes" of others. That is how long-term investors can get alpha. Otherwise, we might as well all buy index funds.
While Celgene is not without risks, I expect it to be a strong generator of growing earnings through at least 2020 and probably well beyond. I believe Celgene, which currently represents about 8% of my portfolio, can help me beat the market averages over the long run.
Celgene has (with its partners) 50 new products that could be approved for sale by 2025. Also noted in today's conference is that Celgene can maintain its revenue growth despite the gradual loss of exclusivity on some of its older medicines, due to the expected new drug approvals (not all drugs will be approved, but Celgene can afford a few misses).
Finally, note that Celgene's 52-week low is $92.98 (on 8/24/2015) and its 52-week high was $140.72 (on 7/23/2015). While interesting to look at, neither the low nor the high will affect Celgene's price in, say, 2018. Except that Celgene generates a lot of cash and uses much of it to buy back stock. If Celgene is opportunistic and buys more stock when it is near lows, that benefits long-term investors by decreasing the share count more and accelerating long-term earnings growth. It also lowers risk for investors who, for whatever reason, can't wait for the long run.
Disclosure: I am/we are long CELG, CLDX, MDVN, GILD.
I wrote this article myself, and it expresses my own opinions. I am not receiving compensation for it (other than from Seeking Alpha). I have no business relationship with any company whose stock is mentioned in this article.