Firstly, the past month has seen a period of significant volatility in the markets with the S&P 500 testing the previous highs in early December to fall by 8.6% to date. This market-wide correction has opened up opportunities to enter into positions that present good value.
Positions Eliminated
Throughout December, McDonald's (NYSE:MCD) continued its strong rally higher that began in October after a long period of stagnation for the stock. This rally has pushed the valuation of the company past the limits I have allocated for the functioning of the portfolio, which can be seen by clicking here.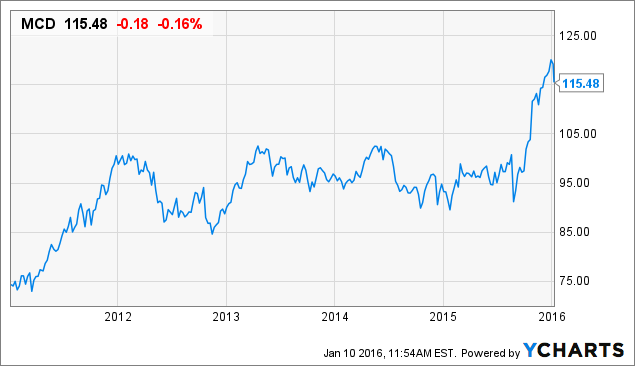 Although I think MCD has been a great company for income seekers, I don't see much growth in sales over the next couple of years to warrant the valuation we are presented with. In addition, the dividend yield has fallen from the initial 3.7% I managed to secure at purchase to the current 3%. Better risk/reward scenarios are available.
The sale at $117 presented a 30% appreciation (ex-dividends) in my position since late January of this year. The position was eliminated entirely as it presented only 3.5% of the portfolio and it was not economical to just reduce the stake.
New positions being initiated week starting January 11, 2016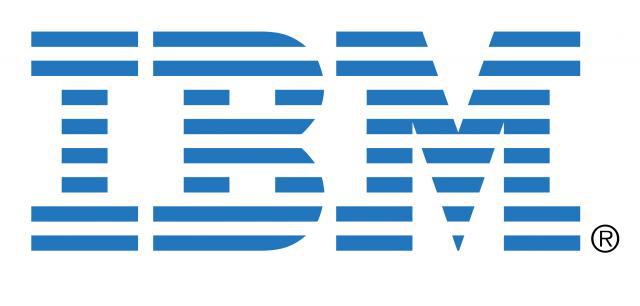 IBM (NYSE:IBM) has been a stock that has been nothing less than unforgiving to investors since mid 2013, with continuous earnings declines, which has caused a dramatic slide in the share price.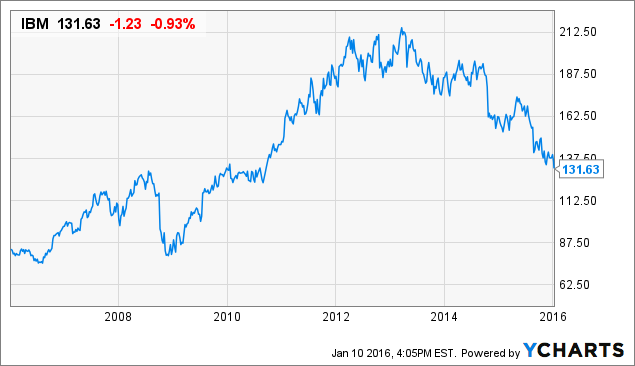 Although this gives the impression that IBM is seriously struggling as a company in the last few years, this is far from the truth. IBM has been strategically evolving as a company, selling off parts of its business to reduce hardware operations and is focusing more on: enterprise solutions such as big data, cloud and engagement. This is all helped by the investments in Artificial Intelligence and Watson.
Although Watson has several uses, IBM CEO Ginni Rometty describes it's "moon shot" as being Watson's opportunities in Healthcare. With U.S healthcare currently an $8t market with up to $1.6t in inefficiencies, it is hoped that Watson will be a game changer in this area.
These enterprise solutions now represent 27% of IBM revenue and are growing at 30% YoY. Now hardware represents only 10% of IBM, so it is by no means the company that many remember it to be.
This is summed up in this 15 minute interview with Ginni Rometty, which you can access by clicking here. Rometty shows clear vision with where the business is going and this should be a sign of confidence for investors.
In terms of valuation, IBM now looks very appealing:
P/E of 9 (lowest in 5 years)
Dividend yield of 3.95% (highest since 1993) with a very conservative payout ratio of 35%.
Last quarter showed free cash flow up 21% YoY
In addition it has worked to increase cash and reduce overall debt, which can be shown from the chart below.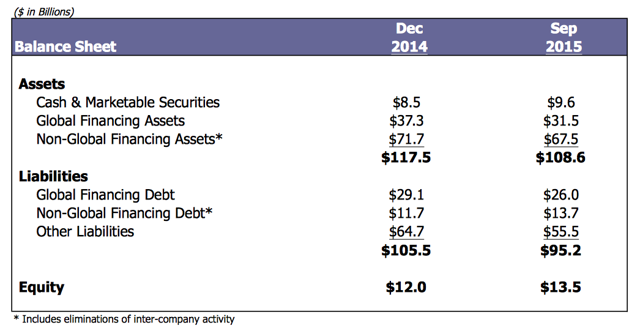 Click to enlarge
Berkshire Hathaway (BRK.A, BRK.B)
I don't think this company needs an explanation due to how widely it is covered. However the important point to note is that the price/book value is just above 1.2, the point at which Buffett said that the company would repurchase shares.
Markel Corporation (NYSE:MKL)
If any company could share the same DNA as Berkshire Hathaway it would be Markel. Not only is it's roots in insurance, the money from insurance premiums are invested in stocks and bonds in a tax efficient manner, and the company does not pay a dividend as the proceeds are used to cumulatively grow the business.
On the investing arm of the company is Tom Gayner who has provided consistently exceptional returns of 11.3% annually over the past 15 years, which has helped to propel significant growth in the share price. Although this is not as good as the early days of Berkshire Hathaway, the company's market cap is only $11.8b which allows for easier expansion than Berkshire Hathaway.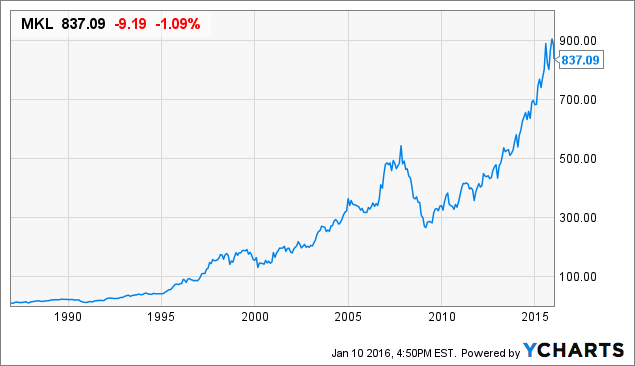 Gayner is definitely inspired by Buffett and follows the same teachings of Graham in investing. I found this Youtube video of a speech of his at Google a great insight into the company and their values.
My only concern with the valuation on this company right now is the price/book value, standing at approximately 1.5. This is a little over the historical average and higher than Berkshire Hathaway but I believe that being a smaller company allows easier access to growth than Berkshire.
Apple (NASDAQ:AAPL)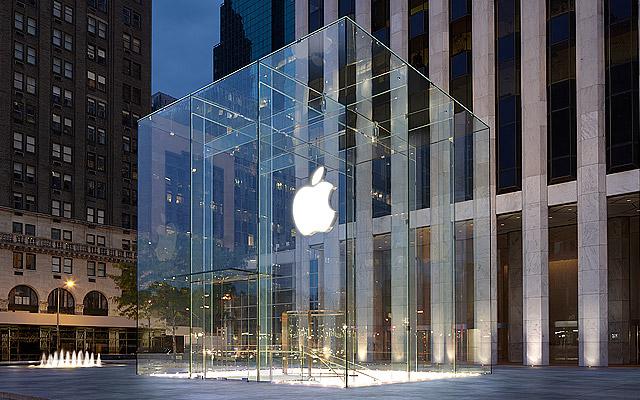 Anyone following me on Seeking Alpha knows that I am very bullish on Apple, currently having 25% of my portfolio allocated to Apple. Even after increasing my stake this coming week, the allocation to Apple will actually decrease in percentage terms compared to the rest of the portfolio.
The past few months have created a situation quite similar to that seen in 2013. For months analysts claimed that Apple's growth story was over and we were frequently bombarded with doom and gloom analyst reports. More recently, we had a report from Nikkei suggesting that Apple had ordered a 30% cut in production of the latest models of their iPhones. This was followed by profit warnings by a couple of Apple parts suppliers, Cirrus Logic (NASDAQ:CRUS) and Qorvo (NASDAQ:QRVO).
I won't go into too much detail on this part as I think Mark Hibben has already provided us with much needed analysis on this area which shows that things might not be as bad as they seem.
However, I would like to add a couple of points which I don't believe were covered, which should ease the worry of Apple investors.
Samsung Electronics (OTC:SSNLF) recently reported fourth quarter earnings that fell well short of analysts forecasts. The Financial Times reported that "Samsung's smartphone business...has seen its sales and margins slashed by competition from Chinese peers". Samsung also uses both the companies mentioned above for parts for their devices, so this is not specific to Apple which makes the decline in orders uncertain to be completely a result of Apple.
Cirrus Logic states in their earnings report that "despite this lower outlook for the short term, we expect our full FY16 results to reflect meaningful year-over-year revenue growth and further foresee strong growth for FY17 based on several anticipated new product introductions". This corroborates the long term growth story of smartphone demand.
Qorvo stated in their most recent earnings report that "for calendar 2016, Qorvo currently expects above-market revenue growth, based upon customer forecasts and existing customer design wins at Qorvo's largest customers."
Notwithstanding that most expect the 's' phones to have less demand due to the less significant upgrades, I expect this drop in share price to be temporary and for it to recover significantly throughout 2016 and 2017.
Valuation
Once again Apple trades at the valuation of a sub-par company with declining earnings at a p/e ratio of 10.5. The performance of this company should rationally carry a much higher valuation.
Many investors note that iPhone revenue stands at 62% of Apple revenue and that there are concerns about the future growth of the iPhone. Personally, I am very skeptical of a 52% growth iPhone sales for the past year turning flat for 2016.
Lets not forget the rest of the business: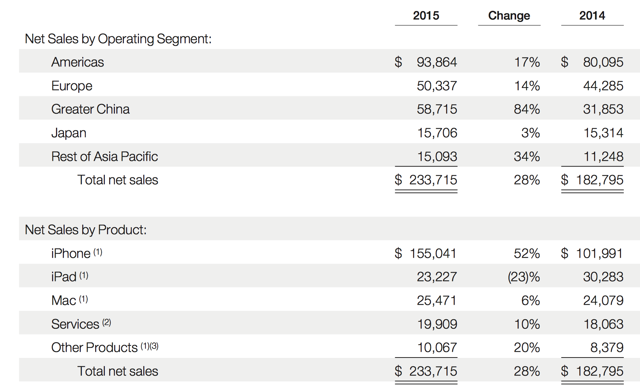 Click to enlarge
33% YoY rise in spending from the App Store
Apple music reaching 10m subscribers in the first 6 months. At $10/month this equates to $1.2b of revenue.
What will the portfolio look like now?
| | |
| --- | --- |
| Company | no. of shares |
| Aberdeen Asset Management (OTCPK:ABDNF) | 424 |
| Apple | 62 |
| Bank of America (NYSE:BAC) | 29 |
| Berkshire Hathaway | 11 |
| Coca Cola (NYSE:KO) | 28 |
| Davita Healthcare (NYSE:DVA) | 37 |
| IBM | 10 |
| General Motors (NYSE:GM) | 50 |
| Gilead Sciences (NASDAQ:GILD) | 27 |
| Markel Corp | 2 |
| Rolls Royce (OTCPK:RYCEY) | 296 |
| Transocean (NYSE:RIG) | 168 |
| Wells Fargo (NYSE:WFC) | 18 |
(number of shares for new positions are using Friday's closing prices).
Thank you for reading. If you have enjoyed reading this article, or want to follow the progress of my portfolio please hit "follow" at the top of the page.
Disclosure: I am/we are long AAPL, ABDNF, BAC, KO, DVA, GM, GILD, RYCEY, RIG, WFC.
I wrote this article myself, and it expresses my own opinions. I am not receiving compensation for it (other than from Seeking Alpha). I have no business relationship with any company whose stock is mentioned in this article.
Editor's Note: This article discusses one or more securities that do not trade on a major U.S. exchange. Please be aware of the risks associated with these stocks.