By: Brendan Gilmartin, VP Research
Overview
Hewlett Packard (NYSE:HPQ) is scheduled to report 1Q 2012 earnings after the closing bell on Wednesday, February 22. Results are typically available at 4:05 p.m. EST and will follow with a conference call at 5:00 p.m. HP is a member of the Dow Jones Industrial Average (DJIA) with significant market influence and the potential to impact the index futures and broader market gauges. Results on Tuesday from Dell (NASDAQ:DELL) could also influence the direction of HP shares.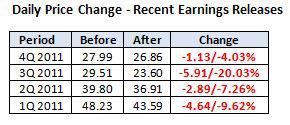 Outliers and Strategy
Key measures:
Non-GAAP Earnings Per Share: HP previously announced last November it estimates non-GAAP diluted EPS in the range of $0.83 to $0.86. The current Street estimate is $0.87, with the high end of the Street at $0.98 (Source: Yahoo Finance).
Revenue: Revenues are seen slipping 5% to $30.7 bln for the 1Q 2012 period.
Adjusted Earnings Per Share Guidance (FY2012): HP previously said it expects FY2012 non-GAAP diluted EPS of "at least" $4.00. The current consensus is $4.08.
HP is now trading at just 6.59x forward earnings, and a mere 0.46x sales following the nearly 40% drop over the past year.
Recent News
02/20: Hewlett Packard was the cover article in the recent addition of Barron's. Among the takeaways from the report:
Toni Sacconaghi of Bernstein Research reportedly believes HP shares could rise 25% over the next year provided management meets tempered expectations.
While valuation is cheap, Apple (NASDAQ:AAPL), Cisco Systems (NASDAQ:CSCO) and other tech plays trading at low multiples, but with greater bottom and top-line growth prospects.
Cisco CEO John Chambers was quoted in the article stating that HP and CEO Meg Whitman face significant hurdles rebuilding the company.
02/15: Jefferies maintained a Buy rating and a $35 price target on HP, according to a post on StreetInsider.com. The report cited expectations for "solid" 1Q earnings, based on limited impact in HDD and growth in data centers and enterprise spending. The firm also sees HP posting earnings of $0.89 per share, topping the consensus.
02/14: According to a 13-F filing, hedge fund Paulson & Co. liquidated its stake in HP during the 4Q period.
01/19: HP declared a cash dividend of $0.12 per share on the common stock. The shares are now yielding 1.62%.
12/15: Goldman Sachs reiterated a Neutral rating on HP following a meeting with CFO Cathie Lesjak, according to a post on Benzinga.com. The firm noted it remains below consensus for 1Q 2012 earnings and revenue estimates.
Technical Review
Despite the recent concerns facing HP, the shares are up more than 15% from the lows following its previous earnings release back in November. From here, resistance is at $30, followed by $32.50 on the long-term charts. Conversely, support is at $29.00, followed by $28.50 (just below the 20-Day SMA), and $27.50 (just above the 50-Day SMA). (Chart courtesy of StockCharts.com)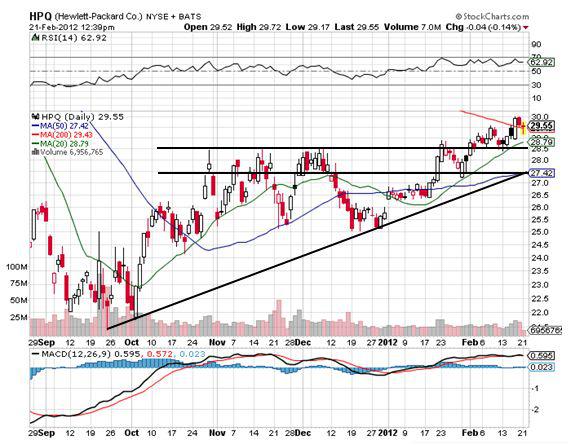 Summary
HP shares have been climbing higher headed into the 1Q 2012 earnings release, despite escalating concerns on the competitive landscape and calls for the company to reinvent itself after a series of changes in the c-suite over recent years. But with Meg Whitman and a capable management team at the helm and an improved macroeconomic backdrop, HP is seen posting results and a forward outlook in-line with prevailing estimates. Investors will also keep a close eye on Dell for any clues ahead of the HP report.
DISCLAIMER: By using this report, you acknowledge that Selerity, Inc. is in no way liable for losses or gains arising out of commentary, analysis and or data in this report. Your investment decisions and recommendations are made entirely at your discretion. Selerity does not own securities in companies that they write about, is not an investment adviser, and the content contained herein is not an endorsement to buy or sell any securities. No content published as part of this report constitutes a recommendation that any particular investment, security, portfolio of securities, transaction or investment strategy is suitable for any specific person.
Disclosure: I have no positions in any stocks mentioned, and no plans to initiate any positions within the next 72 hours.