Turmoil in the Chinese Markets and Alibaba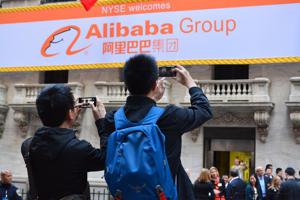 Many tech stock investors are probably aware of the e-commerce giant, Alibaba (NYSE: BABA), which focuses on business to business e-commerce in China. While Alibaba has demonstrated promise with its past performance and its future initiatives, the recent turmoil in the Chinese markets should give investors some pause. CEO Daniel Zhang outlined several ways in which the company plans to expand in 2016, which include a focus on expanding e-commerce in rural areas of China, focusing on providing services in top-tier cities and expanding its global import business. Alibaba's announcement came during the same week that Chinese stocks plunged. On Jan. 7, Alibaba's stock fell by 5.08 percent by mid-morning while Chinese stocks in general plunged by 7 percent. Trading was closed after just 29 minutes because of the plummeting market.
In Aug. 2015, the Chinese economy fell, and the economic downturn negatively impacted Alibaba at that time. The company reported earnings that missed expectations and announced a planned $4 billion stock buy-back as a result. While Alibaba rebounded later in the fall, the Chinese market and economy have been demonstrably volatile.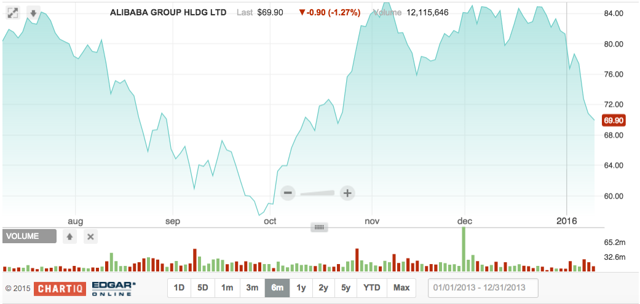 Click to enlarge
Recent Performance and Comparison With Competitor JD.com
In the past year, Alibaba has experienced revenue growth of 23.1 percent, which is higher than the average of 15 percent for the industry. The company's net operating cash flow was significantly higher than that of other tech companies, increasing by 140.33 percent. The company has invested significantly towards its goal of growth in the past year, making acquisitions valued at around $11 billion.
Alibaba is the top company in the Chinese tech market, followed by its competitor, JD.com (NASDAQ: JD), which, while in second place, is quickly rising. Like Alibaba, JD's stock prices plunged on Jan. 7, falling by 10 percent before trading was halted.
Click to enlarge
In the past year, JD has experienced a revenue growth of 46.8 percent above the same quarter. It has a gross profit margin of 7.44 percent, which is very low but represents an increase above the gross profit margin the company had a year ago.
Recommendation: Hold Off On BABA
While the Chinese tech investments in companies like Alibaba or JD.com may hold promise in the future, the turbulence in the Chinese economy should provide investors significant reason to be cautious. We recommend that investors hold off on investing in either Alibaba or JD.com at this time. Investors who want to invest in tech stocks may want to invest in proven U.S. companies or wait for much-anticipated IPOs from such companies as Uber.
Disclosure: I/we have no positions in any stocks mentioned, and no plans to initiate any positions within the next 72 hours.
I wrote this article myself, and it expresses my own opinions. I am not receiving compensation for it (other than from Seeking Alpha). I have no business relationship with any company whose stock is mentioned in this article.