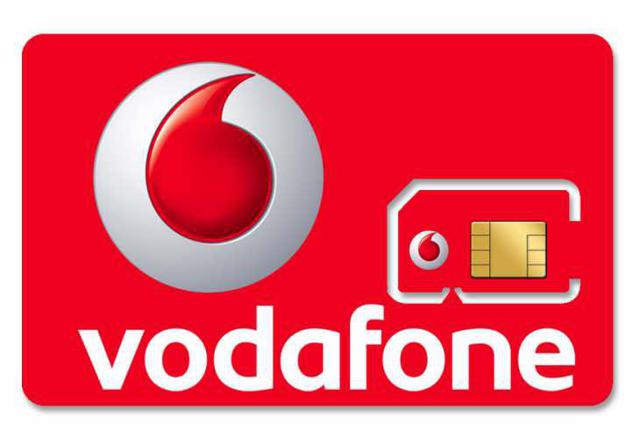 I've recently written about the dividends of two of the biggest wireless telecom firms. Both my article on Verizon (NYSE:VZ) and my article on AT&T (NYSE:T) have garnered the same response: requests to repeat the analyses for Vodafone (NASDAQ:VOD):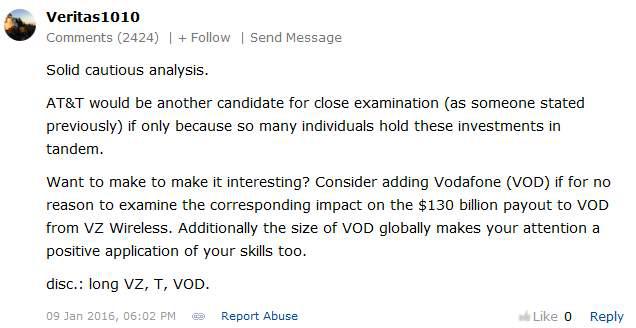 These requests are timely, as even those discussing Vodafone in other Seeking Alpha articles on the subject are asking the question my analysis attempts to answer - whether a stock's dividend is sustainable: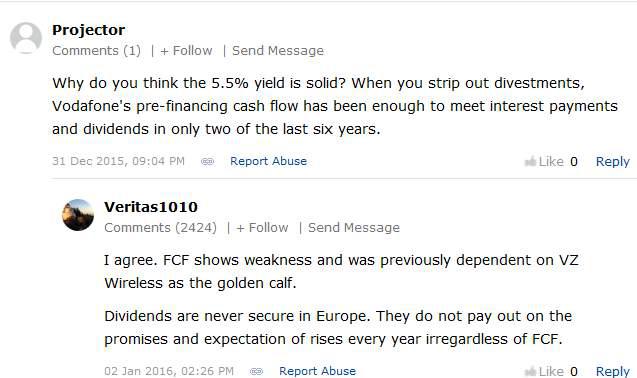 I move forward with the analysis on VOD below:
Does VOD's Dividend Follow a Trend?
Many holders of VOD are unintentional holders of VZ, as VOD placed dividends from VZ in the hands of VOD holders. That made sense to VOD, as VOD dividends have been historically unstable. It also made VOD holders happy and more likely to continue holding VOD despite its high debt.
Unlike the dividend kings VZ and T in the US, VOD, based in the United Kingdom, bounces its dividends up and down. It's almost impossible to make any sense of the dividend payout looking at it in a table: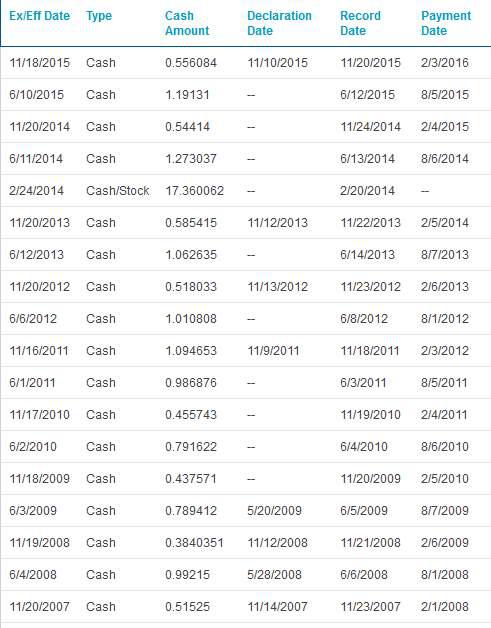 However, plotted against the outstanding shares, the dividend shows a cleaner pattern. This is because the outstanding shares of VOD have also had a rocky history: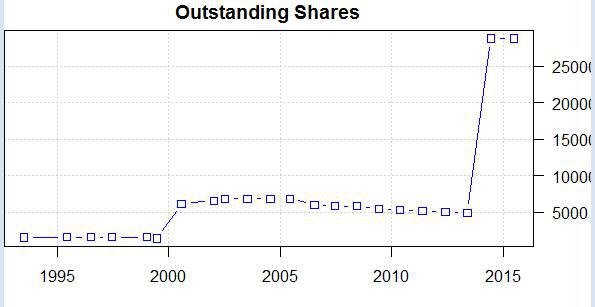 Thus, looking at dividend per share makes more sense if we are to look for a trend in the dividend payout: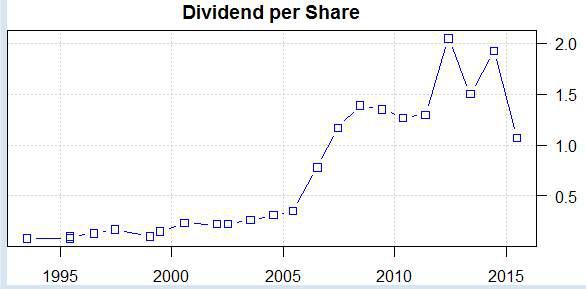 The story of VOD's dividend per share was one of slow and steady growth, up to 2006. Then, the dividend per share grew quickly, until leveling out from 2008 to 2011. In the past five years, however, we've seen significant turbulence in VOD's dividend per share, implying the dividend has become highly unpredictable.
In addition, unlike my findings for VZ and T, for which the dividend growth mimics the growth of the stock (or is it vice-versa?), VOD's stock price continues upward regardless of the dividend per share, implying that VOD can be analyzed as either a growth stock or value stock. In this article, of course, we are looking at it from a value perspective: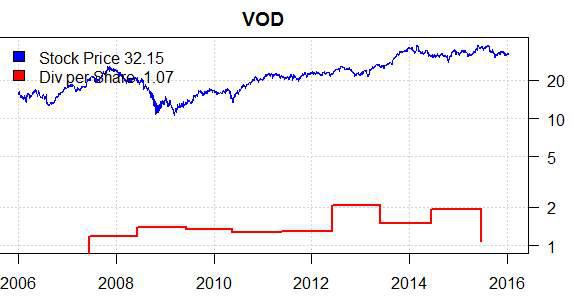 More important than the dividend is the yield, or dividend divided by price. I have captured the yield for the past eight years. The result is also bumpy, giving us a yield of anywhere between 2% to slightly over 10%: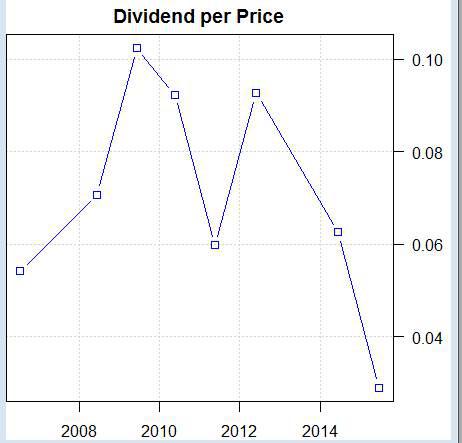 Usually, an unpredictable dividend is due to financial problems, income or free cash flow issues. Let us look at income first.
Can VOD's Income Sustain Its Dividend?
When plotted against income, dividend payout seems to be, at least for most years, sustainable. The snag is that some years, the dividend payout exceeds income, meaning that VOD must pay the dividend with stored cash or debt. The recent spike and decline in income, however, has moved faster than the spike and decline in payout, meaning that 2015's payout was significantly more than the company's income: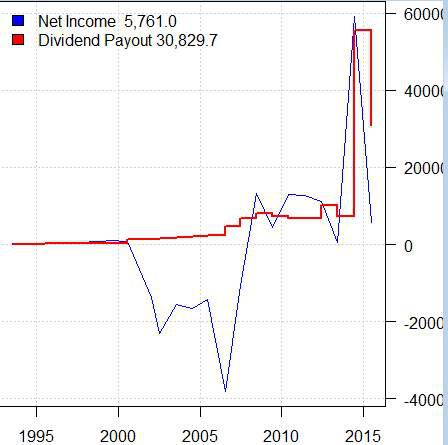 In terms of percentages, the payout of the dividend has spiked to well over 100% of the yearly income twice in the past 10 years: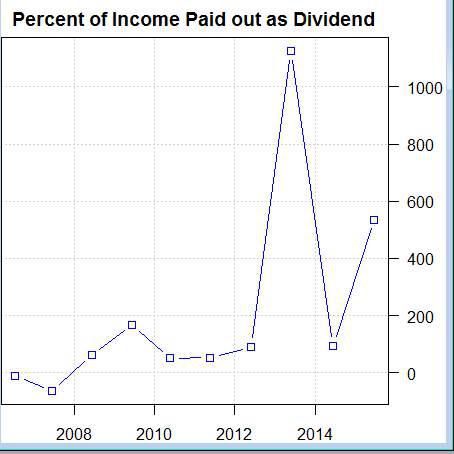 However, most other years have payouts under the 100% mark:
| | |
| --- | --- |
| 2008-06-11 | 61.30248 |
| 2009-06-09 | 166.69704 |
| 2010-05-21 | 51.33555 |
| 2011-05-20 | 52.36550 |
| 2012-05-31 | 91.33474 |
| 2013-05-25 | 1125.60976 |
| 2014-06-16 | 93.84509 |
| 2015-06-22 | 535.14487 |
Can VOD's Cash Sufficiently Pay Dividends?
Dividends are paid by cash, not income. Hence, understanding VOD's free cash flow trends helps us better understand the stability of their dividend payouts. Though VOD's free cash flow is on the rise and positive, this is not habitual: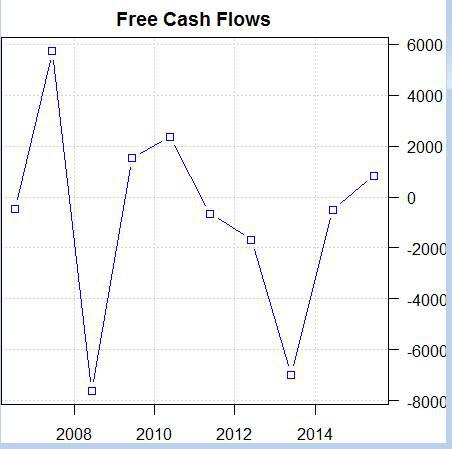 As a running average, cash flow does not look. Thus, the recent bump in positive territory in free cash flow is quite misleading. VOD does not seem to have the cash on hand to consistently pay out dividends: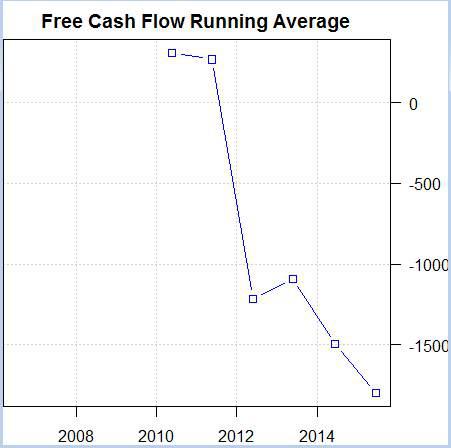 This is dangerous both for VOD's status as an attractive stock and for VOD shareholders expecting consistent dividends. Unless VOD continually takes out debt, the dividends will soon eat up all its remaining cash. Neither option is good, so VOD would be well advised to restructure its dividend payout plan.
The data that I have looked at is public, available to investors and traders. Thus, one must consider the possibility that the free cash flow problem is already priced into the stock. Yet because VOD stock price continues upward - or at least sideways - perhaps other catalysts are at hand.
But VOD's growth is and has been negative for the past four years. The company has been shrinking since 2007: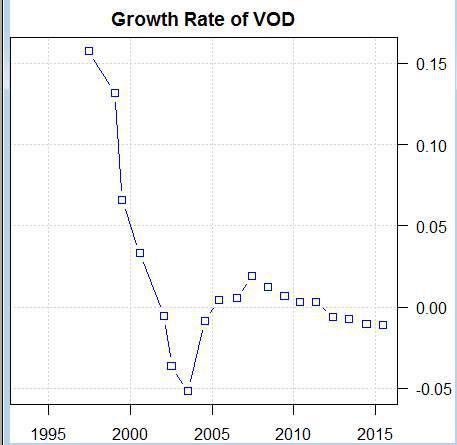 Conclusion
Overall, I see little reason to invest in VOD over VZ or T if you are a dividend investor. Perhaps you like unpredictable dividend payouts or have speculative reasons for buying VOD. In that case, this article was not for you.
In fact, if anything, VOD makes a suitable pair trade with VZ (which I prefer over T):
Long VZ
Short VOD
Request a Statistical Study
If you would like for me to run a statistical study on a specific aspect of a specific stock, commodity, or market, just request so in the comments section below. Alternatively, send me a message or email.
Disclosure: I/we have no positions in any stocks mentioned, and no plans to initiate any positions within the next 72 hours.
I wrote this article myself, and it expresses my own opinions. I am not receiving compensation for it (other than from Seeking Alpha). I have no business relationship with any company whose stock is mentioned in this article.