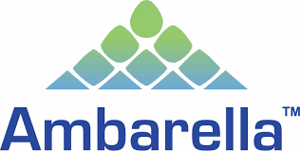 The first few trading days of 2016 have been rather ugly. One of the biggest losers has been chip name Ambarella (NASDAQ:AMBA), which has plunged to a new 52-week low. While the company's prospects are not as bright as they appeared a few months ago, the collapse in this stock seen below has put this name at an interesting point.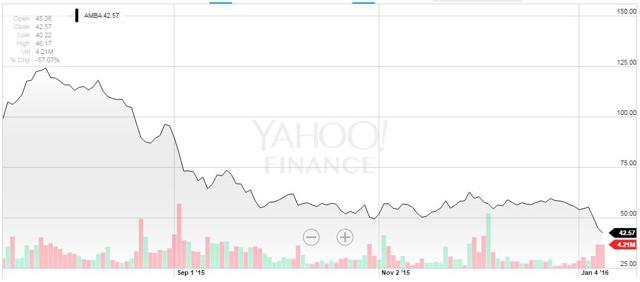 (Source: Yahoo Finance)
With shares plunging toward $40 on Monday, the company's cash balance of more than $276 million rose to more than 20% of the stock's market cap. I would encourage investors to take a look at the most recent 10-Q filing because this is a profitable company and one that produced more than $93 million in operating cash flow during the first nine months of the fiscal year (which ends this January). The balance sheet is in pristine shape with no debt.
The most recent hit to Ambarella coincides with shares of action camera maker GoPro (NASDAQ:GPRO) also falling. Yes, Ambarella gets about a third of its revenues from the ailing GoPro, whose camera sales in late 2015 fell due to a poor Session camera launch and some other issues. Every day that shares of GoPro head lower, Ambarella shares seem to sell off as well.
GoPro's troubles caused Ambarella to cut its fiscal 2017 revenue growth forecast in early December. However, management is still looking for 15% to 20% revenue growth, which is well above what many semiconductor names are seeing. The growth from Ambarella will mostly come from its expanding drone platform, and the company recently unveiled some new chips at CES. Expectations have certainly come down, but so has the stock. While GoPro isn't growing like it used to be, the company isn't going out of business and that will still result in revenues for Ambarella.
The drone market is expected to show dramatic growth in coming years, and big chipmakers like Intel (NASDAQ:INTC) and Qualcomm (NASDAQ:QCOM) are trying to jump in. But just like its mobile business, Intel is well behind Ambarella in this race. Qualcomm is looking to drones to help offset struggles in its phone business. One of these two chip giants could easily look to acquire Ambarella, even if it is just to stop the other from purchasing the small company.
At this point, Ambarella's valuation makes it a very interesting acquisition candidate. When you take out the company's cash position, the market cap is just barely over $1 billion, or about three times the company's fiscal 2017 revenues. Remember, Intel just paid more than 7 times ex-cash expected revenues to acquire Altera. Ambarella goes for less than half of that, with a lot more expected growth in the short term. If you take out the cash balance, Ambarella could be had for around $1.5 billion at this point. That's a drop in the bucket for larger chipmakers. Qualcomm bought back over $11 billion worth of shares in its most recent fiscal year, and Intel management seems willing to make more acquisitions to bolster future growth.
Internally, Ambarella management also could look to bolster the company's share price. With such a sizable cash position, I'm sure there will be calls for a stock buyback plan, especially from those investors looking for the stock to soar. If management believes shares are undervalued, this would certainly make sense, and it would help boost earnings per share. Perhaps even an insider purchase or two from top executives would show confidence. If management is personally buying shares, investors may be more willing to do so as well.
With Ambarella shares nearly 70% off their highs, it appears that something has to give. Management could look to wake up this falling stock by purchasing shares themselves or announcing a stock buyback. At this valuation, Ambarella seems like the perfect acquisition candidate for a larger chipmaker trying to further bolster its drone offerings and other growing markets. Perhaps it's time for some analyst upgrades, given how the street sees so much upside in this name. For investors looking at a small speculative play with the potential for sizable upside, Ambarella is worth a look at this point.
Disclosure: I/we have no positions in any stocks mentioned, and no plans to initiate any positions within the next 72 hours.
I wrote this article myself, and it expresses my own opinions. I am not receiving compensation for it (other than from Seeking Alpha). I have no business relationship with any company whose stock is mentioned in this article.
Additional disclosure: Investors are always reminded that before making any investment, you should do your own proper due diligence on any name directly or indirectly mentioned in this article. Investors should also consider seeking advice from a broker or financial adviser before making any investment decisions. Any material in this article should be considered general information, and not relied on as a formal investment recommendation.