It has been a brutal month and opening to 2016 for investors. The markets have not reacted well at all to the continued collapse of crude oil, increasing turmoil emanating out of China, rising tensions in the Middle East and the adjustment to the first interest rate hike by the Federal Reserve in December since 2006. The overall market is in correction territory. Other sectors of equities like small caps and the Dow Jones Transports have entered into "official" bear market territory.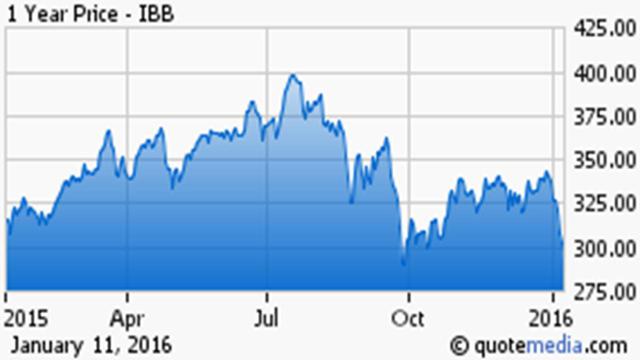 Click to enlarge
The high beta biotech sector is now down some 25% from its highs early in summer and there is more than a whiff of panic in this space at the moment. I have received many comments and questions from followers & readers on whether I think biotech is in a bubble and has much further to fall. In my opinion, the answer to that question is no and I have been slowly and incrementally been deploying dry powder into some of the names in this area and will continue to do so on any further dip.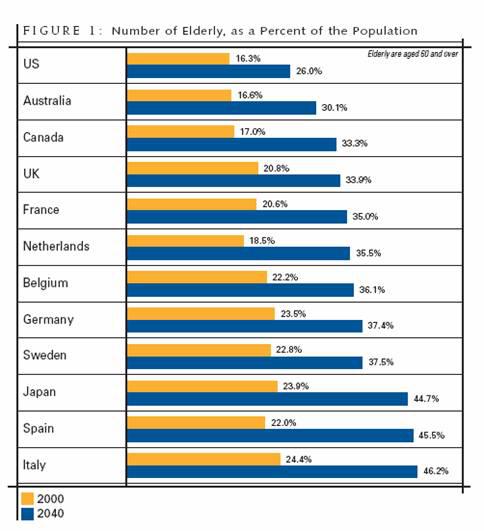 Biotech has easily bested the performance of the overall market over the past half-decade. It should continue to do so driven the aging of the populations in developed countries, new technologies being developed and an increasing amount of the healthcare dollar going to drugs & treatments. That being said, investors need to take a long view and realized this is one of the most volatile sectors of the market. There is no "free lunch" and in order to attain higher long term rewards one must take some shorter term risks.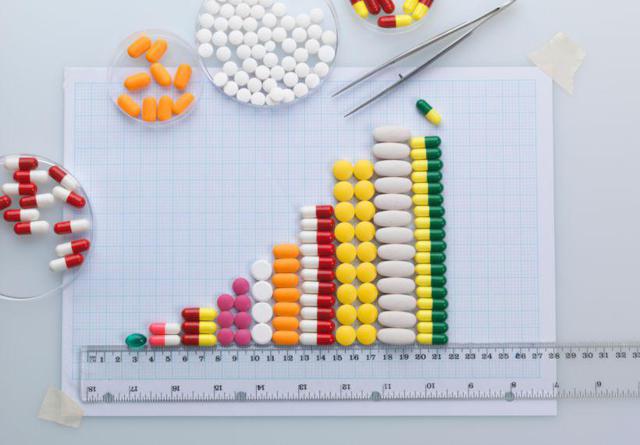 Click to enlarge
Chart Source: Forbes
Biotech investors need to look out 3-5 years, not 3-5 months or 3-5 weeks. It is a sector that absolutely murders the day trading mentality some investors seem to have in this area. I do believe it is a great time to add some new funds to this space for the long term investor. The recent decline looks like one of the frequent bouts of volatility that hits this sector consistently at it is at the nexus of risk on/risk off behavior in the market and subject to sudden shifts in sentiment.
However, it is hard to believe this area in the market is in a bubble as far as valuation when biotech stalwarts like Gilead Sciences (NASDAQ:GILD) and AbbVie (NYSE:ABBV) sell at under eight and 11 times forward earnings, respectfully.
For investors that want to slowly up their allocation to the promising sector of the market I strongly advise sticking mainly the large cap growth names of the market such as the aforementioned AbbVie and Gilead Sciences while throwing in an Amgen (NASDAQ:AMGN) or two. Not only do all of these names sell at a discount to the overall market multiple but have nice dividends and rock solid balance sheets. These are names you can tuck away in your portfolios for the next 3-5 years without much concern. These stocks also always fall less in any bear market in biotech than their small cap brethren, they also tend to be the first to recover when sentiment turns more positive on the sector.
Next up are smaller cap names that have real revenue & earnings streams that have been thrown out like the proverbial baby in the bathwater during the recent carnage in this sector. Some stocks are in this next tier of biotech/pharma picks include Depomed (NASDAQ:DEPO), Horizon Pharma (HZNP), and Endo International (NASDAQ:ENDP).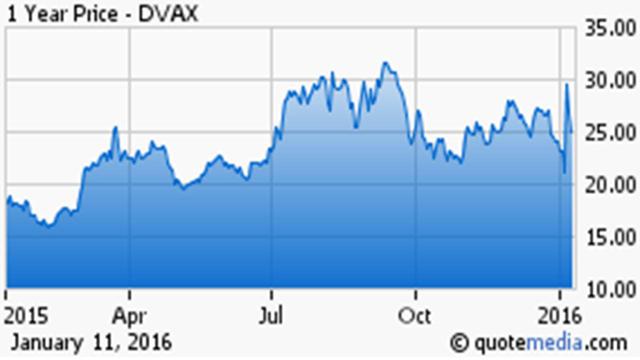 Click to enlarge
Those more adventurous can then move onto more developmental concerns that have been unfairly punished during the recent bear market in biotech. Dynavax Technologies (NASDAQ:DVAX) comes to mind as a perfect example of this tier of the market. The stock rose to a high of ~$32.50 early in summer on anticipation that its upcoming Phase III trial results from its hepatitis B vaccine would be positive. The company did indeed disclose recently those results were successful and is on the way to commercializing HEPLISAV-B. Yet, the stock now goes for just $25.00 despite delivering the desired developmental result.
Finally, those investors that want to go all the way out on the risk curve can allocate a small amount of their overall allocation to biotech to some of the more speculative early stage concerns I outlined yesterday in "3 More Must Have Biotech Stocks In 2016".
That is my current take on the biotech sector which currently is in a bear market but is providing some attractive long term entry points for patient investors.
Disclosure: I am/we are long ABBV,AMGN,DVAX,ENDP,GILD.
I wrote this article myself, and it expresses my own opinions. I am not receiving compensation for it (other than from Seeking Alpha). I have no business relationship with any company whose stock is mentioned in this article.