CES 2016 kicked off on January 6th in Las Vegas and concluded on January 9th. The event was filled with new gadgets from drones to smart cars, but some of the most exciting offerings were associated with virtual reality and augmented reality. CES also provides an opportunity for consumer electronics companies to gage the competitive landscapes, view competitor products up close as well as network with key decision makers. The annual CES event is an incredible forum for companyies to announce new partnerships and orders to raise awareness and create excitement within a company's respective industry.
One exciting announcement made last week was made by Intel (NASDAQ:INTC) alongside Oakley, a Luxottica-owned company (NYSE:LUX). The collaborative Smart Sun Glasses product is expected to arrive in consumer hands by late 2016. Image Source
Another exciting augmented reality product was announced by Intel and Daqri. The Daqri Smart Helmet is expected to provide x ray-like vision using its RealSense 3D camera. The collaborative smart helmet will be available for purchase during the first quarter of 2016.
The Daqri Smart Helmet - Image Source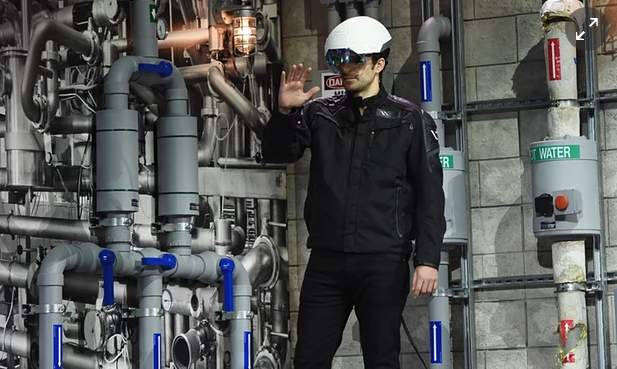 It's still very early in the augmented reality adoption curve, but if I had to crown a tech giant that is well positioned to be a clear cut winner at this stage in the game it would be Intel. Intel is working diligently behind the scenes to establish a market for augmented reality and virtual reality hardware. Intel investors are well aware that the company missed the boat on smartphones and now the company is working with smart glass industry pioneers.
Intel acquired Recon Instruments in June 2015. But despite owning a manufacturer of smart glasses already Intel remains actively engaged with several prominent companies including Google (NASDAQ:GOOG) (NASDAQ:GOOGL) and Luxottica to bring smart glasses to the market. Intel struck a deal with Luxottica in December 2014 to establish a "multi-year R&D collaboration to fuse premium, luxury and sports eye wear with smart technology," according to the press release.
Luxottica may not be well known in the world of technology hardware, but the company will play a key role in developing a market for wearable smart glasses within the augmented reality space. Luxottica's eye wear brands include Coach, Oakley, Ray-Ban, Versace as well as several other household names. Luxottica also controls a key part of the future smart glass consumer ecosystem known as the retail network. Luxottica retail network includes over 7,000 stores worldwide and includes Lenscrafters, Sunglass Hut and Pearle Vision (Source Luxottica Website). Intel and Luxottica's consumer centric fashion smart glasses are expected to make a debut sometime in 2016.
In order for a new technology such as wearable smart glasses to be accepted by consumers there needs to be a product that is fashionable and specific to consumer use cases. The smart glass market has two main verticals, which are consumers and industrial applications. The most promising near-term opportunity is within industrial applications, but consumer smart glass product offerings are not far behind.
Bullish predictions for smartglasses and wearable computing from leading research agencies have been around for several years. Gartner in late 2013 predicted that smart glasses would save the field service area up to $1 billion annually by 2018 through diagnosing and fixing problems. Heavy manufacturing along with oil and gas were two industries that Gartner believed would be the most impacted by smart glasses. Compass Intelligence in June 2015 published a report predicting business/enterprise wearables would grow at a 139% CAGR between 2014 and 2019 with revenue exceeding $8.5 billion in the US alone.
At this stage in the game hardware manufacturers, integrators, chip manufacturers, smart glass frame manufacturers and application developers are all working closely together. Industrial work forces and IT departments are busy evaluating specific use cases for smart glasses as well as addressing security risks that come with another connected device at the workplace.
The industry adoption curve of smart glasses for industrial applications is very difficult to gage. One of the most effective ways to gage the industry is to look closely at companies that are working with all of the major players (manufacturers, suppliers, integrators and software developers) in the industry. One company that fits the bill is privately-held APX Labs.
APX Labs partners include smart glass hardware manufacturers such as Google, Vuzix (NASDAQ:VUZI), Microsoft (NASDAQ:MSFT), Sony (NYSE:SNE) and Epson. APX Labs' partners also include key integrators that work with customers to effectively roll out smart glass solutions into the field including SAP, Deloitte and Accenture (NYSE:ACN). APX Labs also partners with several software solution developers.
According to a recent interview with TechCrunch in November 2015 APX Labs investors include GE Ventures and Salesforce Ventures. APX Labs customers include six of the Fortune 10 as well as dozens of other companies including General Electric (NYSE:GE).
In other words, APX Labs has a working relationship with several major players in the augmented reality industry. APX Labs is in the trenches with some of the largest companies in the world to roll out Skylight, a smart glass vendor solution for smart glasses.
An image listing APX Labs current partners is below: Image Source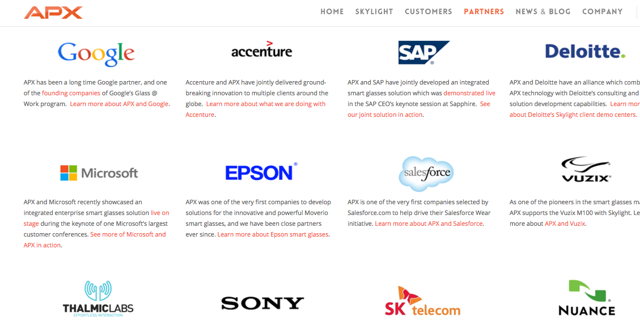 A recent interview with APX Labs CEO Brian Ballard conducted by Nick Farrell, a journalist with Fudzilla.com, provided tremendous color and clarity surrounding the smart glasses market outlook for 2016 and beyond. Fudzilla is a media outlet that provides extensive coverage on technology news including CES 2016.
Some key color provided by Brian Ballard related to APX Labs' 2016 Predictions for wearables technology, is below:
We project that 18 percent of industrial companies will implement a combined solution involving smart glasses and/or smart watches tied to live data feeds from IoT sensors and industrial machines in 2016.

Wearable technologies such as smart glasses are the next step, representing the next generation human-machine interface and the key to a truly smart factory by enabling the most efficient delivery of information to the connected workforce.

We predict that enterprise deployments will rapidly grow from the dozens to the thousands as wearables reach a greater level of maturity and market acceptance. Overall we predict a six-fold growth in the number of production wearable users in 2016, with a third of that coming from companies getting their first deployments online and two thirds of that from companies growing and expanding their use cases.

We predict that wearables will replace the smartphone as the key driver of hardware development in the technology sector.
Nick Farrell's full write-up from his interview with Brian Ballard can be found here. A full copy of APX Labs' Wearable Tech Predictions for 2016 can be downloaded from the company's website and the 10 page document is worth a read for investors interested in the industry adoption of wearable technology.
My takeaways from APX Labs' 2016 predictions are that smart glasses remain on target conceptually to be the next big thing that has all of the elements and capabilities to replace smartphones in the future. Additionally, pilot programs and initial deployments will expand rapidly as use cases and applications are tweaked and made ready for prime time over the course of 2016 and beyond.
I wrote an article in June 2015 summarizing why some believe Augmented Reality is the next big thing and why Digi-Capital believes annual revenue could reach $120B for the industry. The revenue estimates might still be out of the reach, but the fact remains augmented reality led my smart glasses continues to make headway in creating massive demand for products.
AugmentedReality.Org published its last report on smart glasses in January 2015. Below is the industry adoption and maturity curve as of January 2015. At this juncture the volume estimates are likely too high, but the as we move through 2016 early adopters and winners in this space will emerge.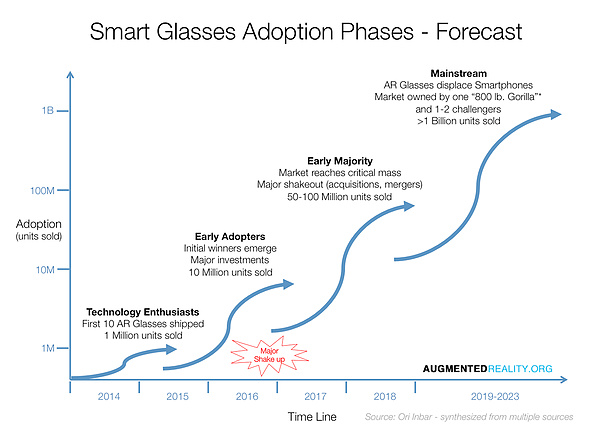 I presented a tremendous amount of information in today's update, but investors need to know that augmented reality and virtual reality may be the latest technology trend - they are not fads. Augmented reality solutions driven through commercial adoption of smart glasses are saving companies hundreds of millions of dollars today from productivity gains, reduction of errors and efficiency gains.
These exciting technological offerings are still not fully understood by the masses, but I believe they are the technology of the future, a future that will arrive in industrial settings much sooner than most investors expect at this point. Additionally, several key players in the industry are working closely together every day to bring smart glasses for consumers to the market within the coming year.
I almost forgot to mention the final prediction made by Ballard that should excite Intel investors. Ballard's prediction is that the big winner of the next technology revolution will be Intel. Intel will be a big winner because the company is well positioned to be inside nearly every wearable device ranging from smart glasses to smart watches and devices in between.
The big winner of all this will be Intel, Ballard said. Intel made a significant push into the wearable technology space during the past year by acquiring Recon Instruments and investing nearly $25 million in smart glasses manufacturer Vuzix. The company has publicly acknowledged missing the opportunity to have their chips power the smartphone revolution and has vowed not to miss opportunities to get their technology inside wearables.
If you are a long-term investor and a fan of new technology you should park some money into Intel. Intel is currently paying just under a 3% dividend and the future IoT revenue that Intel could generate within the next five years is on track to be very impressive.
Intel missed the smartphone revolution, but currently stands alone in pole position and is on track to be the big winner of the developing wearable marketplace. If futurists and technology researchers turn out correct the next revolution in technology will be wearables including smartglasses, and Intel may indeed have the last laugh after all.
Disclosure: I am/we are long VUZI.
I wrote this article myself, and it expresses my own opinions. I am not receiving compensation for it (other than from Seeking Alpha). I have no business relationship with any company whose stock is mentioned in this article.
Additional disclosure: I have no business relationship with any companies (public or privately held) that are mentioned in this report. I am not receiving compensation from any companies (public or privately held) that are mentioned in this report. I currently do not own Intel, but I am closely monitoring the wearable technology space and will likely initiate a position in Intel over the coming months based on risk/reward.