Chinese officials are a bit selfish, so in this market you could easily blame them for the possible meltdown of India, which is a risk you might have underestimated so far - but these are not the only reasons why you'd do well to cash in on any rally these days, just like many funds have done with the shares of General Electric (NYSE:GE) in the last week or so.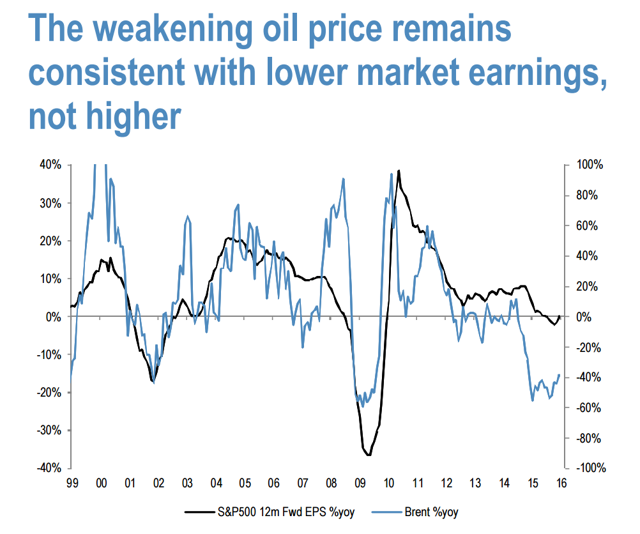 Click to enlarge(Source: MarketWatch, J.P. Morgan)
This chart above doesn't capture the entire story, and should be adjusted by a number of variables, but it provides a good overview of what we should expect from this earnings season. Or does it?
Well, Alcoa (NYSE:AA) - the first company that reported on Monday - came up with quarterly figures that could have been much worse, both with regard to revenue and earnings, in this environment.
Cycle
Regardless of analysts' opinions on some of the correlations they find useful to justify their own views, the strength in the U.S. dollar is the result of a slowly tightening monetary cycle, the speed of which will determine failure or success for stock investors over the short term.
For long-term investors, this could be a great opportunity to average down their positions, but similarly capital erosion could be on the cards.
Warnings
We have been here before. At the end of 2014, Frank Holmes published research that included the chart below.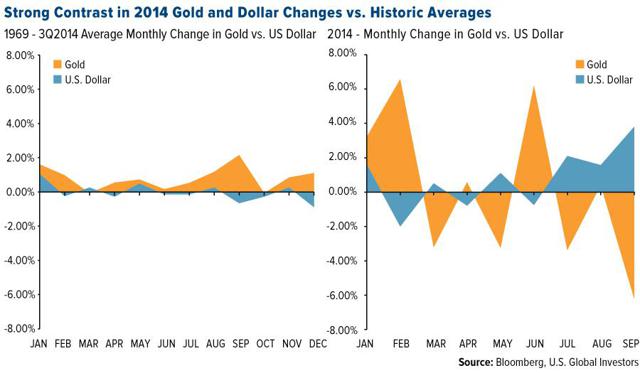 Click to enlarge(Source: businessinsider.com)
Just over a year ago, Holmes argued that the data on the left side of the chart - where 45 years' worth of data showed fairly subdued fluctuations in gold prices in relation to the dollar - was in stark contrast with the data on the right side, where "the strong dollar pushed bullion prices down 6 percent in September, historically gold's strongest month."
Standard Deviation
This move is unusual "also because gold has had a monthly standard deviation of ±5.5 percent based on the last 10 years' worth of data."
And there's another way to look at the 2014 data.
"On October 3, bullion fell below $1,200 to prices we haven't seen since 2010, but they quickly rebounded to the $1,240 range as the dollar index receded from its peak the same day," Holmes noted.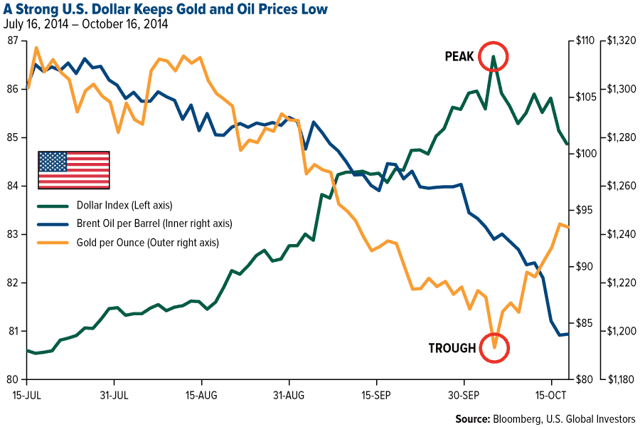 Click to enlarge(Source: businessinsider.com)
What's next for gold isn't difficult to predict, unless the U.S. dollar weakens on the back of more quantitative easing, although it is not so simple now to ask the Fed to bail out inventors less than a month after investors begged the Fed to push up interest rates.

Click to enlarge(Source: bullionvault.com)
QE
In a low-rate environment that follows a few rounds of quantitative easing, we should be prepared to deal with fluctuations well above the level of standard deviation that we were used to experience in the past cycles. And this applies to equities, too.
On the one hand, what slightly surprises me, however, is that the Federal Reserve has made clear that any future increase in federal funds rate will be gradual, and intimately tied to economic conditions.
On the other, here's the problem: the U.S. economy is doing better than many expected - a lot better, based on the latest December jobs report.

Click to enlarge
(Source: nytimes.com)
Expectations, you should always blame expectations.
General Electric
Less cyclical assets should be preferred at this economic juncture, GE shareholders may well argue, regardless of the level of underlying profitability associated to those assets.
Latest news from Bloomberg indicates that General Electric has received bids from Chinese companies Midea Group and Qingdao Haier for its home-appliances (A&L) business, after the sale of the assets to Sweden's Electrolux (OTC:ELUXF) fell apart in early December.
These are not strategic assets, so if the price is right GE could manage to get rid of its A&L unit as soon 1H16. GE is selling a decent profit pool, however, while retaining assets that add risk to the investment.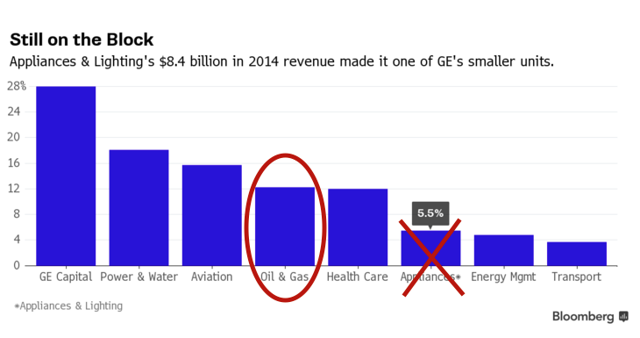 Click to enlarge(Source: Bloomberg, chart edited by the author)
I think the sale of its home-appliances business makes some sense, yet GE has other problems elsewhere.
Opportunity, Legal Risk & Starbucks
Opportunity goes hand-in-hand both with bankruptcy risk in the oil world and legal risk for large companies.
With regard to the oil sector, more details have emerged about the possible IPO of...Saudi Arabia (or Saudi Aramco? or both?), which could float Saudi Aramco's E&P assets. The IPO will be entertaining to watch - how will those assets be valued in this market?
As far as legal risk is concerned, I invite Starbucks investors to pay attention to the latest news before deciding to buy on weakness.
Risk
India is a bit troubled, as the chart below shows, and its exports collapsed with the collapse of global trade, which is nothing new for those who are familiar with India's economic situation.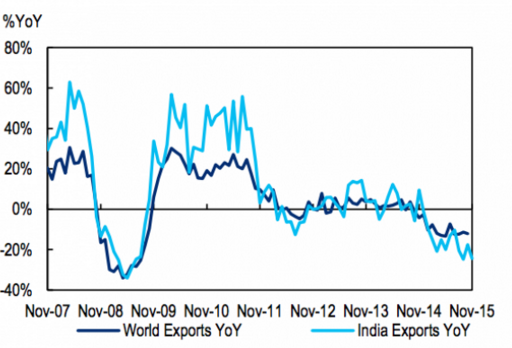 (Source: Zero Hedge, WTO, DGC&IC, Citi)
There are a few reasons why India adds risk to our daily trades, but the real meltdown scenario entails something very different, trust me. So, now I am more worried about legal risk for companies like Apple (NASDAQ:AAPL) and Starbucks (NASDAQ:SBUX) than for the outlook of certain emerging markets.
Disclosure: I/we have no positions in any stocks mentioned, and no plans to initiate any positions within the next 72 hours.
I wrote this article myself, and it expresses my own opinions. I am not receiving compensation for it (other than from Seeking Alpha). I have no business relationship with any company whose stock is mentioned in this article.
Editor's Note: This article discusses one or more securities that do not trade on a major U.S. exchange. Please be aware of the risks associated with these stocks.