AMD's (NYSE:AMD) CEO Lisa Su recently explained how the company will survive and even thrive in 2016. She believes 2016 will be different for AMD:
The overall expectation is that AMD will be a better year from a financial standpoint compared to 2015. I think we have chosen to bet on technology, and the assumption is that the overall revenue, market share, profits, all that will follow. But that remains to be proven.

Su said what she believes needs to be proven. Indeed, AMD's technology will be the deciding factor if its stock will perform or not. In this article, I try to assess if AMD's recent bet on new graphics architecture Polaris is compelling enough to buy the stock.
Can AMD Regain Its Graphics Leadership with Polaris?
In a previous article, I wrote that AMD's upcoming Zen microarchitecture could help the company turn around, only if the company follows Intel's (NASDAQ:INTC) data center strategy. With Zen, AMD is also targeting to grab Intel's market share in the high-end PC market, but I don't believe the struggling PC industry has the potential to salve AMD's financial distress. AMD might have some opportunities in the data center market if it offers less expensive products compared to Intel, but derailing Intel's data center monopoly shouldn't be Lisa Su's aim. Instead, she should focus on becoming the No. 2 in data centers.
However, AMD's upcoming GPUs powered by its Radeon Technologies Group's (RTG) newly-launched Polaris microarchitecture could challenge today's undisputed graphics leader Nvidia (NASDAQ:NVDA). Many industry insiders I know believe that chipmakers are trying hard to meaningfully advance their graphics technology, both discrete and integrated, in order to provide improved graphics experience to people in many emerging areas where computer graphics plays the leading role, such as VR (virtual reality), AR (augmented reality) and AI (artificial intelligence), among many other multimedia applications.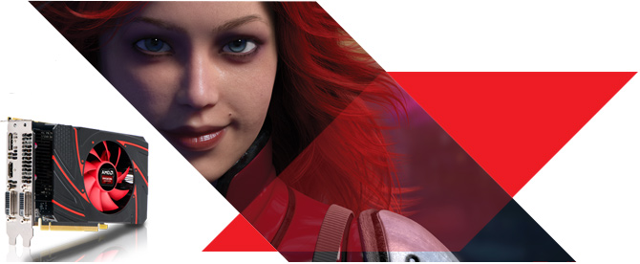 Challenging Nvidia with Polaris Difficult, not Impossible
At CES 2016, AMD showcased Polaris based on its fourth-generation GCN (graphics core next) microarchitecture and implemented instruction set. The company also displayed a Radeon GPU based on Polaris. With Polaris, AMD will release new 14nm FinFET GPUs, which can offer customers twice the performance per watt compared to earlier-generation Radeon GPUs made on 28nm manufacturing process. AMD will be replacing the 28nm process after five years, which it began using in 2011.
The Polaris-based Radeon GPU that AMD showcased in CES 2016 will use GDDR5 graphics DRAM memory, which Nvidia also uses in its discrete GPUs. GDDR5 is capable of delivering high performance graphics. The recently launched gaming PC Vortex by MSI comes with Nvidia's dual GeForce GTX 980M GPUs with GDDR5 memory support. The entire GeForce GTX processor family made on 28nm uses GDDR5 memory.
However, AMD's Polaris will actually compete against Nvidia's upcoming GPUs based on Pascal microarchitecture that will be made in Taiwan Semiconductor's (NYSE:TSM) 16nm FinFET process. Pascal will have four HBM2 (high-bandwidth memory) stacks instead of GDDR5. Stacked HBMs are capable of offering more firepower compared to GDDR5.
AMD's high-end versions of Polaris will use HBM that are currently available in its Fiji GPUs, viz., Radeon R9 Fury X, R9 Fury and the R9 Nano. Since HBM is expensive, AMD will be offering both GDDR5 and HBM with Polaris. AMD will have a more diversified product line with Polaris compared to that of Nvidia's Pascal.
The 14nm FinFET GPUs will help PCs become smaller. Furthermore, it will support the growth of other small form-factor devices. If AMD wants to displace Nvidia's GPUs on a sustainable basis, it should adopt a long-term strategy that will help the company consistently offer customers technologically advanced products. Although this is a difficult task given Nvidia's significantly bigger R&D budget compared to what AMD can afford, AMD's recent move to separate its GPU unit and form the Radeon Technologies Group is a solid first step.
Formation of Radeon Technologies Group Encouraging
In an attempt to separate its GPU unit from the struggling CPU unit, AMD formed its new Radeon Technologies Group in September last year for giving its graphics unit more autonomy. Creation of RTG involved in reconstituting AMD's ATI unit, which the company formed by acquiring the graphics company ATI Technologies in 2006. In 1985, ATI Technologies was originally founded as Array Technology Inc., in Canada.
The advent of cloud computing coupled with the proliferation of sensors with built-in artificial intelligence has allowed large tech companies to absorb huge amount of data and use the data to increase productivity of enterprises. The process is being developed embracing a new concept known as immersive computing, wherein immersion into VR is needed to get the full benefit of the whole system. AR is also an integral part of the system. HP (NYSE:HPQ) has already developed Sprout, an immersive computing platform based on an All-in-One PC form factor, which will help users capture, create, move, and manipulate digital content with hands.
Although the concept of immersive computing is fairly new, I believe it's going to be the next big thing after cloud and big data. The role of computer graphics will be massive in immersive computing, and I believe AMD is preparing itself to take the first mover advantage by developing GPUs compatible to immersive computing. Lisa Su said, "We are entering an age of immersive computing where we will be surrounded by billions of brilliant pixels that enhance our daily lives in ways we have yet to fully comprehend."
AMD promoted Raja Koduri at the helm of RTG by positioning him to the Senior VP and Chief Architect post. Raja Koduri's track record in graphics is well known to industry insiders. He joined Apple (NASDAQ:AAPL) in 2009 leaving AMD to become the Director of Graphics. In 2013, he came back to AMD from Apple.
With talents like Koduri and a rich graphics IP (intellectual property) portfolio, AMD certainly has the potential to regain its graphics leadership position. Now it remains to be seen if the company succeeds or not.
Conclusion
I am less optimistic on AMD's Zen CPU architecture, and far more optimistic on its Polaris GPU architecture. Although it's not yet clear if RTG can turn the company around with Polaris, I believe betting on the technology by purchasing AMD's shares near $2 makes sense.
Disclosure: I am/we are long INTC.
I wrote this article myself, and it expresses my own opinions. I am not receiving compensation for it (other than from Seeking Alpha). I have no business relationship with any company whose stock is mentioned in this article.