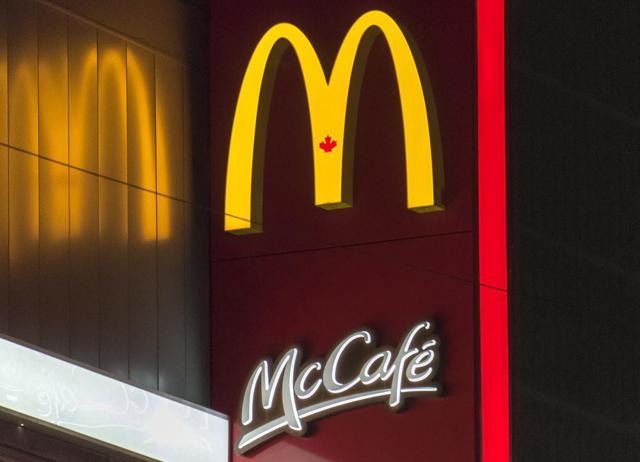 Shares of McDonald's (NYSE:MCD) have outperformed the S&P500, with the gap widening since 2003, no doubt an impressive return.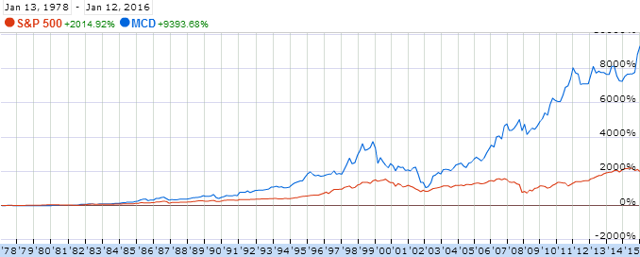 Click to enlarge
Source: Google Finance
I think MCD is one of the best stocks to hold in ones portfolio for the long-term. I am however concerned with the expectations currently priced into the equity.
Firstly, the TTM P/E ratio is about ~42% above its valuation from 2011 through 2014, 25 vs. 17.5(avg).

Click to enlarge
This could be a great sign for shareholders as investors are bidding up the valuation of the stock in anticipation of future revenue and earnings growth. Critically, in Jan 2015 MCD announced that the CEO would be stepping down, and Steve Easterbrook the head of UK and European operations would be filling his role. From an analyst perspective, this makes perfect sense.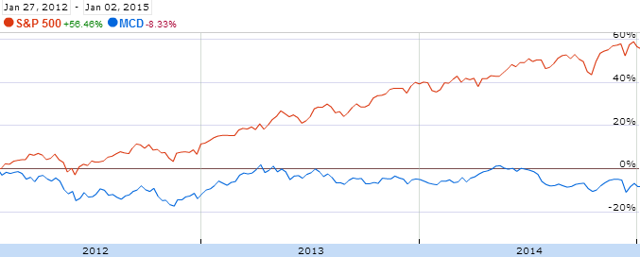 Click to enlarge
Source: Google Finance
Shares of MCD has been relatively flat for about 3 years, underperforming the S&P 500 by roughly 65% (2012-2015), and thus new management was seen as a catalyst for improved operational efficiencies and higher EPS growth.
With the P/E multiple now 50% higher under the new CEO, I am quite perplexed at how the company will reach these relatively lofty expectations.
Taking a look at analyst estimates from E-Trade for revenue and earnings growth we see something that should cause bullish investors to potentially reassess their conviction.

Here is the same data charted: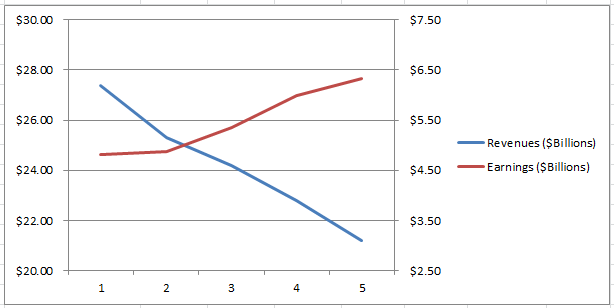 It is not infrequent to see earnings and revenue growth diverge, supported by data from Factset Research.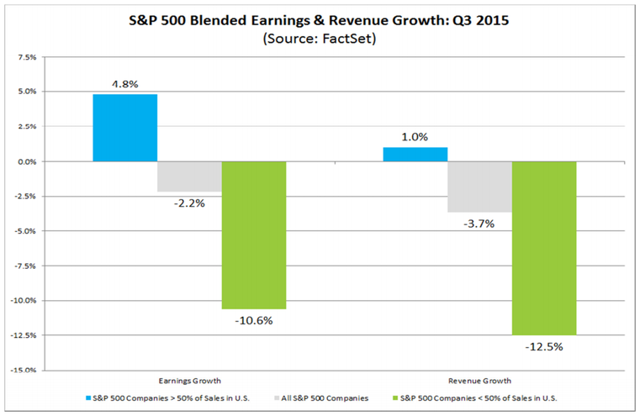 Click to enlarge
This also shows us that companies with greater % of revenue from overseas are expected to see lower earnings and revenue growth than those that are primarily domestic firms.
MCD is a great stock to own, but is it a great stock to buy now?
Taking a look some common valuation metrics from Morningstar (price as of 1/11/16), we can see a few things:

Here are the same numbers, but measuring the divergence between MCD (currently) and the other columns:

Click to enlarge
As we see, applying MCD 5Y Avg multiples to the current; earnings, book, sales, and cash flow values gets us a price that is 28% below current levels. Applying the S&P 500 multiples brings us even lower to $59.92 a nearly 48% drop! While I am more confident in ~$84 vs. ~$60 as an entry point, this data should not be ignored.
How did we get to this premium valuation in the context of declining revenue growth? I think it has to do with the defensive nature of the company. MCD has historically traded as a premium & defensive stock. MCD does have a 10% lower beta than the market and the 3% dividend provides support in a market sell-off. I think MCD deserves its premium valuation, I just think the defensiveness has created an outsized premium to historical value.
The market can always stay irrational, longer than investors can stay solvent, so I would not recommend shorting this stock. Nonetheless, I think investors would be prudent to wait for a better entry point before establishing a long position in MCD.
Disclosure: I/we have no positions in any stocks mentioned, and no plans to initiate any positions within the next 72 hours.
I wrote this article myself, and it expresses my own opinions. I am not receiving compensation for it (other than from Seeking Alpha). I have no business relationship with any company whose stock is mentioned in this article.