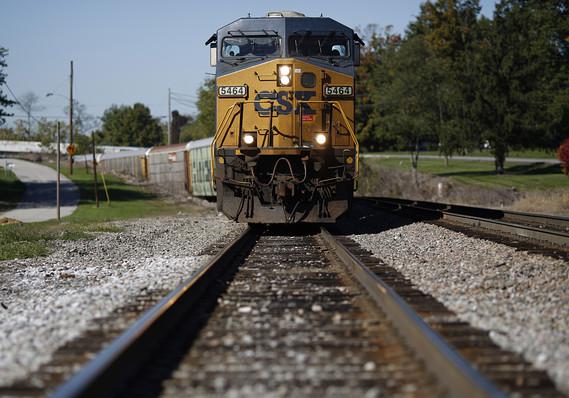 Source: Wall Street Journal
CSX Corporation (NYSE:CSX) is set to report earnings today after-hours. Analysts expect revenue of $2.86 billion and eps of $0.46. The revenue estimate implies a 3% decline sequentially. Investors should sell the stock into earnings for the following reasons:
Stagnant Revenue
Q3 revenue of $2.94 billion was down 9% Y/Y; the company also missed analysts' revenue estimate of $2.98 billion. Revenue declines could get worse. Rail traffic is down for the entire industry. For the first 51 weeks of 2015 rail traffic was off 2.3% compared to last year. Headwinds abound; Brent oil prices are sub-$40 and commodity prices are in free fall. China, one of the largest buyers of commodities, has experienced a slowdown in its economy, which cause a decline in purchases.
According to Bank of America, declining railcar traffic is troubling:
"Rail data may be signaling a warning for the broader economy," BofA says, noting that carloads have declined more than 5% Y/Y in each of the past 11 weeks, and "the current period of substantial and sustained weakness, including last week's -10.1% decline, has not occurred since 2009."

... Much of the decline is easily traced to the sharp drop in the amount of oil hauled on U.S. railways as refineries swallow more foreign supplies in the face of falling domestic crude output; Genscape says rail deliveries to U.S. Atlantic coast terminals continued to drop to the end of the year and the spot market for crude delivered by rail from North Dakota's Bakken region "is at a near standstill."
That does not bode well for CSX or the railroad industry.
Coal Remains Problematic
Coal represents 20% of the company's revenue, down from 23% in Q3 2014. Coal has been the black swan of the railroad industry, and outsized exposure has also stymied Genesee & Wyoming (NYSE:GWR) and Norfolk Southern (NYSE:NSC). Coal futures have fallen below $50/t for the first time in over a decade and coal's problems may be structural. In addition, low natural gas prices may have created a shift from coal use to natural gas. Coal prices have been on a slow grind downward, and so has its railroad traffic needed to transport it.
EBITDA Margins Could Be In Jeopardy
Declining revenue is already baked into CSX's investment thesis. To keep earnings from free falling the company must cut costs. Q3 2015 EBITDA of $1.2 billion was down about 3% Y/Y. EBITDA margin increased from 39% in Q3 2014 to 42% last quarter. The biggest driver of the uptick in margin was the decline in fuel costs; fuel costs fell from 12% of revenue in Q3 2014 to 8% in Q3 2015.
CSX will have to trim costs in other areas if it wants to maintain its margins. Labor and material represents a combined 47% of revenue. Those two expense buckets are likely candidates for cost cuts going forward.
Conclusion
CSX's revenue will fall this quarter and likely the next. The question remains, "Does management have the will power to cut costs in lockstep?" Sell CSX into earnings.
Disclosure: I am/we are short GWR, NSC.
I wrote this article myself, and it expresses my own opinions. I am not receiving compensation for it (other than from Seeking Alpha). I have no business relationship with any company whose stock is mentioned in this article.