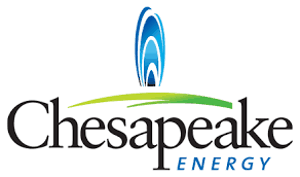 With oil prices falling to the low $30s, shares of Chesapeake Energy (NYSE:CHK) continue to decline. The completion of the debt restructuring -- in which the company issued second lien notes for unsecured notes -- back in December might have extended its overall debt maturity, but it also raised the interest payments it will have to make in the coming years. Some analysts have also deemed this bond swap unsuccessful due to low participation rate. Rating agencies weren't impressed by this move: Moody's saw the debt exchange as a "distressed exchange" and Standard & Poor's reduced CHK's credit rating to junk status. In addition to the problems related to falling oil prices and growing debt burden, let's examine other factors that could impact CHK's revenue -- staring with natural gas.
Is Natural Gas Heating Up Again?
After natural gas dipped to its lowest level in years, prices have started to climb back up again. And this rally might have helped to curb the fall of CHK shares, which are still currently $4.5. This rally is likely to have been related to the recent shift in weather projections. Perhaps the 2015/2016 winter won't be as warm and mild as previously expected. If temperatures start to drop in the coming weeks, we could see an additional boost to the price of natural gas.
Despite the recent rise in natural gas prices, they are still expected to remain low for this time of the year as storage remains elevated and demand remains soft. So even a rise to, say, $2.8-$3, this won't pull CHK's sales much higher. After all, the company's realized prices after accounting for transportation costs and discounts are well below market prices. Back in Q3 2015 alone, the realized price of natural gas was only $1.14 per mcf.
2016 Hedges
In 2015, the company benefited from its hedges -- mostly for oil -- that soften the blow its revenue took due to low energy prices, as you can see in the following table:

Source: CHK and author calculations.
The company's realized price was, on average, $13 bbl higher than the average quarterly market price. But looking forward, the boost CHK received from its hedges will significantly diminish in 2016.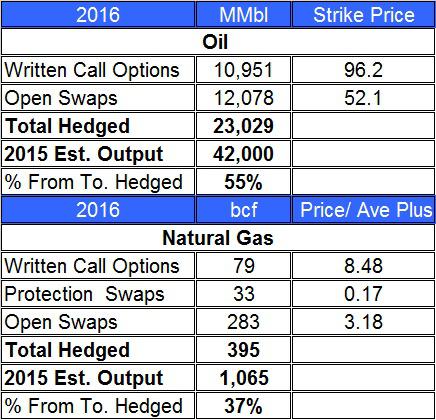 Source: CHK and author calculations.
The table above summarizes the hedges Chesapeake had in place as of the end of Q3 2015. The company might have added additional swap contracts during the last quarter of 2015, but the average strike price is likely to be well below $50. Assuming CHK's oil output won't change in 2016 (I know, that's a crude assumption), the hedges in place will only cover 55% of its total output. And only a quarter of its total output is hedged written calls at a high average strike.
For natural gas, again assuming no change in the yield, only a third of its output is covered with swaps and calls. And the swaps offer limited protection as their strike prices or average price differential isn't too high. Bottom line: CHK will have lower realized prices than in 2015 -- unless oil and gas prices start climbing again.
What's Next?
The next earnings report will shed some light on what CHK has in store for 2016. The company slashed production costs and became more efficient, increased the maturity of its debt, and sold non-core assets. These measures are likely to be taken this year as well. Chesapeake could benefit from a rise in natural gas prices, although the stock might not react to this news considering oil prices seem to take a bigger role these days in moving CHK's stock.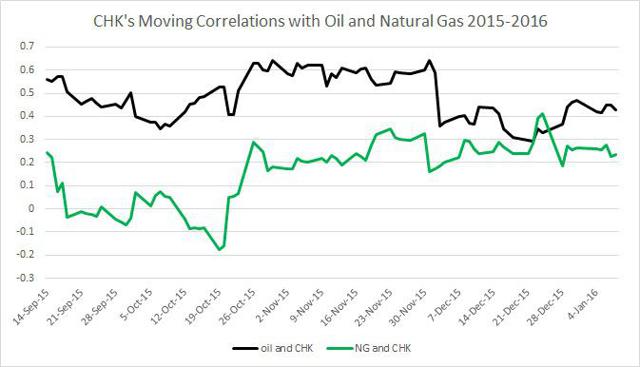 Click to enlarge
Source: Bloomberg, Google Finance and author calculations.
The chart above presents the moving correlations between energy prices and CHK's stock (daily percent changes). For the most part, oil prices have had a stronger correlation with CHK, which could also suggest that any further drop in oil prices -- even if natural gas continues to rally -- is likely to result in a decline in Chesapeake's stock. Therefore, Chesapeake will have to introduce additional plans to cut costs and capital spending, and sell additional assets (if that's still a viable option at this point). These steps won't help the company recover, but they could offset the harsh market conditions and a growing debt burden. (For more, please see "Is Chesapeake On The Right Path?")
Disclosure: I/we have no positions in any stocks mentioned, and no plans to initiate any positions within the next 72 hours.
I wrote this article myself, and it expresses my own opinions. I am not receiving compensation for it (other than from Seeking Alpha). I have no business relationship with any company whose stock is mentioned in this article.