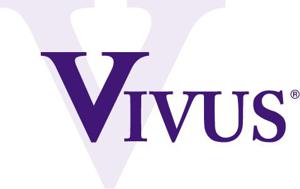 Vivus (NASDAQ:VVUS) investors saw the close to 2015 in terms of Qsymia sales as a bitter pill to swallow. Not only were sales down to the lowest point in 6 quarters, but the company seems to have lost its edge in the insurance sector for 2016 setting up what will likely be a continued downward trend for 2016.
Qsymia finished the last week in Q4 with script sales of about 129,000. This was good enough to edge out imploding Belviq sales at about 127,000, but were well behind upstart Contrave with about 181,000 scripts. The sales peak for Qsymia was 151,000 scripts in Q2 of 2015 on the heels of some decent insurance news with CVS Caremark putting Qsymia on the preferred drug list. Now, starting in 2016, Qsymia is no longer covered under the CVS Caremark formulary. Things are changing with Qsymia, but not for the better.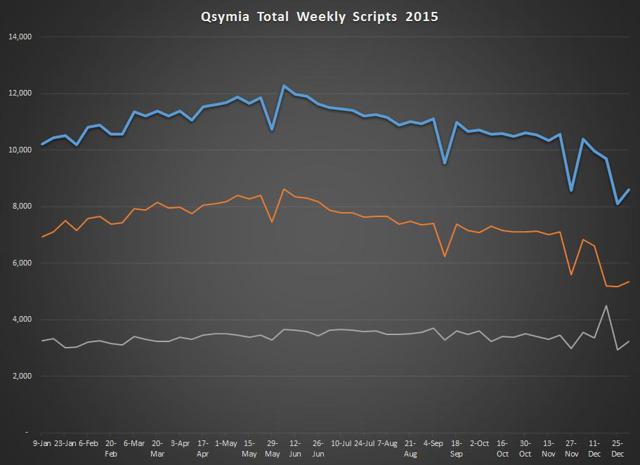 Click to enlarge
Chart Source - Spencer Osborne
On a quarter over quarter basis the Q4 numbers saw a drop of 9.36%. A drop in Q4 is expected in this sector because of the holidays that transpire in Q4. Qsymi's drop was not as pronounced as Belviq from Arena (NASDAQ:ARNA), but not as shallow as Contrave from Orexigen (NASDAQ:OREX). Simply stated, Qsymia sales dropped as expected and that should not generate much concern. What was concerning was that sales in Q4 of 2015 were 4.39% lower than Q4 of 2014. This means we saw a year over year drop in terms of sales.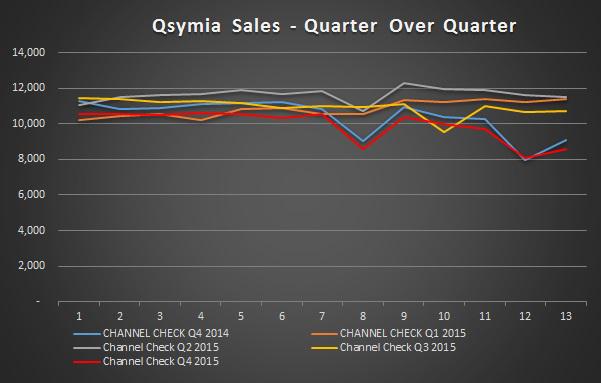 Chart Source - Spencer Osborne
From a market share perspective I give Qsymia credit in holding the line where it did. That being said, the biggest factor in that dynamic is not Vivus but rather the marketing effort of a competitor being slashed to a near standstill. Qsymia finished off the last week of the year with a market share of 28.67%, higher than the 28.18% turned in by Belviq, but much lower than the 42.15% that Contrave had.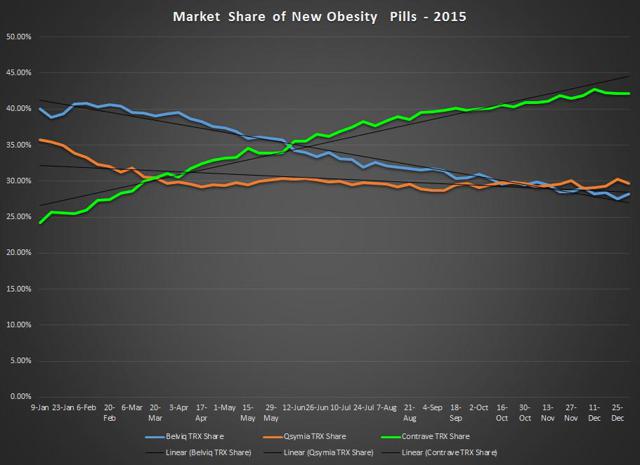 Click to enlarge
Chart Source - Spencer Osborne
As we start 2016, Vivus has more challenges with Qsymia than it did in 2015. There is more competition and less insurance. This could mean that the company needs to discount its goods in order to keep relevant in the sector. Meanwhile, with some insurance coverage drops on Qsymia specifically, the competition may pick up slack that is lost by Vivus.
Vivus saw 563,000 scripts sold in 2015. For 2016 that number could drop by 10% or more unless there is a concerted effort to bring about some form of change. Vivus has cut costs to the bone in order to try to improve the bottom line, but there is precious little to cut anymore. Impressing the street is now more challenging than ever.
In Q1 of last year Qsymia saw 141,000 scripts sold for an average of just under 11,000 scripts per week. The first few weeks of 2016 should give us a good idea of how Q1 will shake out. Qsymia's growth trajectory is simply not where it needs to be to excite the street about this drug. Even the sector leader, Contrave, has sales that are well shy of what is needed to excite the street. If your play on Vivus is tied to anti-obesity, you should really consider developing a model for 2016 that will track to decent growth and then follow the weekly numbers to see if the company is tracking anywhere close to it.
The Vivus story in 2016 will have two main components. The first is the continued struggles with Qsymia. The second is the potential or lack of potential associated with the erectile dysfunction drug Stendra which Vivus just got back. In my opinion, a Stendra partnership for Stendra is imperative if this equity has any chance of seeing decent appreciation. Stay Tuned!
Disclosure: I am/we are long ARNA, OREX.
I wrote this article myself, and it expresses my own opinions. I am not receiving compensation for it (other than from Seeking Alpha). I have no business relationship with any company whose stock is mentioned in this article.