Did you catch the 45% one-day pop in NGL Energy Partners LP (NYSE:NGL)? Me neither. If you are one of the few investors who either stuck with NGL or even pick up some units during the recent sell-off good for you. While there certainly still exists some upside in the NGL value, the asset sale by the partnership illustrates how other MLPs may be able to unlock some value and start a recovery in their unit values.
I had included NGL in an article published on December 22 covering three MLPs that the market was pricing to yield 20% to 30%. You can read the article here: Rolling The Dice For 7/11 With 3 High-Yield MLPs Against Wall Street
NGL Sells An Asset
On Friday, January 8, NGL announced an agreement to sell its 100% ownership stake in the general partner of TransMontaigne Partners (NYSE:TLP) for $350 million to private equity firm ArcLight Capital Partners. NGL will retain its 16% stake or about 3.2 million LP units of TLP.
It is of interest to note that the TransMontaigne GP interests were valued at $350 million, while the partnership has a current market value of $450 million. Over the last 12 months, NGL received $7.6 million in GP payments, so NGL was able to sell the GP interest in TLP for 46 times TTM cash flow. Sweet! For many MLPs, the GP interests are in private hands. Based on the current TLP distribution rate, the GP incentive distribution rights are in the top 50% split. However, the TLP distribution has not been increased since the second quarter of 2014.
In December 2015, NGL issued a press release stating the company planned growth capex spending of $350 to $400 million over the next 12 to 18 months. The asset sale will provide the cash needed to cover most if not all of the money needed to pay the current growth projects under development by the company. Also in the press release, NGL indicated that the company planned to neither reduce or increase the distribution rate in 2016. DCF coverage is expected to be 1.2 to 1.4 times the distributions to be paid this year.
Diverse Business With Growth Projects
I have long been confused on both the value and volatility of the NGL unit pricing. I think the volatility may be due to the fact that the company's business is not a simple operation. NGL operates in five business segments, with revenues from several of the segments margin based, where it is difficult to calculate the effects of changing energy commodity prices. This chart for a recent presentation shows the different business segments and the effects of higher or lower energy commodity prices.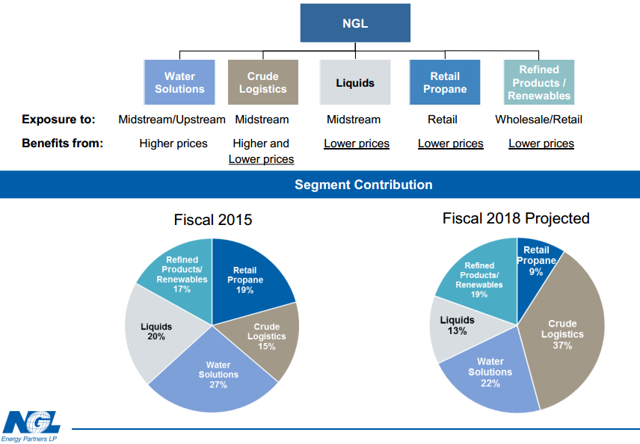 Click to enlarge
Note that four out of the five midstream services can produce higher profits as energy prices get lower. Over its four year life as a public company prior to the drop in energy prices and resulting MLP sector bear market, NGL Energy Partners had produced 100% compounded annual EBITDA growth. The per unit distribution rate had been increased for 16 straight quarters and close to doubled since the May 2011 IPO. Then the big decline in MLP unit values put the growth prospects of many MLPs including NGL in question. Its pretty hard to put together a per unit accretive new project or acquisition when funding with equity issuance costs in excess of 20%.
Now with the asset sale, NGL will not need to tap either the equity or debt markets to fund the growth projects it expects to complete in 2016 and early 2017. The company's joint Grand Mesa/Saddlehorn Pipeline expected to be completed in late 2016. NGL will own 150k barrels per day of capacity on the 340k bbl/day capacity pipeline. The balance will be owned by 40% by Magellan Midstream Partners (NYSE:MMP), 40% by Plains All American Pipeline (NYSE:PAA) and 20% by Anadarko Petroleum (NYSE:APC). This group of premium energy companies should manage to keep the pipeline full of crude oil once its operational. NGL expects to earn EBITDA of $160 to $175 million in the first year of operation. That is a significant increase compared to $500 million in EBITDA for the company's 2016 fiscal year that ends on March 31, 2016.
While the Grand Mesa/Saddlehorn Pipeline is the major growth project in the works for NGL Energy Partners, additional projects should also add incremental amounts of EBITDA growth starting in 2017.
Picking an Investment Value
At its lowest recent unit value, NGL was priced to yield over 31%. With the price boost from the deal announcement, the units still yield over 21%. In a logical world, an MLP that can at least maintain its current distribution with excess coverage and has significant growth prospects a couple of years out should yield what? Maybe 8% to 10%? To get the NGL would need to double to get to around $25. It is difficult to understand how the market is currently putting values and exceeding high yields on companies like NGL Energy Partners. The company has a business model that has should be more profitable with lower energy prices and has solid growth prospects. It seems that investors just need to be patient, live with the volatility, collect the very high yields and see what happens two to three years down the road.
The deal to sell the TLP GP interest show that MLPs have additional flexibility and options to meet their capital needs in the current market conditions. NGL was able to sell an asset for a high multiple of cash flow and give itself the capital cushion it needs to secure and grow distributable cash flow.
Disclosure: I am/we are long PAGP.
I wrote this article myself, and it expresses my own opinions. I am not receiving compensation for it (other than from Seeking Alpha). I have no business relationship with any company whose stock is mentioned in this article.