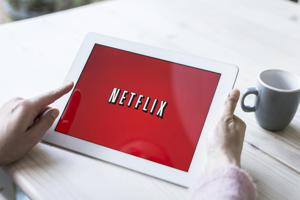 Trading at 300 times earnings, Netflix (NASDAQ:NFLX) has defied gravity for years. As we enter what seems to be soft markets and perhaps an economic slowdown, the question is whether the sizzle is getting ahead of the steak.
Netflix is trading at $116 per share on 427 million shares giving it a market capitalization close to $50 billion. Revenues are growing in the 25% rate.
As at September 30, 2015 Netflix had over $2.6 billion of cash and short term investments offset by long term debt of $2.4 billion and non-current content liabilities of $2 billion.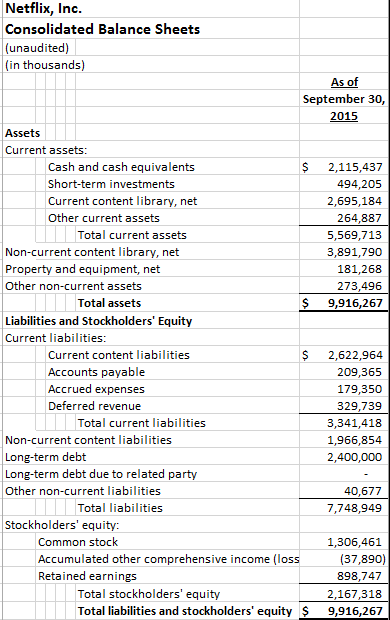 Source: Netflix.com
The balance sheet does not look over-leveraged at this point, but the company's use of $500 million cash in the 9 months ended September 30, 2015 would be a problem if cash flows don't grow.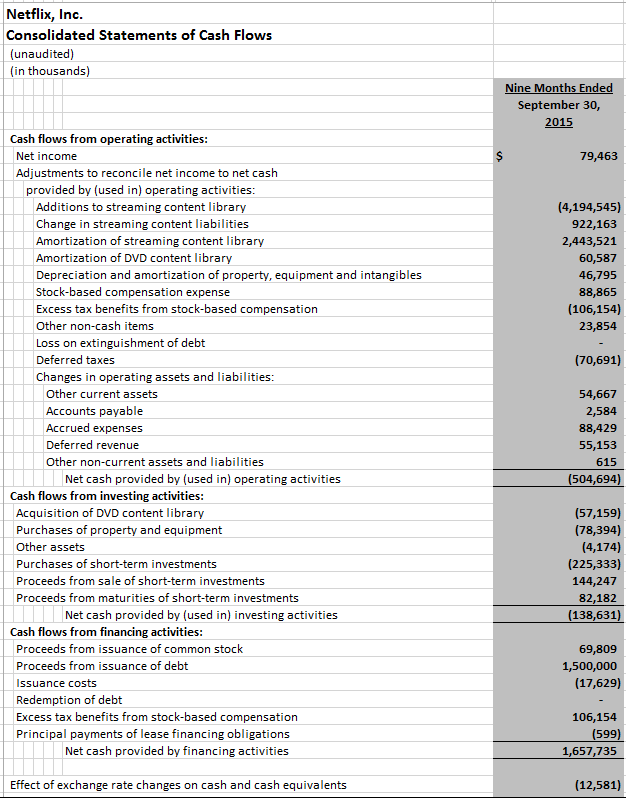 Source: Netflix.com
I don't see any letup in Netflix growth rate in the near term and have forecast the next three years using a 25% compound annual growth rate. At that rate Netflix should begin to show rapid growth in net income reaching almost $3.00 a share by 2017. If those results materialize, Netflix will have no problem carrying its debt and funding significant content development.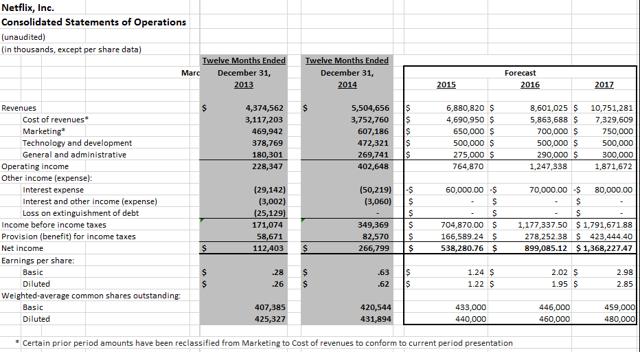 Click to enlarge
Source: Netflix 2013 and 2014 annual reports and Michael Blair analysis
The secret to Netflix dramatic successes has been a great product at an affordable price giving rise to rapid subscriber growth in the United States augmented by an international expansion.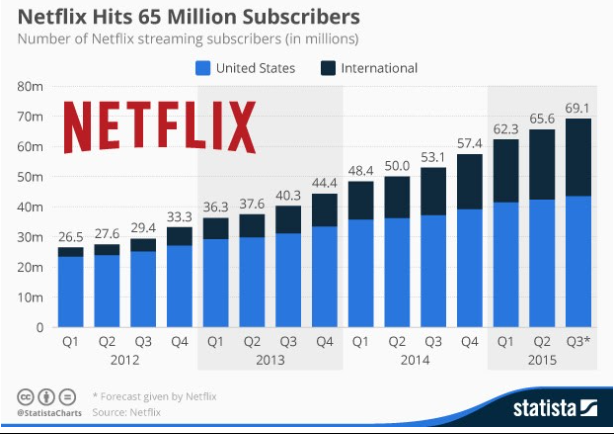 Source: Statista.com
As I see it, Netflix will not be damaged severely by its own price increases or by competition, but will suffer little more than a slowdown in its pace of growth. The Netflix platform combines a broad and rich assortment of content with an affordable price. As long as Netflix continues to enrich its content library, it is almost certain to succeed.
Despite its strong growth pattern and the prospects of healthy cash flows from operations, NFLX is an overvalued stock and in my view a good short at these levels. Revenue growth at 25% will be hard to maintain as U.S. growth stalls as it did in the September 2015 quarter.
Recent moves to raise prices may also dampen subscriber growth somewhat.
Amazon.com (NASDAQ:AMZN) Prime and Hulu are targeting Netflix in what is sure to become an increasingly competitive market.
In conclusion, I believe NFLX is a good short not because it is poorly managed, running out of cash or at any calamitous risk of competitive failure, but simply because it has become overvalued. A profitable company growing at 25% annually should command a price-to-earnings multiple of less than 30 times, using conventional valuation theory.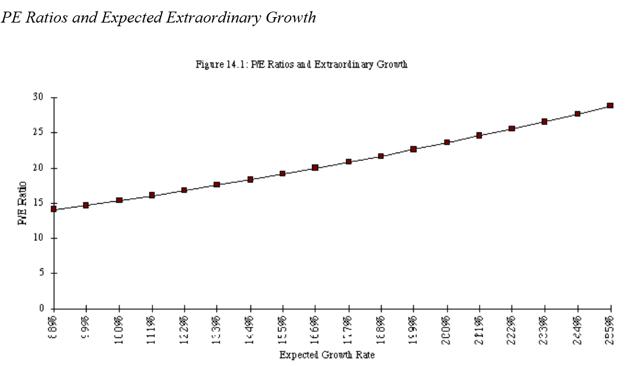 Click to enlarge
Source: Stern School of Business
At 30 times forecast 2017 earnings of $2.98 per share, NFLX would have a value of roughly $90 per share (assuming the 25% growth rate persists for a significant period of time after2017). That suggests the stock is overvalued by about $26 a share in the current market even the company's performance meets a 25% rate of growth without compromise of profit ratios. Any dampening of growth owing to economic or competitive forces adds to the short case.
Accordingly, I believe NFLX is an attractive candidate for the short side of the market.
Disclosure: I/we have no positions in any stocks mentioned, and no plans to initiate any positions within the next 72 hours.
I wrote this article myself, and it expresses my own opinions. I am not receiving compensation for it (other than from Seeking Alpha). I have no business relationship with any company whose stock is mentioned in this article.