"Wall Street faces profit recession as earnings season begins" was the headline from Reuters on 10 January.
Just how bad is that for a few cyclical stocks in the industrial world?
Magic Four
I have followed very closely Cummins (NYSE:CMI), Joy Global (NYSE:JOY), Deere (NYSE:DE) and Caterpillar (NYSE:CAT), particularly in recent months, and I am really looking forward to their trading updates in order to determine whether their shares trade anywhere close to fair value right now.
My focus here is on capital allocation - how these companies deploy equity and debt capital - and on their capital structures.
Under Pressure
MarketWatch recently put together a list of companies that, following the merger between Dow Chemical (NYSE:DOW) and DuPont (NYSE:DD), "might be under tremendous pressure from activist investors to make a deal" in the S&P 500's materials and industrials sectors.
The companies in the table below are those whose shares recorded the worst five-year total returns, according to data provider FactSet.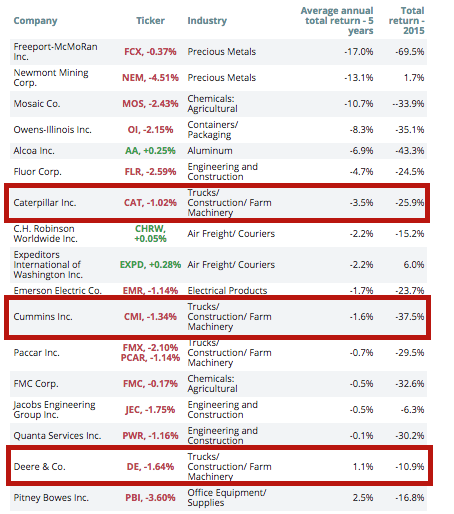 (Source: MarketWatch, FactSet data. The table was edited by the author)
Trends
It takes some imagination to draw a parallel between the events that unfolded at Dow Chemicals and DuPont and possible extraordinary corporate activity at any of the four companies that are under my coverage, but there remains a chance that downward pressure on their stock prices persists at least over the short term, as trends for U.S. Treasury yields suggest.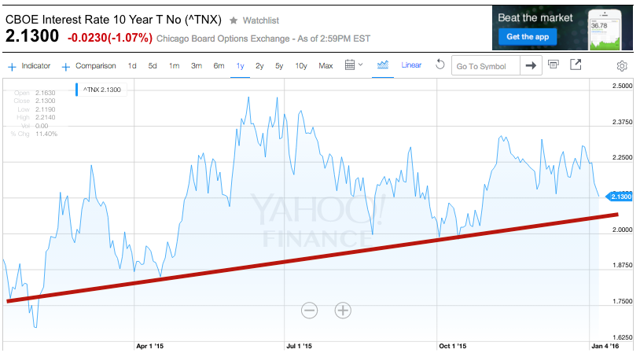 (Source: Yahoo Finance. The table was edited by the author)
So, anything could happen, really.
Cummins
I have not made up my mind about Cummins - this is a great company, yet its trading range in recent times confirms that even at $86 a share its valuation may not be a hard bargain.
When I covered CMI in early December, I really struggled to put a price target on its stock, although I argued that I would have been "inclined to add it to my wish list only at between $75 and $85."
Macroeconomic headwinds must be gauged against a strong management team, a very appealing yield and a wise capital allocation strategy, even though its high beta clearly indicates that market volatility will contribute to value destruction.
In this context, the marketplace remains challenging.
The Wall Street Journal wrote on 7 January that:
"Trucking companies are buying fewer vehicles amid lackluster demand for hauling freight, triggering job cuts among equipment manufacturers and leaving a near-record number of big rigs gathering dust on dealers' lots," adding that "the sharp slowdown in truck orders is one of the clouds hanging over the economy heading into 2016."
Cummins has taken swift action on its cost base.
What I like
The dividend is nicely covered by earnings
Prudent capital allocation strategy
Quick reaction by management to the slowdown
Relatively low trading multiples based on earnings and cash flows
Strong balance sheet combines with a solid adjusted operating cash flow profile
What I do not like
High Beta and cyclicality
Current valuation is still a tad rich in a volatile market
I wouldn't short it, however, and I reiterate the view that CMI remains a strong long-term value play.
Deere
Elsewhere, if you are tempted to short Deere at this price, I suggest you read the coverage and the related comment section of the article published by fellow SA writer Bram de Haas.
At the end of November, I said that I did not like Deere's capital allocation strategy, so I added that I was not prepared to add its stock to my watch list. Back then, its shares traded at $80, and now they change hands at $73.7, having plunged with the main indexes.
Consensus estimates have fallen by a few dollars to $78, according to Thomson Reuters, since my last coverage.
Its dividend looks safe, but its stock is not a compelling buy based on rich trading multiples for earnings and cash flows, while its underlying margins are lower than those of Cummins.
There's not much I like about Deere and its end markets, even at this price, and most the topics I touch upon in my previous coverage still suggest caution.
Namely:
Sales are falling at a faster pace than costs
Dividend cover is falling on the back of falling earnings
Its buyback program could contribute to value destruction
Its current capital allocation strategy carries more risk now that at any given time in recent years.
Finally, I do not like its overall indebtedness.
So, let's move on to Joy.
Joy
Joy was hammered at the end of last year soon after a couple of brokers downgraded its stock. Most recently UBS argued that its shares, which currently trade around $9.1, could be worth only $8 given that declining services revenue could put more pressure on its balance sheet.
I was not prepared to pay anywhere close to $13 in early December, and I am not ready to add JOY to my wish list now - its forward yield isn't particularly appealing, and I doubt recent trends for adjusted earnings will materially improve over the short term, given its exposure.
There is a possibility that the market may have overreacted to its dividend cut in December, and although its debt maturity profile looks pretty safe, as I argued in my previous article, I am a bit worried about working capital management (changes in inventories/receivables/payables).
Operating cash flow is stable, but its gross cash position fell to $102m in 2015 from $270m one year earlier at a time when it doesn't look like a recovery is around the corner. When quarterly results were announced in mid-December, Joy noted that:
"Over the course of 2015, pricing for most major commodities served by the company's customers fell between 20 and 30 percent as supply curtailments were slow to materialize in a tepid global growth environment."
Global growth is expected to improve modestly in calendar 2016, it added.
Caterpillar
I warned you about the peril of investing in Caterpillar when its shares traded at $72 in October, and I was not prepared to buy its stock at $69 one month later.
CAT is now trading at a multi-year low of $61, so you might be seriously tempted to keep an eye on it, also in the light of its cash balances and manageable net leverage.
Its forward yield at 4.6% - which is based on current prices - signals that Caterpillar could be grossly undervalued, but it similarly indicates that there could be risk to its dividend, which has risen a lot in recent times.
The big question now is whether a dividend cut is priced into its stock at a time when everybody should know that 2016 might be its fifth consecutive year of falling sales - something that has never happened in history.
Caterpillar is trying to attract income investors, but as its earnings continue to drop, there remains plenty of doubts about its ability to maintain a rising payout, even though its balance sheet is sound, and net leverage is under control.
However, based on certain assumptions that I presented in my previous coverage (sales forecast, EBITDA, EBITDA margin, cost of capital, others), I think it's a good time to add CAT to my watch list.
Disclosure: I/we have no positions in any stocks mentioned, and no plans to initiate any positions within the next 72 hours.
I wrote this article myself, and it expresses my own opinions. I am not receiving compensation for it (other than from Seeking Alpha). I have no business relationship with any company whose stock is mentioned in this article.