I just released an article last week on the SPDR Gold Trust ETF (NYSEARCA:GLD) and the gold sector, and while I will usually wait a few weeks before I typically give an update, we are starting to see some important developments and I would like to discuss those.
The HUI Is Outperforming The XAU
First, I want to point out that the XAU has sold off very hard over the last several trading days, and is now at that critical support that has held since the summer. This doesn't look too promising in terms of any sort of sustainable rebound taking place in the near future. In fact, the index is giving the signal that the start of that final decline could just be just days away. But the XAU has been incredibly resilient over the last 6 months. This is like a cat with nine-lives, ironically this would be the 8th-9th time the XAU has hit this level, and in all of the previous instances it bounced. Here we are, yet again.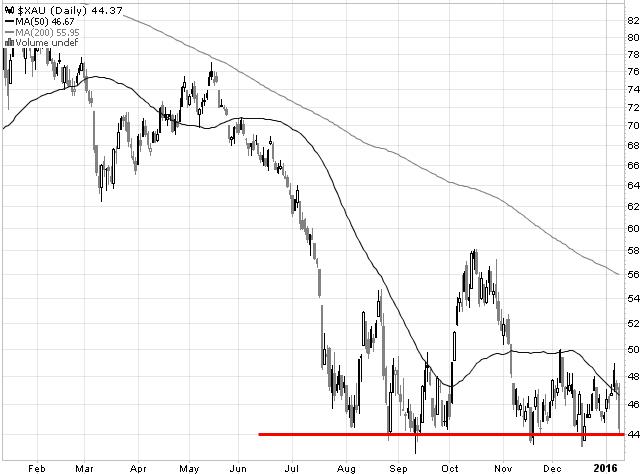 (Source: StockCharts.com)
If we take a look at the HUI though, it's actually still 9-10 points higher than its August lows and the current support of around 104-105. That equates to about 9% above the critical level, compare that with the XAU being right on that line. These are both gold stock indexes, so some might be asking why the divergence?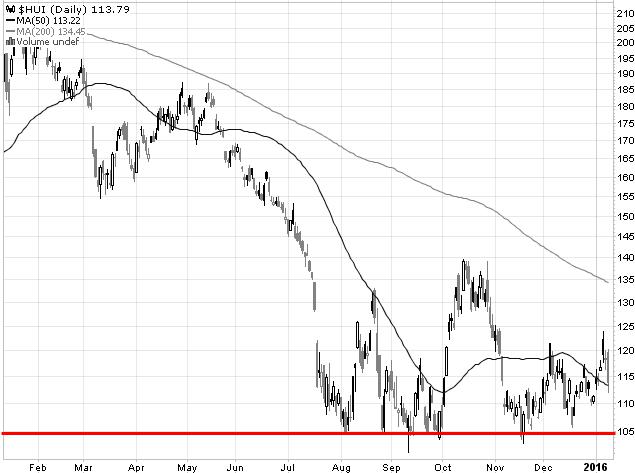 (Source: StockCharts.com)
The Reasons For This Performance Gap
We have a few things in play here that are causing this performance gap in the two major gold sector indices. The first is the XAU is comprised of 30 components, and Freeport-McMoRan (NYSE:FCX) is one of those. While FCX is technically more of a copper producer than gold, it has garnered a big weighting in the XAU - at one point being 16-17% of the entire index. But the stock has been getting decimated as of late, as the talk of bankruptcy grows louder.
They always say that one of the signs of a bottom in a bear market is when a major player goes bust. Everybody was looking at Barrick (NYSE:ABX) for that to happen, but as I have argued time and time again, Barrick was going to be just fine. In fact, this entire sector doesn't have many bankruptcy candidates, unless gold takes a tumble down to $700-$800 and stays there for years - which I don't envision happening.
But that final "sacrifice" in this bear market could come via FCX, as right now the company looks 50/50 in terms of survival. Asset sales are going to be the determining factor, and the company is diluting shares in the meantime to keep up with the debt repayments that are coming due. At the end of Q3 2015, it had just over $300 million in cash, but almost $21 billion of debt. It's going to be very hard to get out of this predicament, especially with copper now imploding.
Back on point, below is a look at the holdings of XAU, I highlighted FCX and notice the 20% decline just today. It's hard to say what the weighting is now giving how far the stock has collapsed, but it has definitely contributed to the XAU underperforming the HUI.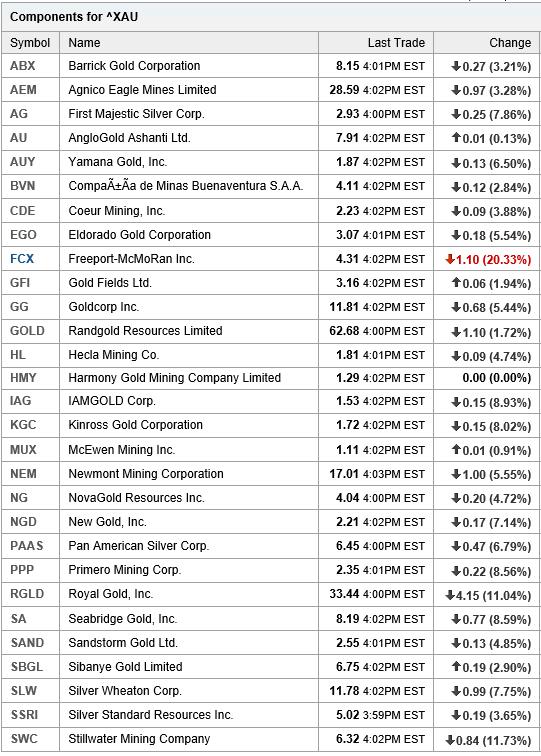 (Source: Yahoo Finance)
The other reason that the HUI is still well above support is because of the strength of the South African miners. The HUI contains about half the holdings compared to the XAU, and a decent percentage of those in the HUI are in gold companies with operations in the country of South Africa. Last year, and for the past several years in fact, the HUI included Harmony Gold (NYSE:HMY), Gold Fields (NYSE:GFI), Sibanye (NYSE:SBGL), and Anglogold (NYSE:AU). I discussed the outperformance of these South African based producers a few weeks ago, and they have continued this trend, even while the typical gold stock is moving in the opposite direction at the moment.
Below is the 1 month performance of these 4 South African miners, along with how the XAU has done during that time. Harmony has staged a tremendous rebound from very oversold levels, and is the standout of the group. But the others have done very well too. Putting those percentage gains into context, the XAU is down 6.16% over the last 30 days or so.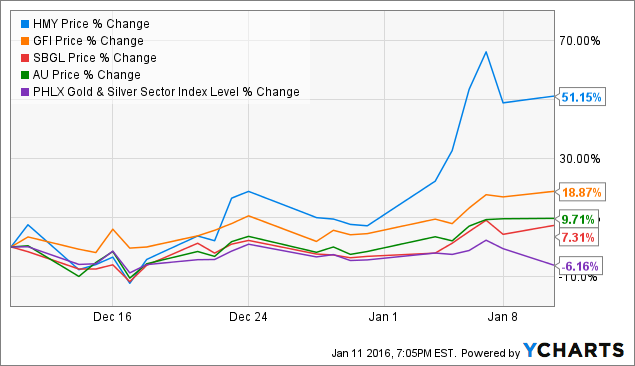 Below are the current components of the HUI - according to Yahoo finance. AU, GFI, and SBGL make up 3 of the 14 on the list, with HMY being a component as of September 2015 according to the NYSE ARCA website. HMY has been a fixture in the HUI for many years now, but I'm not sure when they dropped out exactly, or if Yahoo's information is 100% accurate. But that's not terribly important. The point is that South African producers have been doing exceptional, and we know that GFI, AU, and SBGL are included in the index. You can see these are the only companies in the HUI that were in the green today. That trend has been in place for a while now. And these companies typically make up an important percentage of the index (16% for the current three in Q3 2015, and almost 20% if you include HMY). These South African producers are all in the XAU as well, but their total weighting is much lower. If it wasn't for their outperformance, the HUI would most likely be close to that 104-105 level.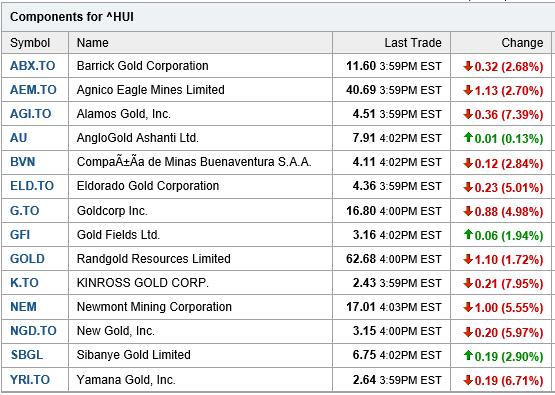 (Source: Yahoo Finance)
Weakness Is Spreading
The gains in the South African gold companies though (and the resulting strength in the HUI) are masking the losses and the total breakdowns we are seeing in the other gold stocks over the last several trading days. Its really starting to get bad out there and HUI is covering up the stench. The XAU is probably a more accurate reflection of the entire sector. I discussed in my last update how Coeur (NYSE:CDE) was looking very weak as it was hitting new multi-year lows, and that has spread to other companies as well. Argonaut (OTCPK:ARNGF) was trying to keep its head above water, but succumbed to the onslaught of selling as stops were triggered when the shares took out key levels today.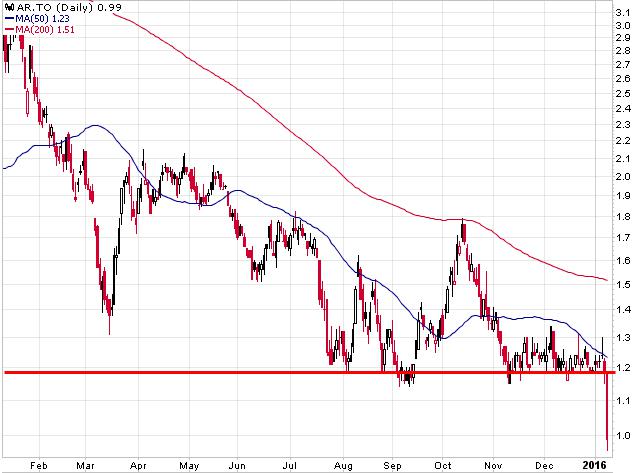 (Source: StockCharts.com)
Last Friday, the same happened to B2Gold (NYSEMKT:BTG), as support (that was so crystal clear) gave way. This appears to be the start of that final decline for these stocks, but who knows where the bottom is at. When HMY was at $1.00 a share and was in the process of entering a black hole, I put a $0.50 target on the stock as a possible bottom. It hit $0.53 and then rebounded. I think the same could happen for companies like B2Gold and Argonaut should the entire sector continue to deteriorate.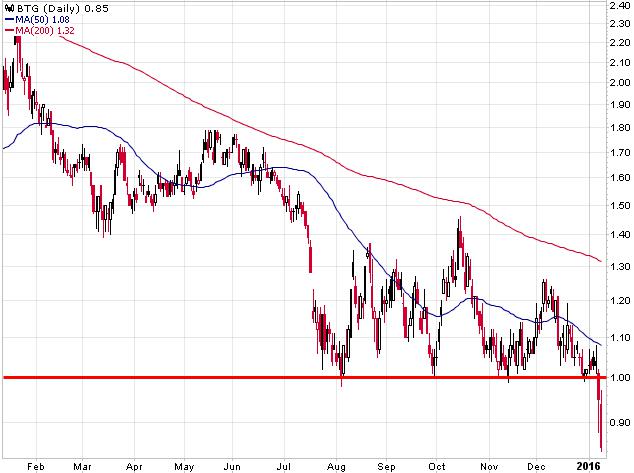 (Source: StockCharts.com)
GLD itself is still holding up over the last 3-5 trading days, but in fairness to the gold stocks, the ETF was actually at fresh multi-year lows at the end of 2015. So it certainly hasn't been showing us much in terms of strength when looking at it from a longer-term perspective. But I will say that if the HUI and XAU continue to decline, then GLD won't be too far behind.
S&P Going According To Plan
I have been quite bearish on the stock market since October/November of 2014. I didn't believe the S&P would decline immediately though, rather I felt we would most likely see slightly higher highs and then the market would start to roll-over (similar to what the HUI did in 2011-2012). That is how things have played out so far, and I continue to believe that the major indices will be going through a multi-year consolidation phase. This is when the shine will return back to GLD, as the stock market is the real competition to the precious metals sector, which history shows.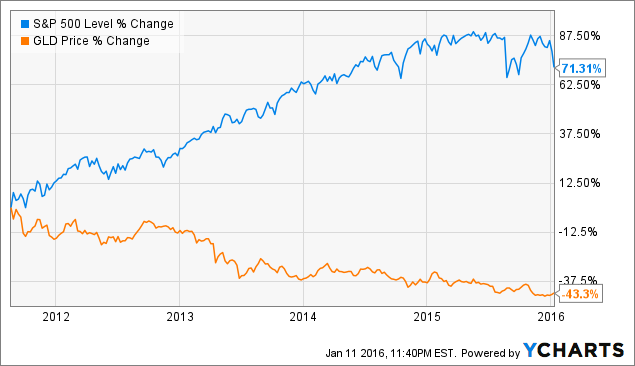 But the major U.S. indices are oversold, and they could experience a relief rally over the coming 1-2 months. That would set the stage perfectly for a final decline in these gold stocks and GLD itself. We have had this set-up before - just a few months ago in fact - but it never played out. Let's see what happens this time. The S&P is a prime short during any major rally though, and would remain that way unless 2,130 is surpassed. Anything approaching 2,050-2,100 is a good place to initiate a short position, should the index be able to rebound to those levels in the near-term.
One More Stumble?
In my last article, I conveyed that it's time to be selective and start accumulating gold and silver stocks over the coming weeks and months. This doesn't mean load up the truck at this juncture, rather it's a call to get out of that bearish frame of mind and be prepared to buy. The issue is that it doesn't look like it's going to be a uniform bottom in the gold stocks, clearly that is becoming more apparent as companies like GFI and AU move higher while BTG and CDE are plastered. While I have successfully timed many major bottoms in the past, this one might require a little more cherry picking in terms of what to buy and when to buy. It would be much easier if this was a more cohesive move we were seeing. It could turn into that but the sector needs a decisive breakdown first.
The billion dollar question is will the XAU and HUI soon experience a waterfall sell-off as well? This weakness that is starting to work it's way into more and more companies by the day is certainly not a bullish sign. There needs to be some heavy lifting to get many of these stocks back on track. As I said, the XAU has been in this position on many occasions over the last 6 months, and has managed to pull itself up. But I don't think it survives this time. I haven't made that call yet, but the action in the gold stock sector is much different than what has occurred during previous lows in the XAU. We weren't seeing near this amount of capital destruction during the previous lows. I'm taking this as a warning sign.
Disclosure: I am/we are long ABX.
I wrote this article myself, and it expresses my own opinions. I am not receiving compensation for it (other than from Seeking Alpha). I have no business relationship with any company whose stock is mentioned in this article.