Containerships are cargo carriers that are characterized by transporting their cargo in truck-sized intermodal containers with capacity measured in twenty-foot equivalent units, or TEUs. Approximately 90% of freight worldwide is transported by containerships.
Some of the containership companies traded in the U.S. market include Seaspan Corporation (NYSE:SSW), Costamare, Inc. (NYSE:CMRE), Diana Containerships, Inc. (NASDAQ:DCIX), Global Ship Lease, Inc. (NYSE:GSL), Danaos Corporation (NYSE:DAC), Box Ships, Inc. (NYSE:TEU), Ship Finance International Limited (NYSE:SFL), and Navios Maritime Partners L.P. (NYSE:NMM).
Background
It was in mid April, amid rising rates in all TEU capacities, when I first noticed a "tug of war" was developing in the containership market. In that Container Shipping Market Macro Update, I noted that while there were numerous positive factors propelling the market forward, one negative development caught my attention.
I stated, "my biggest concern going forward is with China, which has been responsible for 35 % of world containership demand growth over the past dozen years."

I wrote, "this can be traced to a few different factors, the first of which is the economic transition underway in China as it moves from a heavily reliant, export-based economy to one focused on domestic consumer demand."

Which brings us to number two where I noted that " recently, China experienced its heaviest downturn in exports in several years."

Finally, I stated that "another factor that could be contributing to this decrease in Chinese exports is weakening currencies in two of its major export markets, the eurozone and Japan."
China's main export partners are the USA (17%), the European Union (16%), ASEAN (10%), and Japan (7%).
That article was followed up on with Another Oversupply Problem In Shipping Developing - But Not Where You Might Expect which examined the potential for overcapacity in this segment.
I noted that a "potential problem comes in the form of a large number of 8,000 TEU vessels and bigger being ordered in greater numbers which could create an oversupply problem going forward."
Over the last few months, it looks as if both of those fears have started to manifest and are gaining traction. This has brought down container shipping rates and caused me to question the long-term macro outlook.
In my second to last update, entitled Bears Firmly In Control Of Container Shipping Segment Tug-Of-War, I noted that my concern in April regarding the weaker yen and euro proved true as China's exports to the European Union fell 2.5 percent in the first seven months of 2015 from a year earlier while shipments to Japan dropped 10.5 percent.
I concluded that: "The bears appear to be winning the tug of war right now with China and oversupply issues really pulling hard. Over the next few months it looks like the best case scenario would be rate stabilization since it is difficult to locate any positive catalysts that could trump the negative factors which have now gained control of the sector. The advent of these super-sized containerships moving into the marketplace is an unprecedented event. Unfortunately, the magnitude of this supply increase amid a demand slump could also produce an unprecedented outcome. If suppliers continue to get carried away with orders as the engine of growth and continuing demand begins to sputter this situation might very well get worse before it gets any better."
Well, the situation appears to be getting worse as my last Container Shipping Market Updated Macro Outlook confirmed: In short, we are seeing a growing lack of demand coupled with a capacity overhang which is contributing to declining rates and increasing idle containership capacity.
So where are we now in the cycle, how long will it last, and just how severe will the downturn become? For the answers to these questions, we need to examine many things in this highly complex segment which is impacted by variety of factors.
Current Conditions And Forecasts
The order book is perhaps the largest concern of mine right now. With the dry bulk market in the middle of a catastrophic downturn, brought about by an oversupply of vessels vs. sustainable global commodity demand, investors are well aware of how this disequilibrium can play out if it intensifies. The advent of the modern container ship has ushered in a new era of seaborne transportation as new 20K+ TEU vessels are hitting the water and many more are still on order. The amount of vessels may seem under control when looked at through simple vessel numbers, but the amount of TEU availability hitting the water as a result of this increased carrying capacity is unprecedented.
Recently, BIMCO noted that:
"2015 will see a new record inflow of newbuilt tonnage. BIMCO forecasts close to 1.6 million TEU will be delivered by the end of 2015. This marks the highest inflow of new capacity ever. As the record settles, it will be done by less than 200 ships. (Compare that) to the 436 ships which were needed to reach 1.502 million TEU in 2008. The container-ship fleet is going through large charges these years, as owners strive to cut down unit costs by introducing bigger and bigger ships everywhere. The average size of a newbuilt ship in 2015 is 8,400 TEU; in 2008 it was 3,435 TEU."
In fact, it was December 29th when the L.A. Times reported that the largest containership to ever arrive at a North American port had just docked at the Port of Los Angeles. The CMA CGM Benjamin Franklin is on its maiden voyage from China as it journeys to South Korea, LA, Oakland, and finally back to Shanghai.
The LA Times notes that "in an effort to move more cargo on less fuel, ocean freight carriers are in a race to build megaships with much larger capacities than the typical ships calling at U.S. ports. The average container ship being built now is nearly three times the size of the average a decade ago."
The changes underway in the shipping sector have major implications as even the largest ports struggle with enormous volumes of cargo arriving at once. The ports of Los Angeles and Long Beach, the nation's two busiest seaports, are in the midst of hundreds of millions of dollars' worth of projects to deepen channels and expand terminals to adapt to the changing world of shipping.
Another major concern of mine would be the slowing growth on the world's major trading lanes. Clarksons notes that from "1996-2007 container trade growth had been rapid, averaging 9.6% per annum - an astonishing performance given the average 4.1% per annum expansion in global seaborne trade in the same period."
Then, we all know things fell off a cliff, and as the global economy contracted, so did container shipping demand, turning negative to the tune of 10% in 2009. So where does 2015 stack up historically? Well, taking the outlier of 2009 off the table, 2015 represents the worst year in container trade growth, at 2.5%, in approximately two decades. But maybe 2015 was another outlier, right? Unfortunately, as the illustration below shows, this looks to be more of a long-term trend in the making rather than a one-time event.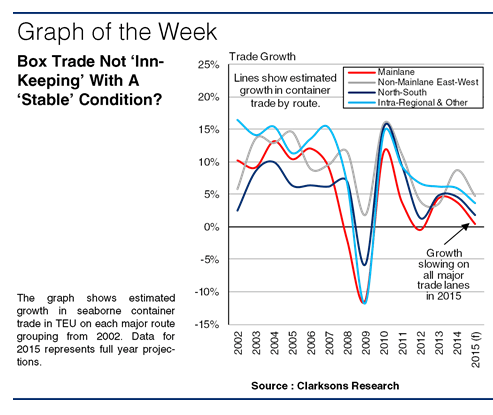 Source: Clarksons
So what is responsible for this decline in trade growth and will these conditions abate anytime soon?
There are a variety of factors that have played into this condition. Among them is the state of the Eurozone and the weakening euro. A weaker euro means less purchasing power abroad which translates into less imports.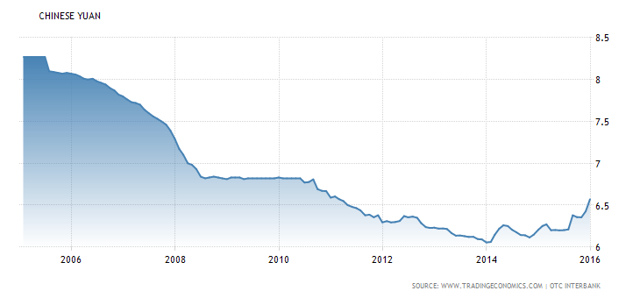 Click to enlarge
Source: Tradingeconomics.com
China, an important trading partner in the container shipping segment for the Eurozone, illustrates the situation perfectly with the long-term euro/yuan chart above.
The Eurozone isn't the only major economy to experience a weakening currency. Countries like Japan have engaged in purposeful inflation and other commodity-based economies like Russia, South Africa, and Australia have seen difficulties not just on the currency front, but also on the consumer sentiment side.
Which brings us to another point. Consumer sentiment seems stable in major economies like...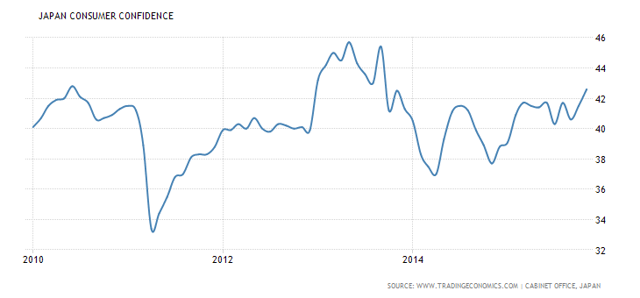 Click to enlarge
Japan...
Click to enlarge
The European Union...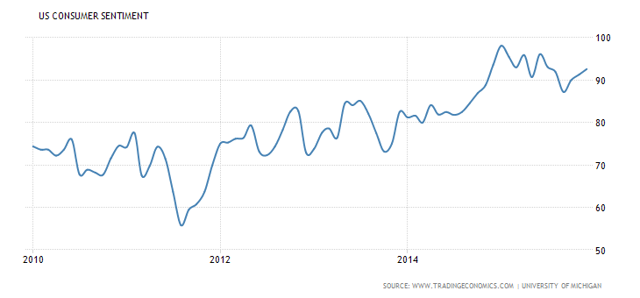 Click to enlarge
and the United States.
But commodity-based economies haven't such a rosy outlook. Lately, they have seen the drastic downturn in iron ore, coal, steel, etc. take its toll. The populations in places like...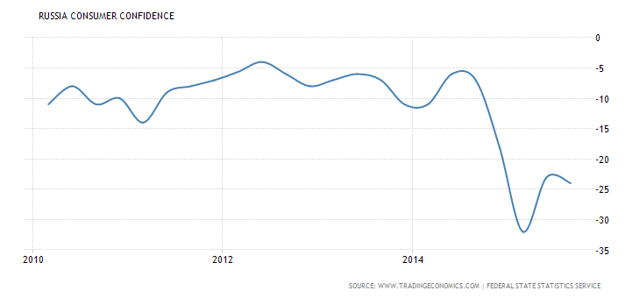 Click to enlarge
Russia...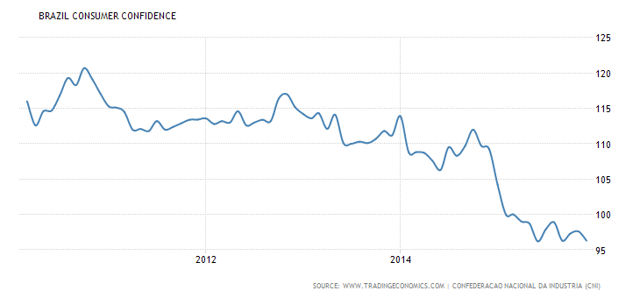 Click to enlarge
Brazil...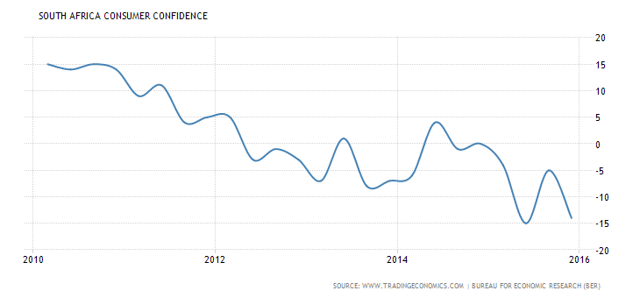 Click to enlarge
South Africa...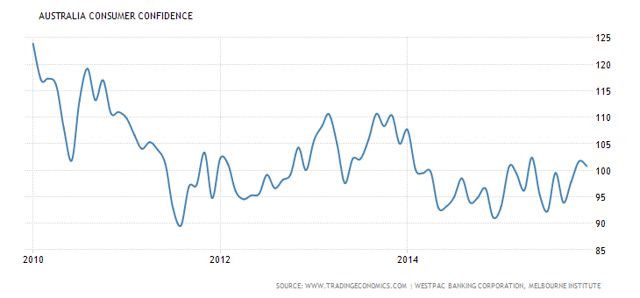 Click to enlarge
and Australia are feeling less than optimistic.
Let's not forget that these four just represent a fraction of the economies being impacted by the hard commodity collapse, and we have yet to really scratch the surface of oil-based economies.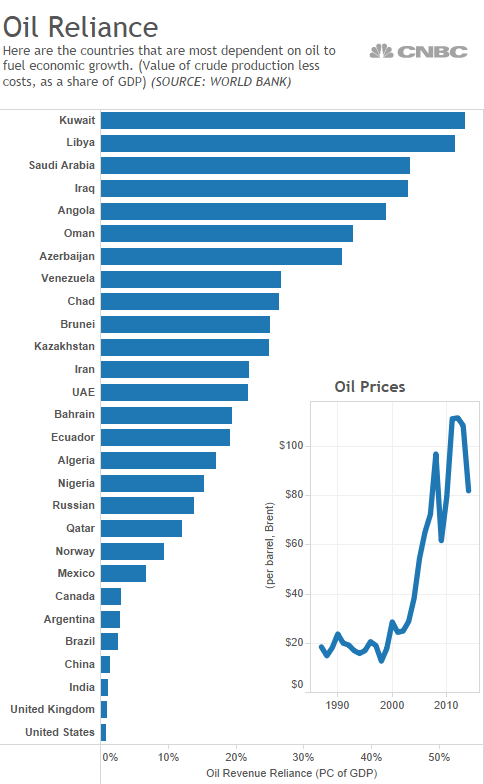 Source: CNBC
You can imagine that the new normal in oil prices will impact these economies, companies, workers, as well as their consumer base. The end result should be eroding consumer demand.
All of this looks to be adding up for a slow year in global trade, and on Dec. 30th, Reuters reported that Christine Lagarde of the IMF confirmed exactly what the data appeared to be pointing toward.
"Global economic growth will be disappointing next year and the outlook for the medium-term has also deteriorated, the head of the International Monetary Fund said in a guest article for German newspaper Handelsblatt published on Wednesday.

IMF Managing Director Christine Lagarde said the prospect of rising interest rates in the United States and an economic slowdown in China were contributing to uncertainty and a higher risk of economic vulnerability worldwide.

Added to that, growth in global trade has slowed considerably and a decline in raw material prices is posing problems for economies based on these, while the financial sector in many countries still has weaknesses and financial risks are rising in emerging markets, she said."
This slowdown doesn't bode well according to Angeliki Frangou, CEO of Navios Maritime Partners L.P., who noted that "the container trade held a strong positive correlation of 0.88% with U.S. personal consumption over the past 10 years." This strong positive correlation doesn't end with the USA and this forecast for disappointing global growth and trade is likely to negatively impact the demand side for containerships.
Finally, recently the Caixin China Purchasing Managers' Index for December came in at 48.2, marking the 10th straight month of an ongoing decline.
The Asia Times noted that the "index fell mainly because of a renewed shrinking of manufacturing output. December was the seventh month out of eight in which production fell. Softer demand at home and abroad lead to a further weakening of new businesses. New export orders fell for the first time in three months."
Dr. He Fan, chief economist of Caixin Insight Group, said that "more fluctuations in global markets are expected now that the U.S. Federal Reserve has started raising interest rates." Additionally, "the government needs to pay more attention to external risk factors in the short term and fine-tune macroeconomic policies accordingly so the economy does not fall off a cliff."
Just one final note about why I am hitting on data from Asia and specifically China so hard when it comes to the container shipping sector. Earlier, I noted that China had been responsible for 35% of the world containership demand growth over the past dozen years. That growth has led to Asia composing almost 55% of containerized global exports as of October 2015 according to containerstatistics.com. To put it into perspective, coming in at second place is Europe at 18%, with North America in third at 11%.
Conclusion
An increase of tonnage hitting the water has been met with slowing growth, creating a disequilibrium in the market, thus driving rates down. This current state looks to be the beginning of a long-term trend that should impact the sector for several years to come unless we see some sort of supply or demand side correction. A supply-side correction is possible with increased scrapping to alleviate the amount of idle vessels we are already beginning to see emerge once again.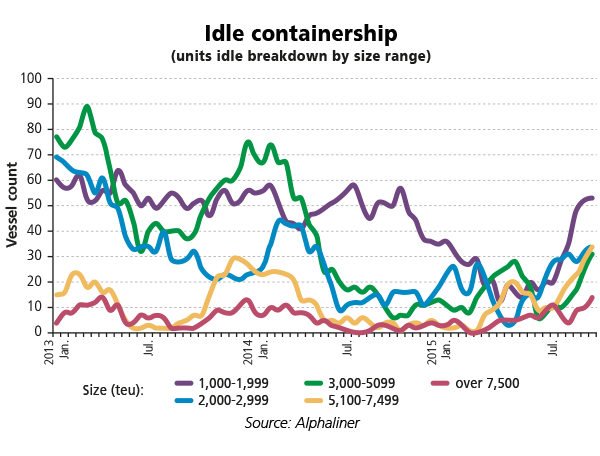 Source: BIMCO
But that supply-side correction seems less likely given BIMCO's latest projections for deliveries and demolitions which show net gains to the fleet for several years to come.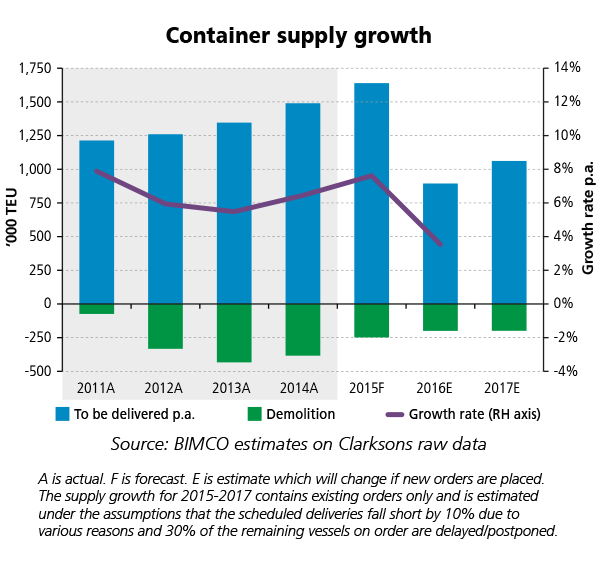 Another important point to consider is that only 561,000 TEU is more than 20 years old. That's less than one third of the TEUs that were delivered in 2015 alone, meaning there is a lot of new tonnage on the water that owners won't be willing to part with so easily. To put it into perspective, in the past three years, owners have parted with 553 ships with a combined capacity of 1.162 million TEUs. Once again, still less than what was delivered in 2015, and those past three years marked the recent high point in demolition rates.
A demand-side correction on a global scale needed to meaningfully impact the containership sector is obviously beyond any one country, let alone company. Therefore, I am going to skip any sort of speculation on that front.
So how will companies in the sector be impacted? Many of the companies that engage in container shipping do so on long-term charters with staggered expirations. Seaspan, Danaos, and Costamare are prime examples. Seaspan's fleet employment table is below: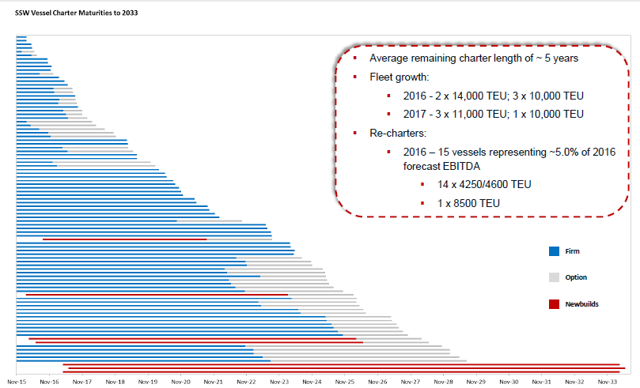 Click to enlarge
Source: Seaspan
It ensures that a handful of vessels come up for charter every year so that it can ride out the lows and benefit from the highs in this highly cyclical market. This long-term averaging provides stability in terms of cash flow and therefore consistent yields. However, that doesn't prevent the market from taking share prices down during rough patches. This is the beginning of one of those rough patches that could persist for several years.
Other companies don't have quite the long-term outlook and will therefore be exposed to much more pain over the coming years. An example would be Diana Containerships whose fleet employment table is below:

Click to enlarge
Source: Diana Containerships
My conclusion based on the upcoming environment for charter renewals would be to avoid companies structured like Diana Containerships as they should see lower rates once new charters are structured. The most recent charter deals in November and December would seem to serve as confirmation. This will undoubtedly impact their cash flow and share price as a result.
Companies like Seaspan and Costamare are in a far better position to withstand a soft market for a few years. In fact, I think an argument could be made as to why the next few years could be the best time to enter these stocks if one is truly focused on a long-term and yield-oriented position.
The current outlook would have me believe that those with a long-term positions in companies like Seaspan and Costamare should hold, and let the DRIPs accumulate shares at lower prices as yields remain largely unaffected.
I am sure some of you noticed in my above statement that I anticipate stocks to trade at "lower prices" in the coming years. The reasons were cited above, but bear repeating as they apply here: Even with long-term charter structures, that doesn't prevent the market from taking share prices down during rough patches. This is the beginning of a downturn that could last several years. Also, over the coming years, it is likely that even these companies will see a slight decrease in operating revenue as a handful of charters are renegotiated at lower rates. Though they will represent a fraction of the fleet, it should still impact revenue and consequently share prices to some degree.
That also leads me to believe that those wishing to establish a new position should exercise patience and then average into the position. Timing how the market will value these companies (stock price) is next to impossible, so averaging in would make the most sense in this case. If you are already in the middle of this process, I wouldn't worry; in fact, I would welcome this downturn and once again exercise patience and recognize that these companies have decade-long plans and investors should adjust their horizons accordingly.
One Final Thought
Consumption makes up a majority of global economic activity, and I therefore consider container shipping to be a key leading indicator as 90% of the world's goods are moved to end users through waterways. While the macro fundamentals that govern other segments like the crude and product tankers still appear to be sound, if the global economy really is going the way that the container shipping sector indicates, there will be some rough patches ahead to say the least. After all, no shipping segment can escape a global contraction. The same way that segment specific macro factors influence businesses, global market factors at large influence these segment specific macro factors. Unfortunately, this means that sectors experiencing a bullish trend, like crude and product tankers, might see demand soften as a result of a weakening global economy. If this potential upcoming global contraction is severe enough in breadth and depth, it could bring a premature end to the bullish sentiment surrounding the crude and product tanker market and exacerbate the downturn in dry bulk and container shipping.
I welcome all questions/comments and invite you to follow me on Seeking Alpha as I continue to cover all aspects of maritime trade. Thank you for reading.
Disclosure: I/we have no positions in any stocks mentioned, and no plans to initiate any positions within the next 72 hours.
I wrote this article myself, and it expresses my own opinions. I am not receiving compensation for it (other than from Seeking Alpha). I have no business relationship with any company whose stock is mentioned in this article.
Editor's Note: This article covers one or more stocks trading at less than $1 per share and/or with less than a $100 million market cap. Please be aware of the risks associated with these stocks.