Over the last 114 years, Bassett Furniture (NASDAQ:BSET) has built its name and reputation on constructing and selling high quality furniture at a fair price. However, with markets growing increasingly competitive, the Company fell on hard times and was forced to restrategize in the late 1990's to early-to-mid 2000's, culminating in the closure of many of its plants and outsourcing much of its work to utilize Asia's cheaper labor, while domestically, focus was placed on the retail side of the business. The 2009 financial crisis only exacerbated the Company's problems, but management's moves thus far appear to prudent and well-timed. Bassett is well positioned to weather the remainder of the storm and to thrive once the North American economy fully recovers.
Brief History:
Bassett Furniture was founded in 1902 by John David (J.D.) Bassett, Charles C. Bassett, Samuel H. Bassett, and Reed L. Stone, from the left over pieces of a saw mill that the Bassett family had operated to supply rail ties to the Norfolk & Western line that was being built nearby. When construction of the line was complete, the family began looking for a market for their lumber and soon began shipping lumber north to furniture makers, who would then ship the furniture back south to be sold. J.D. recognized the opportunity to cut out the middle man and the family soon began to make furniture in-house. From the Company's history posted on its website:
"Here I was shipping raw lumber from Henry County (Virginia) to Jamestown, New York, and Grand Rapids, Michigan, where factories converted that lumber into finished furniture to be shipped everywhere, including the South," J.D. recalled. "It seemed to me that furniture certainly could be made in Henry County at a tremendous advantage."
The Company began to thrive with sales reaching $1 million in 1917, but a subsequent fire slowed production, requiring the plant to be rebuilt in 1919. The reconstruct provided the opportunity for the modernization of facilities, propelling the Company to quadruple revenue by 1925 and double again by 1929. It was incorporated in 1931 into Basset Furniture Industries, Inc. With a few acquisitions, namely the purchase of Prestige Furniture in the early 1960's, the Company expanded its line to upholstery and bedroom and dining room furniture.
The Company opened its first store in 1997 to keep up with the evolving market and the consumers' preference to purchase furniture from large retail chains instead of smaller specialty shops. Unfortunately, around this time, the majority of the Virginia plants were shuttered while the Company began to import product from China, Vietnam, and Indonesia. The move did not sit well with the locals, for obvious reasons, but options were few at the time for the Company to maintain existence. A concise but thorough and interesting write up was authored by Beth Macy in the New Yorker in 2014, detailing the shift in strategy, for those interested in the specifics.
Bassett is currently headed by Robert Spilman, Jr., the son of former Bassett CEO, Robert Spilman, Sr., who was once regarded as one of the most powerful figures in the American furniture industry. Headquartered in Bassett, Virginia, the Company's products are now sold in over 100 retail stores throughout the United States, Canada, and Puerto Rico. These include 60 Company owned stores, which account for 42% of revenue, 33 licensee stores (20% of revenue), and 600 multi-line stores (38% of revenue).
This slide from the Company's December 2015 presentation summarizes nicely the history of the Company and management's goals moving forward: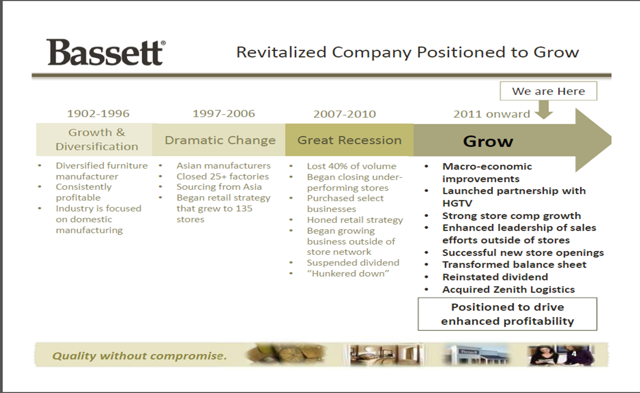 Click to enlarge
Financials and Metrics:
Basset management has shown resilience and competence in navigating the Company through the rough waters of the 2009 financial crisis. According to the same Company presentation, same store comps have improved 18 out of the last 19 quarters, including a 14% jump for the third quarter, 2015, over the third quarter of the previous year - impressive, when considering these numbers were attained in the face of a tough retail environment over the last few years. Again, from the Company's presentation: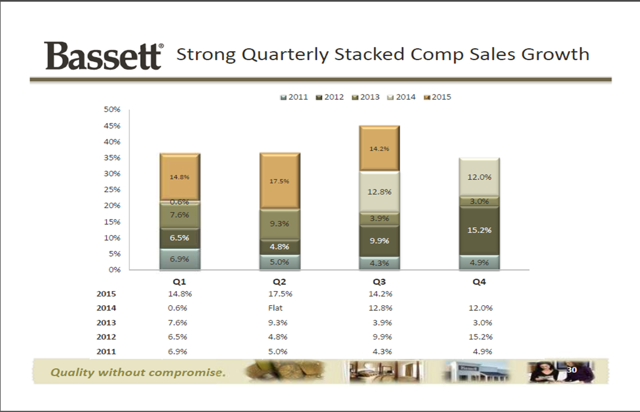 Click to enlarge
What's driving the growth? Management credits much of this improvement to its partnership with HGTV, a channel that airs programs specializing in real estate and renovations. The partnership began in 2012 and was recently extended to 2019. From the press release announcing the extension:
"The HGTV HOME Design Studio is an important point of differentiation for our stores and is playing a key role in our improved comparable store sales," said Robert H. Spilman Jr., president and CEO of Bassett Furniture. "We are excited about offering this successful program to our key independent dealers and leveraging our national advertising efforts on HGTV's network and on our website."
Throughout 2016, Bassett intends to expand its HGTV Design Studio network throughout its retail base. The HGTV Design Studios provide consumers with the opportunity to meet with design professionals to discuss idea ranging from interior decorating to full room renovations. Bassett claims that the average sale from the HGTV Design Studio is twice that of the average store sale. Additionally, the Company's presentation states that approximately 35% of retail sales result from a home visit from one of their professionals. The HGTV partnership is certainly one to covet; a casual viewer of any of the channel's programs will quickly recognize the Bassett brand throughout.
For the quarter ended August 31, 2015, the Company reported earnings $4.3 million, or $0.39 per share, compared to $0.22 per share for the same quarter a year prior, bringing the trailing twelve months earnings to $1.74 per share. For reference, FY 2014 earnings were $0.88 per share. Wholesale revenue increased 11%, while retail sales improved 15% over the same quarter a year prior. Fourth quarter earnings should be announced in the coming weeks.
By almost any measure, the Company is trending in the right direction.

Click to enlarge
(data provided by Morningstar)
The Company's book value has increased every year since the financial crisis. Earnings per share has also consistently improved (2011 was an outlier, as the Company realized proceeds from the sale of its share of International Home Furnishings Center, Inc.). Additionally, COGS are steadily decreasing with gross and operating margins improving. Operating margin for the quarter was reported at 6.9%, which was a 2.5% improvement from the same quarter of the previous year. The Company's trailing twelve month results were bolstered by Zenith Global Logistics, a furniture transportation and logistics company that Bassett acquired in February 2015. Prior to February 2015, Bassett accounted for its 49% ownership stake in Zenith using the equity method of accounting. More on this acquisition below.
Over on the balance sheet, the Company holds $43 million in cash and short term investments against only $15 million in debt, the majority of which resulted from a note issued for the purchase of Zenith Global Logistics. From the Company's latest 10-Q, the debt maturities are as follows:

Click to enlarge
Additionally, the Company had a $15 million credit facility available, (it expired in December 2015, but the Company intends on obtaining a new line under the same terms). Less than $2 million has been drawn on the facility, leaving over $13 million available, if necessary. The Company, per its August 10-Q, is in full compliance of the covenants of the facility.
Management intends to use some of its cash on hand to repurchase Company shares. The Company has authorized $20 million to repurchase shares, of which $1,374,000 has been spent to date through August 29, 2015, with an anticipated total of $2 million for FY 2015, per the latest 10-Q.
Needless to say, liquidity is not going to be a problem any time in the near future. Bassett only carries $95 million in total liabilities, covered by CURRENT assets of $142 million. Only $17 million of the Company's assets are attributed to intangibles, as the Company recognized $10 million goodwill in the purchase of Zenith. Of the $17 million, approximately $4 million will be amortized on a straight line basis, with the remaining $13 million not subject to amortization. Management takes care of the balance sheet.
Looking Forward and Commentary:
It would be easy to attribute the Company's turnaround to the overall, albeit slow, economic recovery. However, comparing the same metrics to other furniture retailers shows just how far Bassett has come since 2009. This table, compiling data provided by Morningstar, compares the same numbers in the above table across others in the industry.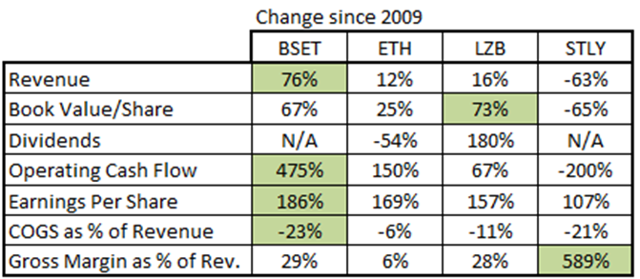 Click to enlarge
It is evident that Bassett has outperformed its peers (Ethan Allen, La-Z-Boy, and Stanley) since the financial crisis, with the greatest improvement on a percentage basis in revenue, operating cash flow, and earnings per share, while decreasing its COGS by the largest amount, as well. Bassett would also be leading in the Gross Margin category if not for Stanley, which struggled to break even in 2009, resulting in an enormous improvement to the 23% margin it recently posted (this compares to 57% gross margin by Bassett). Additionally, Bassett did not distribute a dividend in 2009, but has paid shareholders $0.33/share over the trailing twelve months. This includes a "Special Dividend" of $0.20 per share announced on November 10, 2015.
Management does not appear content with these results and plans to continue to conservatively grow the Company. In February 2016, the Company plans to open a new 86,000 sf facility in Grand Prairie, TX, to accommodate the Company's booming upholstery business. A portion of the facility will also be used as a hub for Zenith Global Logistics, the transportation and logistics company acquired by Bassett in February 2015. The Texas facility is the latest in the Company's investments in its domestic operations over the last couple of years that included opening a new wood facility in Bassett, VA, which will focus on handmade dining furniture, and the expansion of its Martinsville, VA, plant for increased table production.
The Zenith acquisition should also provide growth opportunities for the Bassett. Bassett has partnered with Zenith over the last 16 years, with Bassett acquiring 49% of the Zenith through early last year when it acquired the remaining 51% for $19.1 million. The breakdown of the acquisition, according to the December 2015 Bassett presentation was:
• $9.0 million of cash
• $8.4 million note
• $1.7 million of Bassett stock
The acquisition positions Bassett to better serve customers throughout the U.S. by utilizing Zenith's home delivery services and regional warehouses, which are spread over 8 states. The Zenith fleet consists of 230 tractors and 500 trailers. According to the press release announcing the acquisition, Zenith's revenue has increased 300% over the last decade, and Bassett management intends to continue that growth.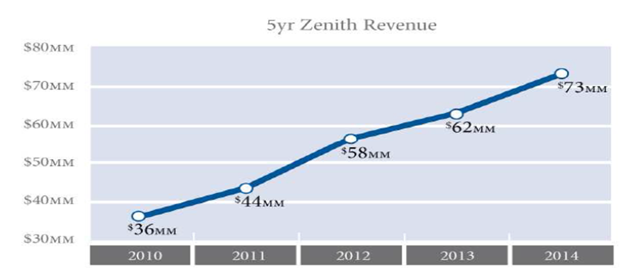 Click to enlarge
(Company Presentation)
As Bassett represented approximately 45% of Zenith's revenue at the date of acquisition, this appears to be a good move on management's part.
Bassett also plans to open 4-6 new retail stores in 2016. Initial start up costs for new stores range from $100k to $300k and start up losses range from $300k to $500k over the course of 2 to 3 months until revenue recognition commences upon product delivery.
Share Price and Recommendation:
Bassett reached a 52 week high of around $39 back in July and, at $25 per share, is currently trading only about $5 off of its 52 week low of $19.31. Bassett tends to trade below book value (approximately at a 0.88 p/b over the last decade, using Morningstar data); it currently sits at a 1.54 p/b. However, one must keep in mind that the numbers used to calculate Bassett's historical p/b may be skewed, as the Company was going through a tough transition phase at that time. A better indicator would be the industry average which, according to Morningstar, is 3.4. With a current book value of around $16, Bassett looks to be undervalued by a factor of 2.2, meaning a potential $30 upside!
Looking at the P/E, Bassett is selling at a ratio of 14.5, compared to its 10 year historic average of 15.7. The industry norm is 28.1, equating to an undervaluation of Bassett of 1.94 times the current price: 25 x 1.94 = $48.50. Still impressive.
Those numbers assume book value and earnings remain constant; as shown above, that is likely not going to be the case. The price discrepancy between the current share price and the Company's intrinsic value will likely be squeezed once the macro economic environment corrects and the current sell off in all equity markets subsides. The solid balance sheet should support current share price and minimize downside risk.
Bassett's business model appears reasonable and management seems to be conservative, yet decisive and aggressive, in its approach to growth. The diligent use of cash and pristine balance sheet will allow Bassett to weather whatever storm remains in this economic slump and position the Company to benefit from a macro turnaround. If Bassett's management remains disciplined in the Company's growth and the Company can maintain its current upward trend in all crucial metrics, the Company will be well situated to benefit from a full economic recovery. I recommend the purchase of a few shares and then sit back in your Carlisle and let management work its magic!
Disclosure: I/we have no positions in any stocks mentioned, but may initiate a long position in BSET over the next 72 hours.
I wrote this article myself, and it expresses my own opinions. I am not receiving compensation for it (other than from Seeking Alpha). I have no business relationship with any company whose stock is mentioned in this article.