From Martin at Macronomics: "Given the recent US Q3 GDP print at 2% (well below 3.9% growth in Q2) and given the current high level of inventories we highlighted recently in our conversation "Cinderella's golden carriage," it seems to us that US GDP is weaker than expected and is going to be "weaker for longer."

From Bloomberg: "Struggling overseas demand and declines in commodity prices that are hurting investment in energy and agriculture continue to limit orders for American manufacturers. At the same time, robust domestic growth buoyed by labor-market momentum and burgeoning wage gains are supporting consumers' spending power and preventing U.S. factory activity from slowing even more."
Limited orders in manufacturing, yet robust domestic growth are buoyed by labor market momentum and burgeoning wage gains? The inference: if the economy were not so robust, we might be in recession? Begging the question, how can manufacturing be limited and yet the economy, wage gains and spending robust? Is this some robust economy bull?
From SA: "The Fed has been right as rain on jobs, but other indicators - including inflation and manufacturing surveys - paint a significantly weaker picture of the economy."
A more accurate assessment regarding manufacturing, but "the Fed has been right as rain on jobs?" Let's play matador with this robust bull.
Burgeoning Wage Gains?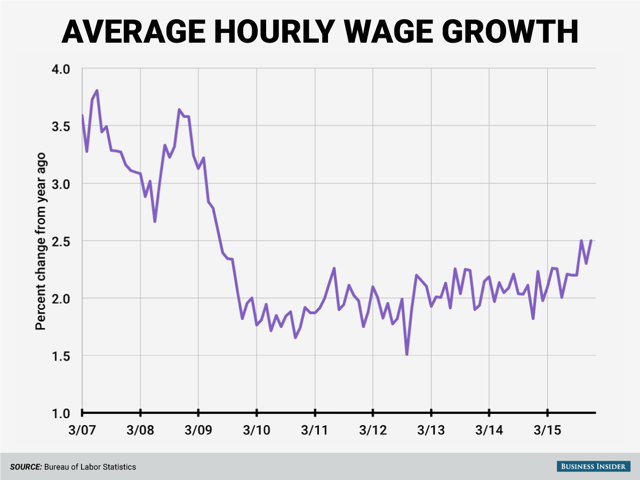 Click to enlarge
Above note, from Table B-3, despite a YoY +2.5% increase, average hourly earnings MoM declined to $25.24 while the growth rate remains anemic and 1% below pre-crisis levels. Since 1999, as undercalculated by CPI-U, real median household income has declined 7.2%, or is it 11%, or is it 25% as we previously Nattered here? In any case, over the last 17 years, income HAS DECLINED.
Robust Labor Market Momentum?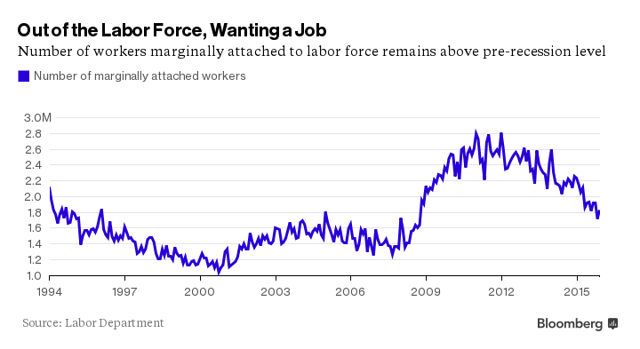 Click to enlarge
Above note, an est. 1.8M out of the labor force and wanting a job remain 33% above the pre-crisis levels. In addition, those working part time involuntarily has increased 33%; 2007: 4.6M; and 2015: 6M.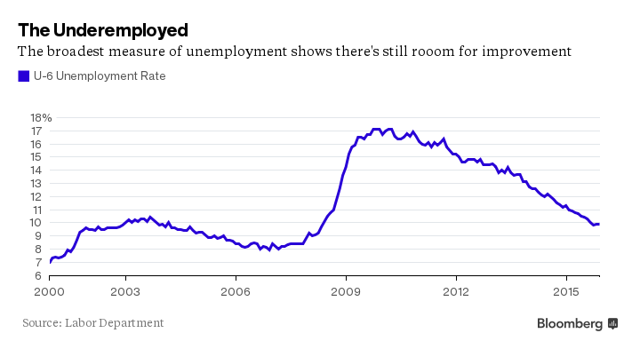 Click to enlarge
Above note, from table A15 - U6 underemployed levels at 10% are 25% above pre-crisis levels. In addition, those who have been out of work for 27 weeks or longer aka long-term jobless comprise 26.3% of all unemployed versus an average 16.1% in the 20 years prior to the 2007-09 crisis.
Upon Further Review?
The December 2015 jobs report released Friday, January 8th, 2016, reveals that the "robust bull" narrative headline +292K jobs and construction jobs +45K is disingenuous at best.
Table B1: Construction -151K; goods producing jobs -161K
Table B2, B7: YoY average hours worked declined
Table B3: MoM average hourly earnings declined
Table A1: Non seasonally adjusted numbers demonstrate contraction in the labor force, participation rate and employed. Not in labor force +284K, unemployed men 20 years and older +199K; women 20 years and older; labor force -437K; employed -204K; not in labor force +503K.
Table A9 is even more stark and graphic, employed 16-19 years old +225K; 20-24 years old +10K; 55 years and over +36K; multiple job holders +259K; employed prime earning age 25 -54 years old -335K.
Bottom line, while a half million 20+ women were "vacated" from the job market, "robust domestic growth is buoyed" by an increase in low-paying McJobs for non prime earning ages that involuntarily hold multiple jobs to make household ends meet. There's your bull recovery in a nut shell and as for any robust spending creating it...
From BofA: "The FOMC is raising rates, credit spreads are rising, and the US dollar is appreciating. The US economy is experiencing a considerable tightening of monetary conditions. Should strong US consumer spending allay fears of Quantitative Failure, all will be well - hence the importance of Friday's payroll."
Elevated Savings?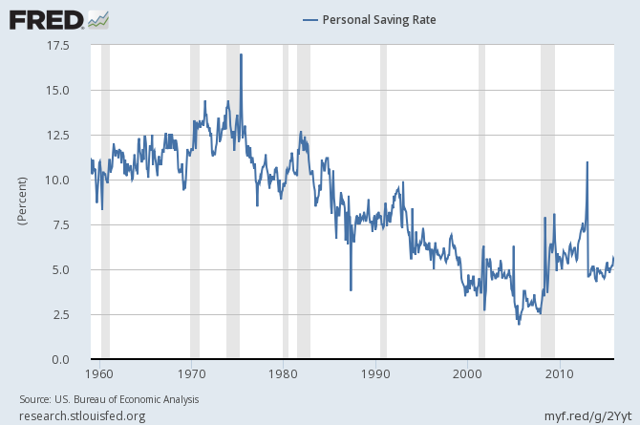 Click to enlarge
Above note, "strong US consumer spending power" is perhaps the reason why in three short years, the savings rate has declined 50% from 11% to 5.5%.
Healthy Consumer Credit?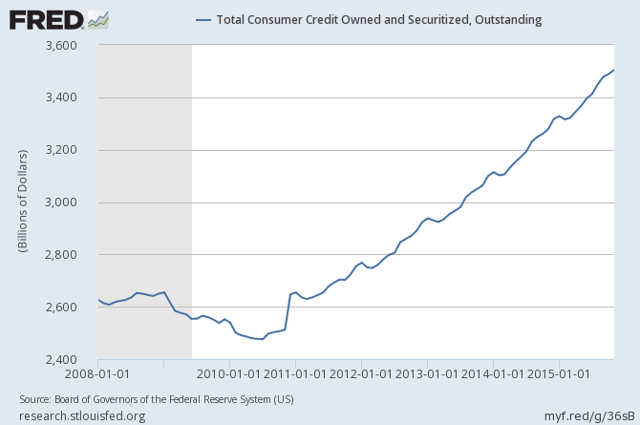 Click to enlarge
Above note, since July 2010, total consumer credit has seen "burgeoning gains" to the tune of $1T or 41%, almost keeping pace with the 50% drawdown in savings. Coincidence? Invoke Leroy Jethro Gibbs Rule 39A, there are no coincidences.
The reality is, due to "burgeoning wage gains", said spending is out of necessity and the income used for it, is derived from a combination of increased consumer borrowing and a draw down of savings. At some point, the savings will be gone and the debt load will be unsupportable.
Declining Oil Prices and Retail Sales?
What about "robust sales growth" stemming from a windfall of discretionary spending due to an oil price decrease from $110 to $32/bbl?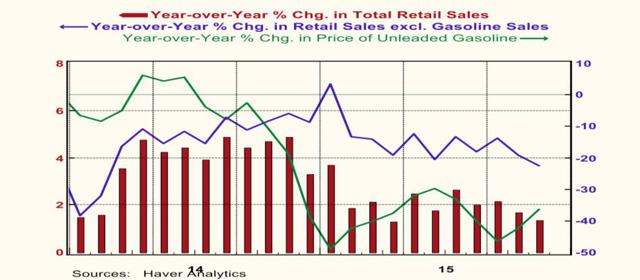 Click to enlarge
Above note, since mid 2014, despite a -36% YoY decline in gasoline prices, declines in both YoY total retail sales growth including (-70%) and excluding (-58%) gasoline. So much for that gasoline "rebate" check leading retail sales to the promised land. Leading us to the following...
Robust Wage and Jobs Gains with Declining GDP?
"The forecast for the contribution of inventory investment to fourth-quarter real GDP growth declined 0.2 percentage points to -0.8 percentage points after this morning's wholesale trade report from the U.S. Census Bureau." - Atlanta Fed GDP Report
Despite an advertised average gain of 270K jobs per month in Q4 2015, the Q4 GDP est. at 0.8% is practically zero? How does one reconcile this "robust spending and growth" or "robust bull" narrative with declining wages, incomes and nonexistent output? Everything's coming up roses?
After smelling the roses, take a good look at what is unwritten: anybody who thinks the economy is doing good, needs to wake up, as I have a newspaper rolled up and ready to swat them over the nose with. Bad dog.
From Jeffrey P Snider: "In recent days and weeks, the epicenter of that currency turmoil is not a small, relatively lacking Asian economy, it is China, the world's second largest economy and the direct engine of so much global finance and trade. Because of that standing, however, it gets lost that the basis of that finance and trade is not yuan or even the dollar but the eurodollar."
A continuance of US and global economic contraction can only result in a decrease in: spending, revenue, production, jobs and incomes. With the attendant side effects of petro and eurodollar contraction or "dollar" squeeze, this is a self reinforcing loop.
Stay tuned for Part 2 in which we ferret out more "robust bull" economic indicators.
This is the seventh in a series of thematically related missives which will attempt to identify the macroeconomic forces with potential to adversely affect capital, commodity, equity, bond and asset markets.
I wish to dedicate this missive, to one of my mentor's Salmo Trutta, who is a prolific commenter on SA. Without Salmo's tutelage, and insistence in not masticating and spoon feeding the baby ducks, as in learning the hard way, by doing the leg work and earning it, this missive would not have been possible. To you "Proximo"... "win the crowd and win your freedom" - Spaniard.
Since the market potential is broad in both scope and scale, our conclusion could not be more specific than the discussion already had. Again, more grief in the dollar "short" or squeeze and its associated liquidity issues, with the potential to adversely affect capital, commodity, equity, bond and asset markets. Will it happen? TBD, and forewarned is forearmed.
As for how all of the above ties into the potential and partial list of market plays below... the market as a whole could be influenced, and this would tie into any list of investments or assets. Those listed below happen to influence the indices more than most.
Would like to thank you folks fer kindly droppin in. You're all invited back again to this locality. To have a heapin helpin of Nattering hospitality. Naybob that is. Set a spell, take your shoes off. Y'all come back now, y'hear!
Investing is an inherently risky activity, and investors must always be prepared to potentially lose some or all of an investment's value. Past performance is, of course, no guarantee of future results.
Before investing, investors should consider carefully the investment objectives, risks, charges and expenses of an investment vehicle. This and other important information is contained in the prospectus and summary prospectus, which can be obtained from the principal or a financial advisor. Prospective investors should read the prospectus carefully before investing.
Below, recommended reading for those invested in mutual and bond funds, ETFs, REITs, HY, leveraged, EM, oil, energy, bonds and the broader markets. Why? There are many macroeconomic cross sector and market asset correlations involved that affect your investments. Economic conditions, the eurodollar, global dollar debt and monetary policy all influence the valuation of the above and market plays below, via King Dollar's value, credit spreads, swap spread pricing, market making, liquidity, monetary supply and velocity, just to name a few.
Market Warning: Reading not only those listed below, but also every installment of these multi-part missives could lead to a better understanding of the market forces in play and how to profit from them.
For a complete missive series listing, click here.
These global economic developments could affect numerous capital and asset markets, sectors, indexes, commodities, forex, bonds, mutual funds, ETFs and stocks.
A List of Potential Market Plays (Long or Short?):
Disclosure: I/we have no positions in any stocks mentioned, and no plans to initiate any positions within the next 72 hours.
I wrote this article myself, and it expresses my own opinions. I am not receiving compensation for it (other than from Seeking Alpha). I have no business relationship with any company whose stock is mentioned in this article.