Back in December 2014, we recommended avoiding Arcos Dorados (NYSE:ARCO) and buying McDonald's (NYSE:MCD). If you had taken our advice, that trade would have worked out very well for you, with McDonald's up over 22% and ARCO down more than 43%.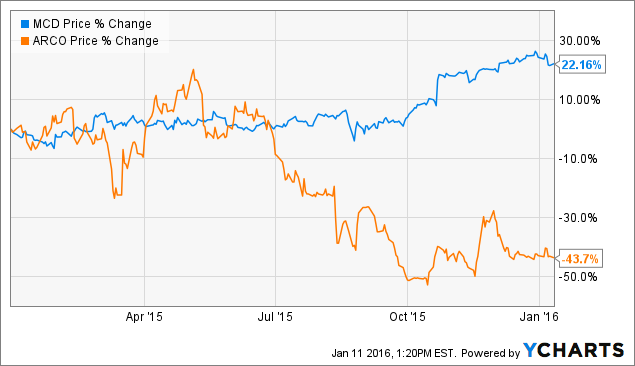 Source: YCharts
If you had believed the media, though, you would probably be thinking that MCD is in constant risk of going bust. That's nothing new; fear over MCD's growth has been a theme since at least the 70s.
In 1981, one such criticism:
'The question is, will McDonald's grow enough in the years ahead to justify investment by those seeking high future growth?' Michael Culp, who follows McDonald's for E.F. Hutton & Company, thinks not. [...] 'Thus, McDonald's has a below-average total return and an above-average price-earnings multiple,' he added. Needless to say, he is not recommending the shares, though he believes they are worth 70 as compared with the current price of 64.
1998:
"[...] the problems under the famous Golden Arches are far more serious than a failed Arch Deluxe here or a french-fry war there. Quite simply, McDonald's has lost some of its relevance to American culture - a culture that it, as much as any modern corporation, helped to shape. Not even a still booming international division, responsible for half of sales and 60% of profits, can mask the troubles."
But MCD's stock certainly proved the doubters wrong, rising by more than 8,000% since the 70s. And, far from being irrelevant, we think McDonald's influence on popular culture is in full force. Remember Jim Gaffigan, a man who may have played a pivotal role in the downfall of Nestle's Hot Pocket? Check out his hilarious video below; you can't get more culturally relevant than this. I lost count of the number of times Jim said McDonald's in the following clip, coining a whole new use of the word, in what is probably the funniest thing you'll ever watch in your lifetime. No pressure, Jim.
Source: Jim Gaffigan's Youtube Channel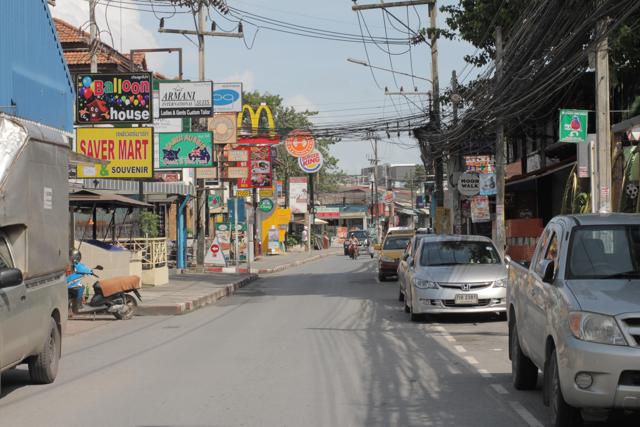 Internationally, McDonald's seems more relevant than ever. We've just returned from a brief trip to Thailand: the home of the best pad thai in the world, the most hilariously inappropriate bar names you can imagine, and inexplicably full of McDonald's franchises, full of both Thais and farang.
Indeed, in Asia, McDonald's doesn't just sell food: McDonald's sells something representative that ranges from simple food to a political statement to an attempt to connect to the broader outside world.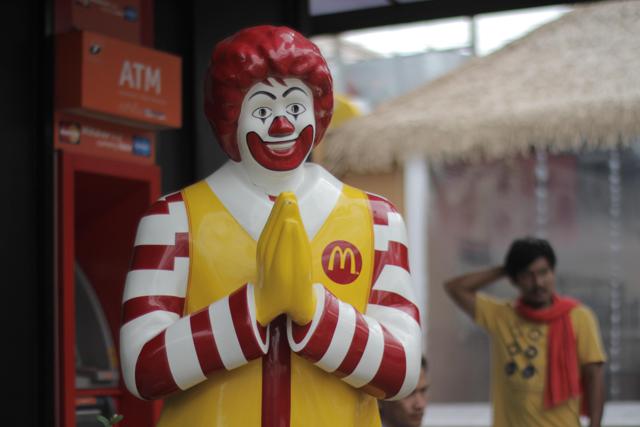 Click to enlarge
Source: Author's Photo. A Thai Ronald McDonald making the most common nonverbal greeting used by natives of Thailand, the wai.
That's one hell of a burger. It comes as no surprise, then, that even despite its more recent struggles, McDonald's continues to dwarf the competition.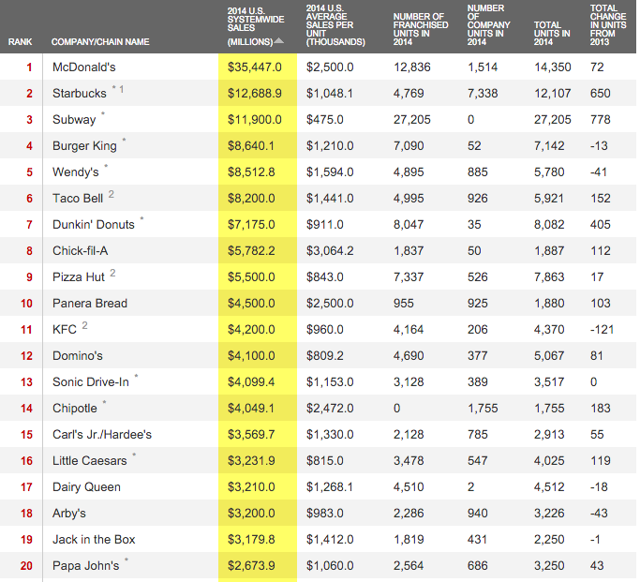 Click to enlarge
Source: QSR Magazine
We think that much of MCD's success has to do with its incredible capacity for reinventing itself - a factor that some bears may underestimate. We've taken the liberty of graphing just how successful McDonald's has been the last few decades at thinking up things to sell to hungry customers that just simply work.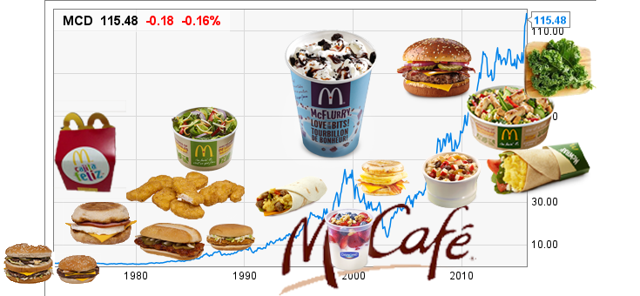 Click to enlarge
Source: YCharts, Wikipedia, thrillist.com, and McDonalds.com; author's compilation
Fresh to MCD's menu are newcomers kale and quinoa. Not only does that sound like food from no McDonald's I've ever imagined, Hong Kong's first ever McDonald's Next doesn't look like any McDonald's I could have dreamed up in a thousand years. Talk about reinvention.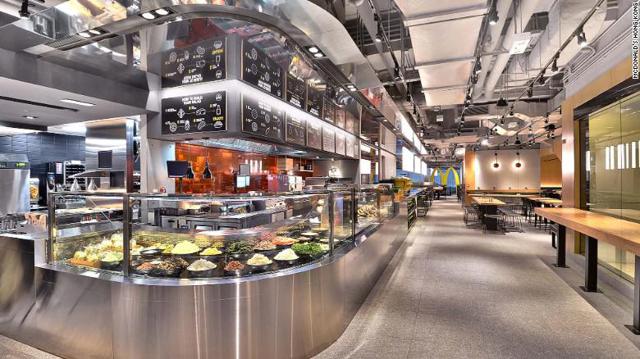 Click to enlarge
World's First McDonald's Next in Hong Kong. Source: CNN.com
Is that a salad bar?! In a McDonald's? (Yes. Yes it is.) As a bit of a total health nut, I'm lovin' it. I'm also lovin' the phone chargers and free WiFi.
So about McDonald's future? We're not worried; MCD is a company that has repeatedly shown that it can reinvent itself. It is more than capable of adapting to the times - successfully. But there is, in our view, one problem: MCD's price. At a current P/E of nearly 25, the company is a little too richly priced for our blood. We recommend waiting for the shares to drop to around $90.
Disclosure: I/we have no positions in any stocks mentioned, and no plans to initiate any positions within the next 72 hours.
I wrote this article myself, and it expresses my own opinions. I am not receiving compensation for it (other than from Seeking Alpha). I have no business relationship with any company whose stock is mentioned in this article.