With copper dropping a few pennies and oil plunging to new lows, the logic for dumping Freeport-McMoRan (NYSE:FCX) remains a stretch. What isn't clear is why investors are dumping this stock instead of focusing on oil producers.
About a month ago, my research suggested that a washout moment occurred as the stock collapsed from $12 to $7 in days. The problem with highly-indebted stocks is that equity holders aren't always in control of the short term so regardless of the logic the stock didn't hold.
The market is overly focused on the oil transactions that brought on the high debt position, though what matters is the cash flow from copper. The stock has collapsed to decade lows. Is this the capitulation moment?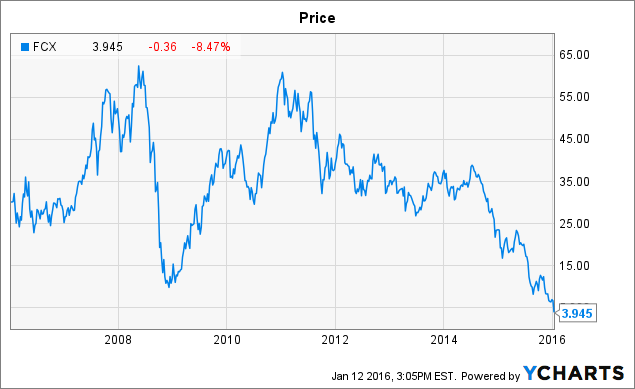 Commodity Targets
What the market appears to be missing is the cash flow position of Freeport-McMoRan in 2016. The December reduction in capital spending and the suspension of the dividend set the company up for achieving $600 million in free cash flow based on commodity prices at the time. The market, though, appears to have stopped at the discussion requiring $45 Brent crude prices to self fund that business.
As a reminder, the company provided the following targets for reaching $600 million in operating cash flows in excess of capital expenditures:
Copper - $2 per pound
Oil - $45 per Brent crude
Remember that this number is based on 2016 revised capital spending of $4.0 billion. The 2017 plan is for a further reduction of roughly $600 million from the oil drilling that will immediately add to the free cash flow levels.
Of course, oil gets all the focus so oil prices bouncing off $30 today is a huge negative for this forecast. The key, though, is that copper has spent the month above $2/lb until the 10th. At this moment, copper trades right around the target level.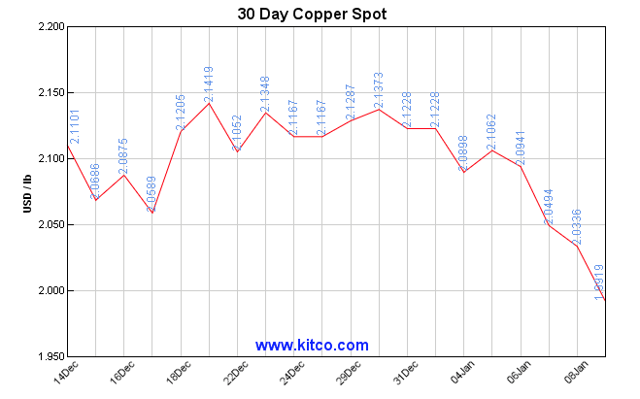 Click to enlarge
Cash Flow Impacts
Back in August, prior to more curtailments of high cost copper in the U.S., Freeport-McMoRan provided the following impacts to cash flows from price changes in commodities:
Copper - $0.10 pound change = $360 million.
Oil - $5 per barrel in Brent = $140 million.
Molybdenum - $1 per pound = $70 million.
Gold - $50 per ounce = $50 million.
At this point, the market prices on copper are breakeven with the cash flow target. Oil prices have dropped significantly. If Freeport-McMoRan only got current $30/bbl prices, the cash flow estimate would plunge by $420 million. Investors need to keep in mind that the futures prices for oil are much higher then $30/bbl. Go out a couple of years and the prices are in line with no impact to cash flows.
Takeaway
Even under the current depressed commodity price environment, Freeport-McMoRan is slightly cash flow positive in 2016 and solidly positive in 2017. The current cash flow scenario with the copper miner is far better than most of the oil majors that aren't generating enough cash flow to cover even capital spending, much less dividends that Freeport-McMoRan already wisely cut.
Regardless, the stock is under control of debt fears whether rational or not. Sure, this seems like a capitulation event, but the equity remains a massive risk as long as the company has $20 billion in debt and needs to rollover loans. A forced equity raise or other events to reduce the debt load could harm shareholders.
The recommendation is to continue watching copper prices and keeping an eye on this stock as one of the best ways to play an eventual rebound in commodity prices.
Disclosure: I/we have no positions in any stocks mentioned, and no plans to initiate any positions within the next 72 hours.
I wrote this article myself, and it expresses my own opinions. I am not receiving compensation for it (other than from Seeking Alpha). I have no business relationship with any company whose stock is mentioned in this article.
Additional disclosure: The information contained herein is for informational purposes only. Nothing in this article should be taken as a solicitation to purchase or sell securities. Before buying or selling any stock you should do your own research and reach your own conclusion or consult a financial advisor. Investing includes risks, including loss of principal.