Barely a week has passed since I penned a piece on business development company Triangle Capital (NYSE:TCAP), but since the market has been in a tailspin over the last seven days, driven by lower crude oil prices and expectations of a dim earnings season, it's worth revisiting my recommendation.
In early January I made the point that smaller, internally-managed business development companies with highly-diversified loan portfolios, like Triangle Capital Corporation, are worth a shot and are an appealing alternative to more popular high-yield income vehicles, both inside and outside the BDC sector.
To demonstrate my point of why I thought Triangle Capital makes for a compelling total return play moving forward, I posted this powerful chart from Triangle Capital's latest investor presentation: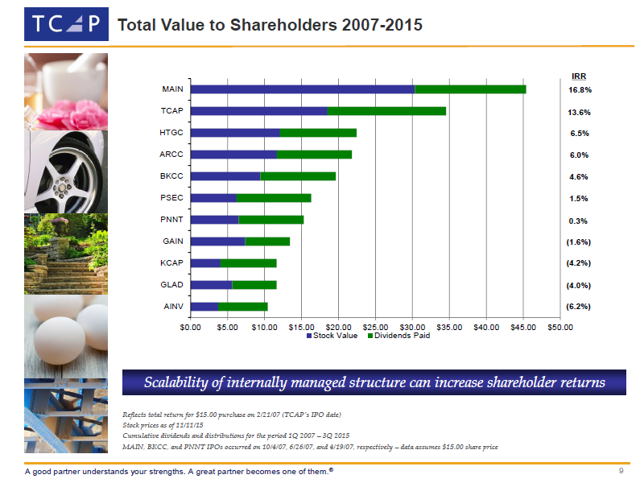 Click to enlarge
Source: Triangle Capital Corporation Investor Presentation
Based on internal rate of returns, Triangle Capital's performance is only second to Main Street Capital (NYSE:MAIN), a business development company that fetches the highest valuation of all BDCs in the sector.
Triangle Capital's high internal returns from 2007-2015 are why the BDC sells at a premium to accounting book value, which is not a common occurrence at all. Most business development companies, with the exception of Main Street Capital, are trading at discounts to their net asset values.
Triangle Capital reported a Q3-15 net asset value of $15.48/share at the beginning of November. Therefore, TCAP's equity valuation implies a ~17% premium to its latest reported NAV. I feel the premium is deserved for two reasons: 1. TCAP's superior performance relative to other BDCs, and 2. the fact that Triangle Capital is an internally-managed business development company.
BDC meltdown = buying opportunity for Triangle Capital
Market prices for business development companies have slipped in the first week of 2016 thanks to the sell-off in stocks and commodities. The oil price slump, which extended into the New Year, added to mounting pressure on high-yield income stocks as investors feared a high-yield debt default wave sweeping over BDCs.
Such concerns seem to be greatly exaggerated. As a matter of fact, Triangle Capital has a very small energy loan concentration of about ~4%, which greatly limits Triangle Capital's downside risk stemming from an increase in debt default rates.
Importantly, this year's sell-off has made Triangle Capital cheaper, which in turn translates into a yield advantage for dividend investors.
TCAP now sells for ~8.1x P/NII, ~1.15x Q3-15 NAV and an 11.95% dividend yield.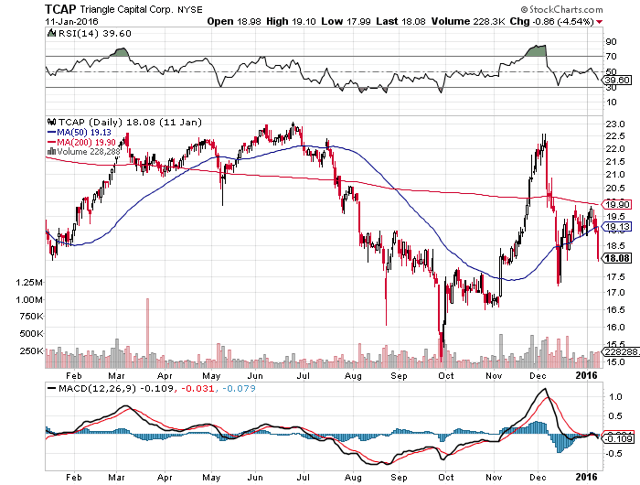 Click to enlarge
Source: StockCharts.com
Your Takeaway
Triangle Capital is sitting very high up on my shopping list. And truth be told, if I had any more cash at hand, I'd submit a buy order today. Triangle Capital's IRR holds up with the best in performance comparisons, and the sell-off has made TCAP a compelling buy from a yield and capital appreciation point of view. TCAP yields almost 12%. Buy for income.
Disclosure: I am/we are long MAIN.
I wrote this article myself, and it expresses my own opinions. I am not receiving compensation for it (other than from Seeking Alpha). I have no business relationship with any company whose stock is mentioned in this article.