Facebook's (NASDAQ:FB) stock performed well in 2015. I captured most of that upside. I sold FB for a 31% gain on December 29. So far, the timing looks good as it has corrected 10% since then. I didn't sell the stock because I was afraid of a 10% fall. I sold it to avoid a much bigger correction, which is why this article still has value even though FB is no longer at its peak. My first reaction after doing research on a possible recession in 2016 was to sell Facebook in order to book my gains in one of my best stocks for the year. It's always difficult to sell a winner, especially a firm with such a bright future as Facebook has. I will remind you of these great expectations when I buy the stock back in a few quarters.
While Facebook has a bright future, it will still be impacted by the recession that is coming. FB will be able to grow its users and the percentage of total ad budgets it gets from firms, but if the total spending pool drops, Facebook will be impacted. The company has been able to take share from other websites because of the size of its reach, so this may limit macro effects. However, the stock doesn't need declining earnings to go down. Even slowing growth will cause investors to sell because of its high valuation.
The Positives
Facebook has grown its market share of mobile ad revenues and is projected to continue growing it in the future. This trend won't change even if there is a recession.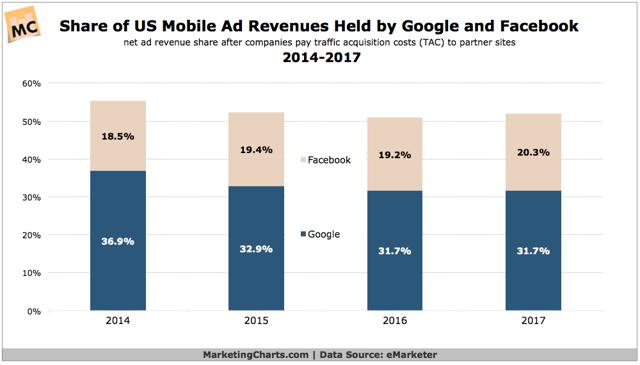 Click to enlarge
Mobile will be the most important category, as it is expected to comprise over half of the total digital spending in 2015. This growth is expected to continue over the next few years, reaching 70% by 2019. This trend towards mobile won't be impacted by the economy.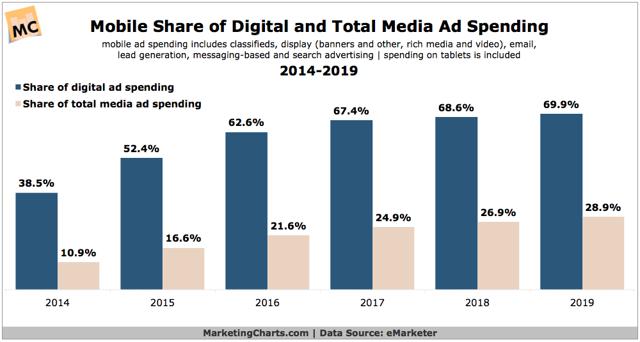 Click to enlarge
The final positive chart illustrates the growth in market share of digital spending. Digital spending has been able to outgrow total media spending (which grows in the low single digits) by taking share. This market share in digital has a limit, which I would assume is somewhere under 100% (although it is possible everything becomes digital in couple of decades). This implies slower growth over time for digital as it starts to mimic the slow total growth of the category. This growth in market share for digital won't be impacted by macro issues. Facebook's stock won't go down because of slowing digital growth because it would be impossible to forecast anything otherwise.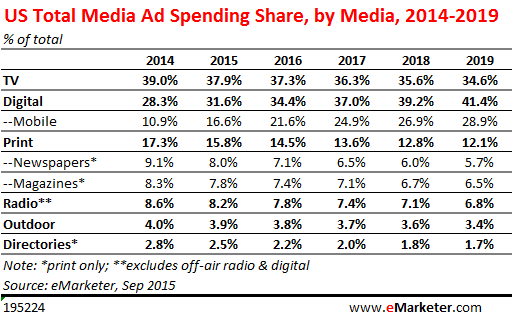 The Negatives
It's difficult to project just how an economic slowdown would affect Facebook because it is a new firm. The only time period that gives us a glimpse into what could happen is the 2008-2009 financial crisis (If you don't think 2016 will be recessionary, I still think this a valuable question to ask as there will be a recession at some point in the future). U.S. media spending declined by 15% from 2008 to 2009. This is expected as firms cut their ad budgets to preserve cash during the recession. Also, it doesn't make sense to spend money on advertising to a consumer who isn't in the mood to spend.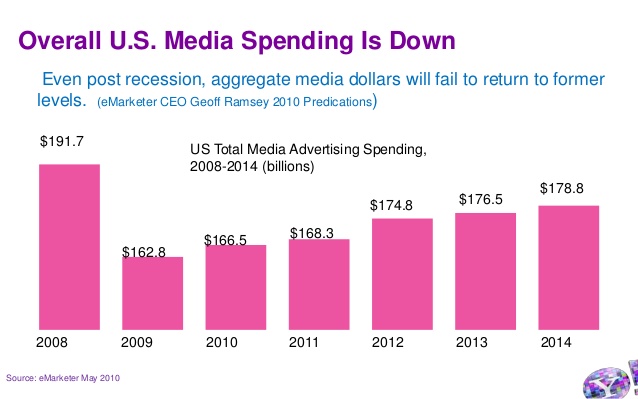 The chart below shows the total U.S. spending on online advertising. I was surprised to find out that even during the earlier stages of advertising online, spending declined in 2009 along with total spending. Spending declined 3.4%, which was much less than the 15% decline in total spending, meaning it maintained its trajectory of growing market share. It went from a 12.2% market share in 2008 to 13.9% in 2009. The later years in both charts are estimates, so they should be ignored.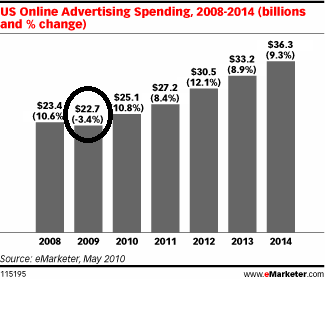 Facebook was in its infancy from 2008 to 2009. Therefore, FB's market share was so small that it was able to grow revenues without worrying about the macro factors. It almost tripled revenues from 2008 to 2009 and began earning a profit.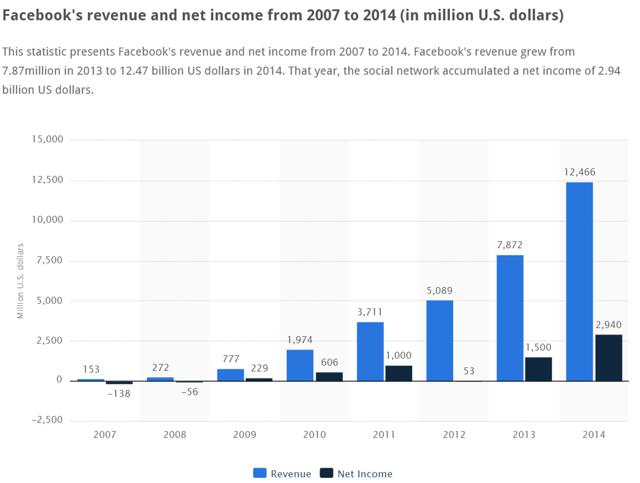 Click to enlarge
This time around Facebook is a much bigger company as you can see from the right of the chart, which doesn't even include the amazing 2015 the firm had. This means Facebook will not be able to grow its ad revenues during a recession. There is a strong possibility that FB is able to outperform some of its peers because it has the biggest reach, but it will decline unless the recession is benign. The point is the company is more of a cyclical stock than it was in 2009. Investors will come to grips with this if there is a slowdown when they see their gains in the stock erode.
The growth in online market share also has similar connotations. Digital spending has gone from the low-double digits to the low 30s as a percentage of total spending. This means there is a strong likelihood that digital spending does worse on a relative basis compared to total spending in 2016 than to 2009. If total spending declines 15% in 2016 or 2017, digital should do worse than decline 3.4%.
FANG & Fertilizer
The other problem I have with Facebook's stock is that it is a member of the sainted FANG group of stocks, which is the acronym for the technology stocks that did well in 2015 (Facebook, Amazon (NASDAQ:AMZN), Netflix (NASDAQ:NFLX) and Google (NASDAQ:GOOG) (NASDAQ:GOOGL)). These stocks were popular because they led the market higher. When bull markets reach their peak, the breadth of the market declines as only a few stocks drive the averages higher. At the end of the bull market, these market leaders are brought down. The decline in breadth is obvious as the Russell 2000 is now down about 20% since its peak last year. Although I'm only 22, I did start investing in the market in 2007, so I remember what happened in 2007 and 2008.
The top stocks in the quarters leading up to the collapse in the market were the fertilizer stocks. Potash (NYSE:POT), Agrium (NYSE:AGU), Mosaic (NYSE:MOS), and Monsanto (NYSE:MON) all had huge gains. Looking back, it now seems obvious that the market being led by a few firms that increase food productivity isn't sustainable. The thesis of the Chinese people eating more meat, which would require more grains, encompassed the entire market. This time it's the FANG stocks that are the leaders at the end of the bull market. There is no doubt that Amazon and Netflix are much more expensive than Alphabet and Facebook.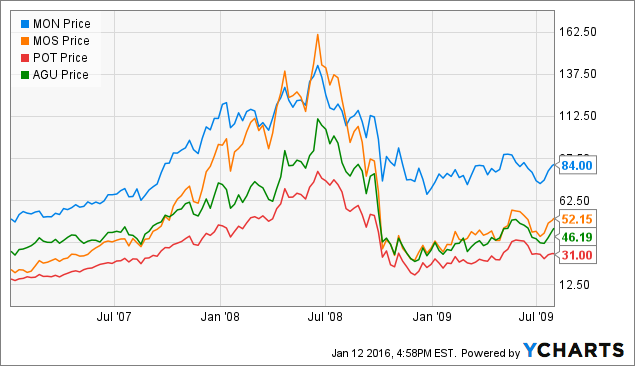 Valuation
Even though Facebook is the third most expensive stock out of the four, it still isn't cheap. As you can see from the F.A.S.T. Graphs chart, Facebook's price to earnings multiple is nearly twice the analyst estimated growth rate. I think this excessive valuation was created by the stock having momentum and by money managers searching for growth in a market which has weak breadth.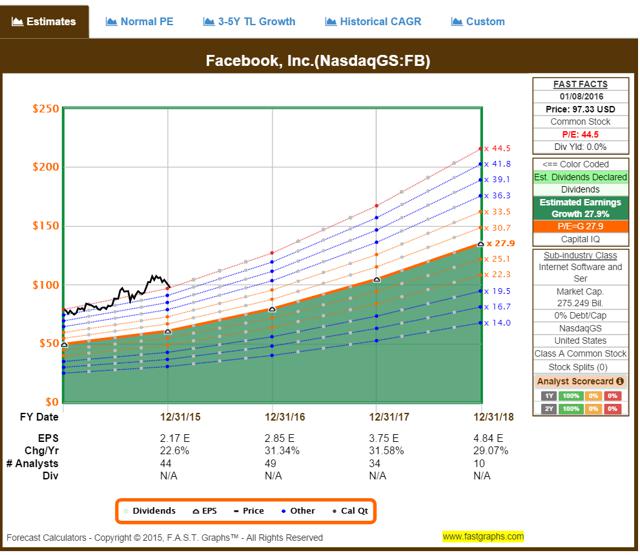 Click to enlarge​
If you look at the chart, the stock hasn't broken down as much as others have in this nasty beginning of the year for the stock market. The stock has support at the $86 level. It would need to fall below this to break its uptrend and begin to start making lower lows. FB's stock is very important to the market, because if its trend breaks, the entire market is leaderless. Apple (NASDAQ:AAPL) has already broken down technically, so a decline in Facebook would be a bad signal for the NASDAQ in particular which is at the cusp of a correction territory.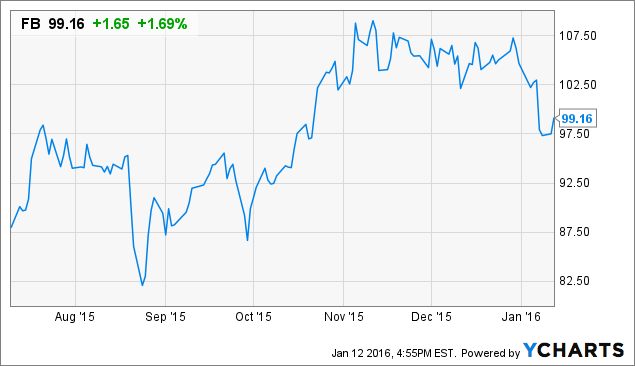 Conclusion
This weak economy will hurt Facebook. The small business advertisers will be the hardest hit as they cut their ad budgets completely. I still believe in FB's secular growth story, especially with the growth in users on Instagram, but the cyclical environment will provide temporary headwinds for the stock. I am happy with my decision to sell at $107, which was near the all-time peak of stock. If I still owned it, I would be taking profits now in the anticipation of a weakening economy.
Disclosure: I/we have no positions in any stocks mentioned, and no plans to initiate any positions within the next 72 hours.
I wrote this article myself, and it expresses my own opinions. I am not receiving compensation for it (other than from Seeking Alpha). I have no business relationship with any company whose stock is mentioned in this article.