AT&T's (NYSE:T) recent dividend increase has pushed the yield close to 6% but not quite. Are you one of the many investors like the ones below (names redacted) historically waiting for a 6% entry point?

As of this writing, the 6% yield point is a good 6% away from the current trading price of $34. Instead of waiting for the price to reach there and staying out till then, why not consider selling puts based on your preferences? Please note that options are generally considered "risky" by many, but selling puts is one of the safest ways to generate premium while waiting for a price you like.
When you sell a put:
You are taking a bullish position on the stock, contrary to the misconception that when you do anything with "puts" you are being bearish.
You get a premium in your account right away for the obligation to buy the stock at the price you want on the date you want. So, you decide the date and the price you want to buy and they pay you for it.
But you are taking a "risk" in that if the stock drops well below your strike price, you still have to buy the stock at the price you chose, not current market price.
You believe a stock will not drop below a certain level, and if it does, you want to be a buyer.
An Example: Below is AT&T's option chain that expires on Jan. 20, 2017. Let's pick the $32 put for example. For selling one contract (one contract = 100 shares) you need to have a cash balance of $3,200 in your account. The premium on this particular put is at around $2.20 per share, that is $220 for a contract.
The Scenarios:
#1: AT&T is well above $32 at the time of expiration. Your option expires worthless and you net a cool 7% for about a year for your willingness to put aside $3,200 on this contract. Remember, your $3,200 is not locked up with AT&T beyond this point.
Risk: If AT&T really rockets up from here, your option returns will be lower than the stock returns. The odds of AT&T rocketing up are very slim.
#2: AT&T is at or below $32, you are obligated to buy 100 shares at $32. Remember, you already netted $2.20 per share when you sold the put. So, your cost basis is essentially $32-2.80 = $29.80. As long as AT&T is above this $29.80, you will have a net positive return when this option chain expires.
Risk: The risk in this scenario is that if AT&T really tanks in the next 12 months and trades below $32, you will still have to buy your shares at $32.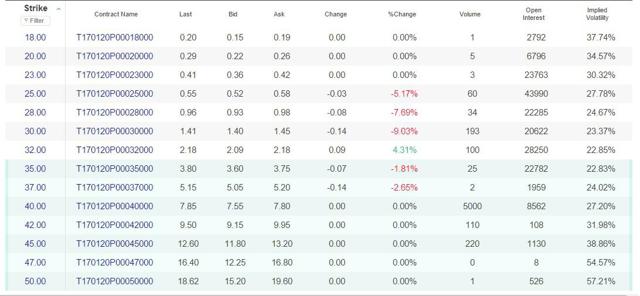 Source: Yahoo Finance
Why this particular strike price?
The $32 strike price will give investors an entry level yield of 6%, given the current annual dividend of $1.92/share. We are ignoring the dividend increase that is likely going to happen in December 2016 as well.
As shown in the chart below, AT&T has not seen the 6% yield point since 2011. This doesn't mean the stock will never go below this, but the odds are in favor of AT&T to stay at or above this level. The main reason being that with interest rates still low, funds that deal primarily with dividend stocks will rarely let such opportunities go by.

Source: YCharts
Given AT&T's 2016 earnings estimate of $2.80, a share price of $32 gives it a multiple of 11, which again should make many value investors take notice and buy.
Forward Thoughts
These numbers are good, but AT&T is moving in the right direction with its business decisions as well. For example, the timing of the move to bring back the unlimited data plans must be applauded. This is certain to encourage more customers to try out its newly acquired TV services.
In addition, let us not forget that synergies due to acquisitions show up only in the long term, after the company catches its breath to evaluate where it can trim the fat. In addition to the expected annual savings of $2.5 billion due to this 'merger synergy', the merger has also given AT&T more pricing power. While AT&T and Verizon (NYSE:VZ) have arguably had pricing power always as duopolies, the DirecTV merger has been a shot in the arm for AT&T. In addition, AT&T is continually pushing itself for new business as well.
Conclusion
Again, if you are one of the many that consider options risky, please stay away from this. Also, going on margins isn't recommended for most. However, if you have idle cash sitting around waiting to buy AT&T or any other stock for that matter, this could help you. Instead of waiting for the magic price point which might never come to you, you are guaranteed one of two things: 1) A 7% return while you wait (or) 2) a price point that you selected for your long-term benefit. Please keep in mind that selling puts on days where the stock is down usually gets you a bigger premium.
Disclosure: I am/we are long T.
I wrote this article myself, and it expresses my own opinions. I am not receiving compensation for it (other than from Seeking Alpha). I have no business relationship with any company whose stock is mentioned in this article.