Sinclair Broadcasting (NASDAQ:SBGI) is the leading independent television broadcaster in the United States. The company is poised to benefit from the 2016 election and possibly from the Q1 2016 spectrum auction.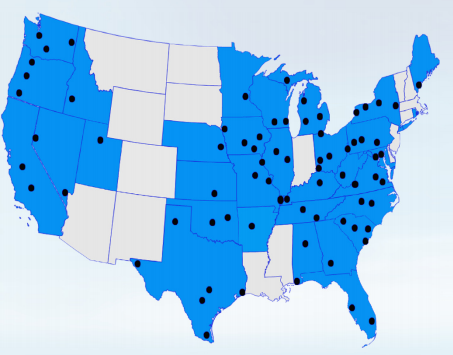 Source: Sinclair Broadcasting
The recent price drop in SBGI stock presents an opportunity to participate in what may be one of 2016's more exciting equity plays.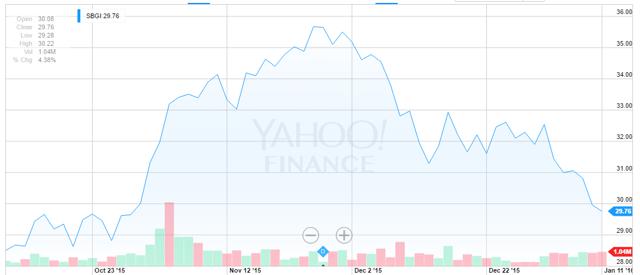 Source: Yahoo
SBGI owns and provides programming to 384 television stations (432 including pending transactions) in 81 markets (no market greater than 5% of revenue).

The Company has aggressively pursued acquisitions. And despite having "bonus" revenue every other year due to elections, the company grew revenues in the non-election year of 2015. Please read my September article, Sinclair Broadcasting: Poised to Win The 2016 Election for more background on SBGI.
Primary Catalyst: More Election Revenue Than Previously Modeled
It has long been my contention that the impact 2016 election spending has been underappreciated. The Wall Street Journal highlighted the growth of political (candidate and Super PAC) spending in the January 11 article, "For TV Stations, 2016 Ads Are Adds." The presidential primaries, typically decided as early as February, are now likely to go into March and beyond as the Republican field is crowded and contentious, and Bernie Sanders failed to read the Hillary Clinton coronation memo. According to the Wall Street Journal, the election has driven rates up 25% in Iowa. Station owners like SBGI and The Tribune Television Group (42 stations) are seeing higher digital (online) sales as customers look to avoid competing with political spots.
In addition to political spending, the US economy continues to grow, with automakers, traditionally a large purchaser of television advertising, having a record year. Demand in non-political markets will continue to be strong while political markets will see higher prices during the primary season continuing through October as a highly contested national election (presidential and state/local) drives spend on broadcast and digital advertising.
Though an aggressive acquirer, SBGI has been able to consistently grow free cash flow.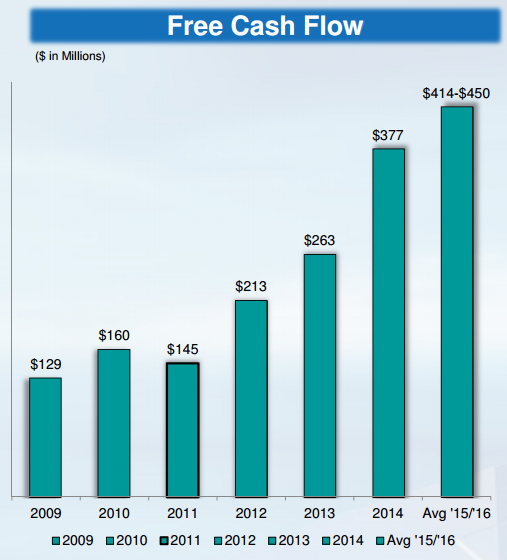 Source: Sinclair
Another Catalyst: Underappreciated Spectrum
SBGI, in its investor presentations, consistently mentions the possibility that it will sell excess spectrum for +/- $2 billion. As SBGI has an enterprise value of $6.6 billion and a market cap of $2.8 billion, any material sale of spectrum would create 1) an earnings windfall and 2) represent value creation not currently reflected in the company's stock price.
With all the concern regarding markets in China, it is worth noting that SBGI is 100% domestic.
Though an aggressive issuer of debt (to support acquisitions), SBGI has reduced its debt ratios...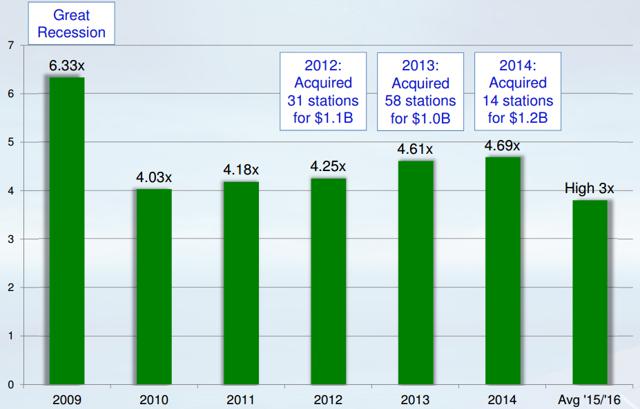 Source: Sinclair
...and has no material debt maturities until 2020.

Source: Sinclair
The market has consistently traded SBGI debt over par (November 2021 bonds yield 5.4%), suggesting virtually no bankruptcy risk for the broadcaster (S&P rated B+).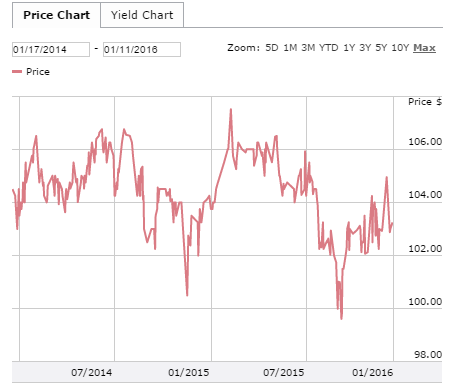 Source: FINRA via Morningstar
Sinclair Broadcasting is one of my largest positions. On Monday, January 11, I added to a position initiated in August in the $24s. The purchase was made following a pullback from recent highs. I expect an election catalyst to occur no later than the release of Q1 2016 earnings (released in April 2016). While not part of my primary investment thesis, the announcement of a spectrum sale (around the same time) also could cause significant appreciation.
If you are interested in learning more about stocks I follow, please consider following me.
Disclosure: I am/we are long SBGI.
I wrote this article myself, and it expresses my own opinions. I am not receiving compensation for it (other than from Seeking Alpha). I have no business relationship with any company whose stock is mentioned in this article.