Uncertainty has crept back into the market. The start of the year has been the worst ever for stocks with major U.S. stock indices like the Dow Jones Industrial Average and the S&P 500 retreating ~6% each in the first week of trading in 2016. And income stocks couldn't escape the pull either. Starwood Property Trust (NYSE:STWD), for instance, a high-grade commercial real estate investment trust and income vehicle, has fallen below $20 on Monday, which, as far as I am concerned is, buying territory.
Inconclusive market picture
Right now, investors appear to be conflicted and unsure whether they should buy stocks or not.
Last week, the U.S. Department of Labor reported that U.S. employers created 292,000 non-farm jobs in December. While the unemployment rate remained unchanged at 5%, robust job gains underpin a healthily expanding economy in which more jobs and career opportunities are available for Americans. That's good news.
On the other hand, more investors are adopting a cautious approach as we are approaching earnings season. JPMorgan, for instance, is only the latest investment adviser that does not expect much from fourth quarter earnings. According to MarketWatch:
Our view is that the risk-reward for equities has worsened materially. In contrast to the past seven years, when we advocated using the dips as buying opportunities, we believe the regime has transitioned to one of selling any rally.

We fear that the incoming fourth-quarter reporting season won't be able to provide much reassurance for stocks.
If JPMorgan turns out to be correct and fourth-quarter earnings are weak, pressure on stocks, including REITs, is likely going to build. But would that really be that bad?
Income stocks like Starwood Property Trust only get more interesting from a reward-to-risk ratio when they go down in value, especially if the cause for the correction is only a transitional factor, i.e. soft Q4-15 earnings.
Starwood Property Trust - Going for the best
Starwood Property Trust has earned a reputation for thoughtful capital allocation and management that has translated into superior risk-adjusted returns across a whole range of different markets.
Though past performance does not guarantee future performance, Starwood's management knows what it is doing, and hence, should be capable of repeating the REIT's past success.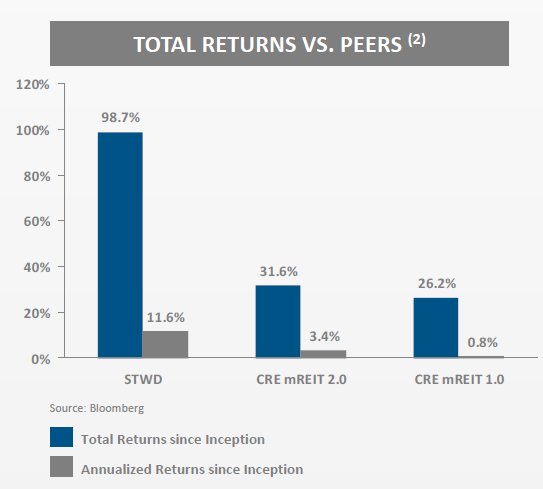 Source: Starwood Property Trust Investor Presentation
Positive interest rate sensitivity
Rising interest rates are good for companies that loaded up on floating rate assets... and Starwood Property Trust is one such company. At the end of the September quarter, Starwood had $5.1 billion in floating rate assets sitting on its balance sheet, which exposes the REIT to substantial earnings upside.
A 1% increase in the Libor rate is projected to generate ~$16 million, or $0.07/share in additional earnings. The higher the interest rates climb, the better the earnings potential for Starwood's lending portfolio.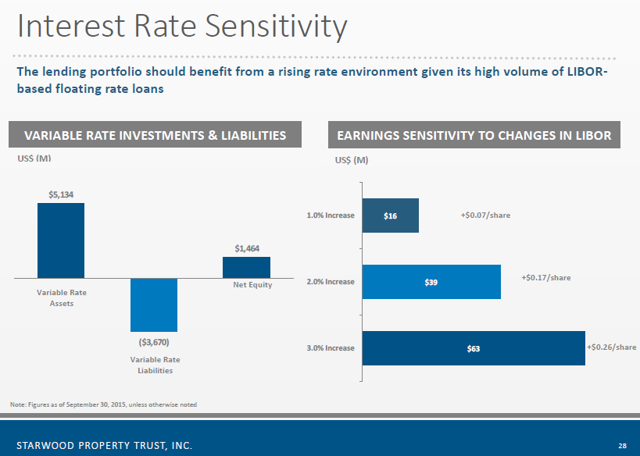 Click to enlarge
Source: Starwood Property Trust Investor Presentation
Low valuation = High dividend yield
Starwood Property Trust's stock has reached a compelling valuation level. When Starwood released third-quarter earnings, it guided for core earnings in a range of $2.13-$2.17 per share for 2015. On a midpoint basis, this premier commercial real estate trust with a history of outperformance sells for only ~9.3x 2015e core earnings. That's a bargain.
Starwood Property Trust also is hardly expensive on a book value basis. In the third quarter, Starwood's financial statements showed an accounting book value of $17.43/share. Since Starwood Property Trust's shares cost $19.98 a piece at the time of writing, investors pay a defensible 15% markup to accounting book value.
Importantly, Starwood's lower share price has increased investors' initial dividend yield. The real estate trust declared yet another $0.48 dividend/share for the fourth quarter in November. As a result, STWD now sells for a 9.61% yield. Very compelling.
Your Takeaway
Starwood Property Trust has a truly low valuation based on core earnings and book value. In fact, Starwood's valuation has been dragged down by deteriorating investor sentiment in the high-yield space which is striking, considering the REIT's demonstrated ability to leave its competitors in the dust performance-wise. STWD is a compelling yield play below $20. Buy for income and capital appreciation.
Disclosure: I/we have no positions in any stocks mentioned, but may initiate a long position in STWD over the next 72 hours.
I wrote this article myself, and it expresses my own opinions. I am not receiving compensation for it (other than from Seeking Alpha). I have no business relationship with any company whose stock is mentioned in this article.