By Parke Shall
We have been biding our time, waiting patiently to find the right opportunity to strike at when it comes to oil. For the last year, we have watched the price of oil tumble significantly without really ever trying to call a consistent bottom. Now our expertise is certainly not in commodity speculation and most of the news that we were seeing was pointing to a continued fall in the commodity. Oversupply remains a significant problem despite the United States' growing demand for crude oil.
Today we think we have two interesting opportunities for oil.
We have stated in a few articles that the price of oil is not indicative of how much the demand has softened, because it hasn't. Instead, cars, boats, and air travel, as well as the American consumer are all receiving the benefits of lower crude prices.
Things have gotten especially bad for oil over the last few sessions, where yesterday we watched the commodity fall an unbelievable 6% in one session. Oil touched 12 year lows, and is now dangerously close to trading with a $20 handle. Driving the price lower has been all of the speculators who have tried to call a bottom using margin thus far, and a new cycle that, despite the fundamentals which have been pointed out by great contributors like Daniel Jones, continues to drive the price lower. Sentiment is just not in the right mode for this market to find a real bottom and stabilize.
If you recall, the market tried to stabilize a month or two ago, with prices even moving back over the $40 level, but it wasn't long until reality set in and crude continued much lower.
Last night, we saw a small pop in the commodity on a terrorist headline out of Turkey, and we saw the US. Lower oil helps guide the US stock market lower and unfortunately, oil and gas companies feel the pain from both the commodity falling in price and do US indices falling as a result of China and the global economic picture.
So, what are the two opportunities that we think can be timely for oil?
First, we think that merger and acquisition activity in the oil space is going to continue. We expect to see further consolidation as the sector is still in turmoil, along with energy. This is not unlike the consolidation and mergers we are seeing in the biotechnology space, where as the sector sells off as a whole we see more and more consolidation. We think that we will see more upstream and downstream synergies, we think we will see local oil producers pairing with larger oil producers, and we do think we are going to get one major oil and gas buy out before oil bottoms.
With this, we are keeping an eye on some of the less expensive oil and gas companies, like BP (NYSE:BP). We do not see any benefit to moving money into an oil and gas company that is trading at a large multiple, like Chevron, but we do think there are going to be continued limited opportunities in cheaply priced fossil fuel companies. As we move into the future, we think fossil fuel companies will be forced to consolidate even if oil prices go up, but we think a company like BP could be primed for a takeover.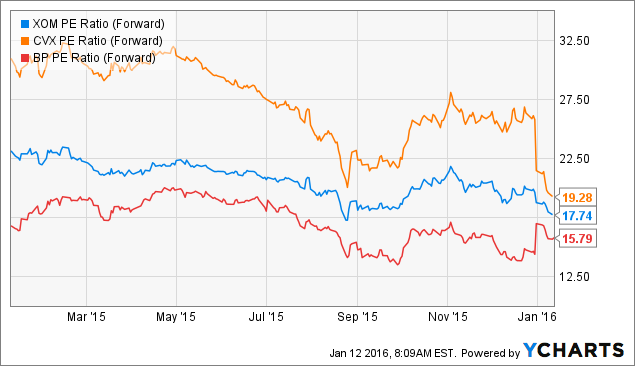 XOM PE Ratio (Forward) data by YCharts
Second, we are also watching very closely to see if the commodity is going to trade with a $20 handle. We are not trying to call the bottom in the commodity, but we do have some powder put aside specifically for if the commodity falls under $30.
As oil moves into the $20 range, the risk of staying short becomes far more unattractive versus the potential reward of being long. We know that there are calls on the street for oil to go to $20, which is why we have set up a plan to gradually open a position in the commodity if it moves under $30, by sizing into the position and increasing it in $1.50 increments should the price move lower. This means we will put on about 1/6 of our position at $29.50, we will add another one sixth at $28, we will add another one sixth at $26.50, and so on.
If the commodity starts to move upwards, we will leave on whatever size position we have, we will not chase the commodity upward, and we do have a long-term outlook on this position, so we may enter a ETF that tracks oil or move into long dated contracts.
The interesting thing about a commodity moving this low, especially a commodity that still is in robust demand, is that there is only going to be so far down it can go. It is not like a situation with an equity where dilution or bankruptcy is a possibility and you can see a gradual asymptote to zero. Airlines are doing record business, auto sales are at a peak, and oil usage and demand growth is still robust. At some point, something will give on the other side of the equation, and that is going to cause a violent reality check in the price of the commodity that we want to be able to take advantage of.
Even more so, the current geopolitical state of the world will provide us with numerous catalyst this year, we believe, for the commodity to move higher. Greece remains in turmoil, China's stock market is falling apart, the Middle East continues to be a mess, Russia, Syria, and North Korea are all doing their respective parts to try and throw the global landscape into turmoil.
As the headlines now are possibly the worst that they have been since oil has started falling, we think it is a good time to consider looking at a position in oil companies and in the commodity itself should it dip under $30.
A long position in oil is also a fantastic way to hedge against a position if you are short the market right now. The indices follow oil on a daily basis, and this could make for a profitable trade, especially if China continues to fall apart and the global economy sets up a very real scenario where equities could be pushed lower while the price of crude winds up spiking.
Disclosure: I/we have no positions in any stocks mentioned, and no plans to initiate any positions within the next 72 hours.
I wrote this article myself, and it expresses my own opinions. I am not receiving compensation for it (other than from Seeking Alpha). I have no business relationship with any company whose stock is mentioned in this article.
Additional disclosure: May be a buyer of oil companies or the commodity under $30