The stock market has got off to a bad start this year, and Bank of America's (NYSE:BAC) share performance has been in line with the broader market selloff. The mega-cap lender lost almost $16 billion in market value with shares roughly down by 10% ytd. In my last article on BAC that was published one and half years ago, I predicted grey days ahead for BofA, mentioning the bank's unlikelihood to become a profit powerhouse due to some fundamental reasons. Admittedly, the bank has proven me wrong with some new developments even if the stock has performed poorly in 2015 when compared to the Financial Select Sector SPDR ETF (NYSEARCA:XLF).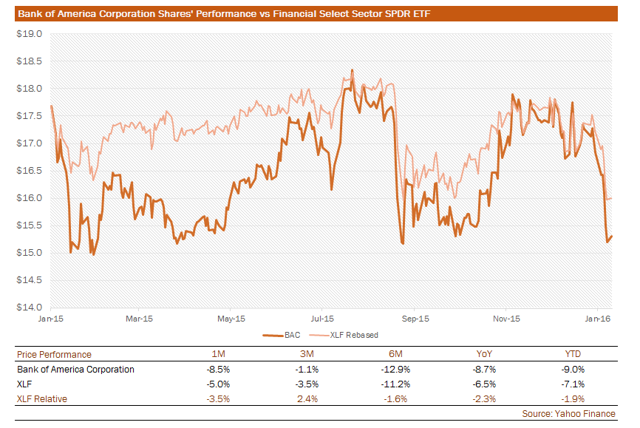 For the last couple of years, we have seen the commercial lending business growing in the whole banking system. Not surprisingly, for 9M 2015, BofA increased its total commercial loan book by 4% y/y as the commercial real estate led. The decrease in total loans, largely due to the $37 billion y/y decline in residential mortgages, and lower yields were somehow disappointing. Rising USD LIBOR rates on the expectations of a Fed rate hike during 4Q may result in an acceleration in NIM for BofA this quarter. Depending on the developments in the inflation expectations, margin improvement may continue in 2016. The management guides for a $4.5 billion increase in net interest income in the case of a 100 bps rise in the rates. The bank also has built a low cost deposit base that now provides a comfortable funding position. Therefore, we will be able to see a modest loan growth at least. Note that the bank is also currently well positioned against its 2017 liquidity coverage requirements. Overall, BofA is likely to manage a better interest income outlook.
On the fees and operational expenses side, BofA will probably keep things flat this year. More fixed income fee is to be offset by less prime brokerage. The equity sales and trading business might take a hit from Asian markets. Slowing down M&A activities also poses a risk for the outlook of the investment banking income. Card issuance in 3Q 2015 was strong at 1.3 million, which will lead to higher card income. I also am of the opinion that BofA will be able to keep expenses flat in 2016.
I think asset quality might be the most determining factor in the success of the bank this year. Considering that non-performing loans in the banking system are now at the lowest level since Q4 2007, one would expect those loans to see a rise in the following quarters. Some banks have already guided for deterioration in asset quality during the 3Q earnings calls, and hinted that the current performance was not sustainable.
BofA guides for stable asset quality performance with provisions for losses to be in the $800-900 million range over the course of next several quarters. Having analyzed the outstanding loan book of the bank, BAC seemed to show strong asset quality performance with the exception of residential mortgages and home equity where nearly all of the delinquent loans came from. The delinquent commercial loans corresponding to 0.26% of the total portfolio are in line with peers, and show that shrinking natural resources market is not a big threat even if the bank saw an increase in its criticized assets in 2Q 2015 driven by downgrades in oil and gas. This appeared to partially offset by some improvements in the rest of the commercial portfolio. BofA will probably record a y/y decline around 30% in its non-performing loans for 2015. We also have seen the average risk profile improving for credit cards and small business lending. Ultimately, I expect provisions to be in the targeted range.
To sum up, based on the assumptions above that include a widening NIM, modest loan growth, stable fees and expenses outlook, and no dramatic changes in credit quality, BofA, in my view, should record a RoAA of +0.90% this year, which was slightly below the long-term profitability target of 1% set by the management. This would correspond to +12% in RoATCE terms and lead a valuation 12.5x P/TBV given the current market conditions, or a stock price of $21 this year when 2016E TBV is estimated at $16.8. In the end, BofA looks very attractive with the current valuations.
Disclosure: I/we have no positions in any stocks mentioned, and no plans to initiate any positions within the next 72 hours.
I wrote this article myself, and it expresses my own opinions. I am not receiving compensation for it (other than from Seeking Alpha). I have no business relationship with any company whose stock is mentioned in this article.