Years of disinflation coupled with very low market expectations for future inflation have lulled many investors into a false sense of security that inflation can't happen in the U.S. Indeed, deflationary forces have recently been keeping a lid on inflation, including:
A strong USD, which pushes the price of imports down and makes domestically produced goods less competitive.
A fall in commodity prices, most notably in oil and gasoline, which has had an outsized negative impact on headline inflation, despite the fact that energy only makes up 8% of the Consumer Price Index (CPI).
These effects can be seen in the CPI inflation measure (Chart 1). Headline CPI fell from a healthy 2.0% as of June 2014 and stood at 0.4% as of November 2015. Along with the decline, we have seen a significant reduction in market-based inflation pricing. As of November 30, inflation expectations were just 1.3%, according to the 5-year Breakeven Inflation Rate.
We contend, however, that inflation is not dead.
Core inflation, which excludes energy and food, has remained relatively stable, but has notably begun to trend higher. As of November, the reading stood at 2.0%.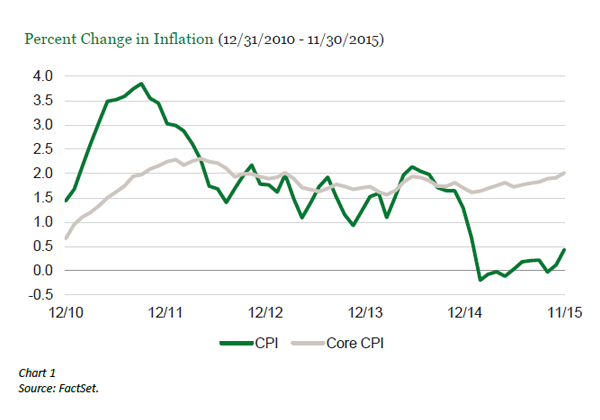 Decomposition of Core CPI (Chart 2) indicates that inflation is likely to accelerate as we progress through 2016. Services and Shelter - which make up the bulk of the basket at nearly 80% - continue to log healthy price increases year over year. Further, deflationary effects on these categories are minimal, as they are domestically oriented.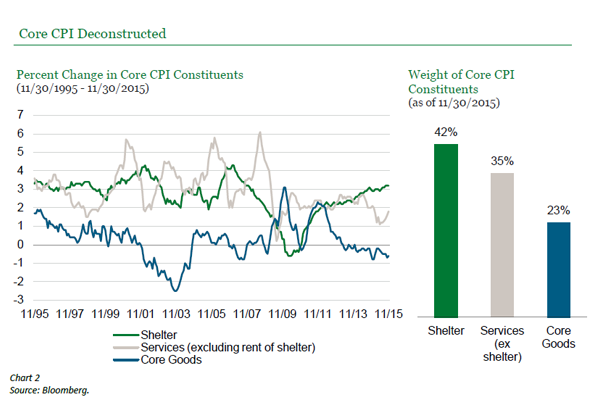 Conversely, the Goods component of Core CPI is currently deflationary, and is likely to remain so for the foreseeable future due to factors including competition and globalization. However, Goods is the smallest constituent of Core CPI (and only 19% of CPI).
Additionally, as labor markets continue to tighten, the upward pressure on wages should hasten, further advancing inflation. We are already starting to see anecdotal evidence that wage growth may advance at a meaningful pace. Various retailers and fast food chains have recently raised wages, and a number of industries such as construction and healthcare are facing a shortage of skilled workers, placing upward pressure on wages as well.
Along with anecdotal evidence, empirical signs of tightness suggest that precursors to wage growth are materializing. Some of the data we monitor, such as years of available labor supply, suggests that the supply of labor across the U.S. is tight. A majority of the demand-side data suggests the quantity of labor demanded is high, with demand itself increasing. Thus, upside surprise in wage pressure cannot be ruled out in the near-to-intermediate term.
Although we do not expect a significant acceleration in inflation, we argue that current inflation expectations are too low, meaning that a relatively small uptick in inflation could come as a surprise to many. We believe that the aforementioned inflation pressures building up in the economy will more than offset present deflationary forces. And as the base effect from the sharp decline in energy prices rolls off in the first quarter of 2016, we expect year-over-year headline CPI to move back toward its underlying trend of ~2%. Should a renewed plummet in commodity prices occur, it would delay a rebound in headline inflation, but it would not change the underlying upward trend of Core CPI.
In light of these dynamics, it is prudent that investors protect their portfolios against inflation risk, or the chance of lost purchasing power resulting from negative inflation-adjusted returns.
Treasury Inflation-Protected Securities (TIPS) are a common instrument for investors wanting to hedge inflation risk. The par value of a TIP security is tied to CPI, so the faster consumer prices rise, the higher the principal payout will be when the security matures. Since periodic payments are linked to face value, those will also adjust upward in an inflationary environment as the bond moves toward maturity.
Following further progression in the economic and market cycles, we recently purchased TIPS across the yield curve in various fixed-income and multi-asset class portfolios. This was amid our desire to modestly increase duration, preserve purchasing power, and/or replace securities that offered less attractive risk/return characteristics. Previously, we had little to no long-duration exposure. Overall, we maintain a moderate duration across our portfolios, which will enable us to reinvest into longer-dated securities as interest rates rise and they become more compelling.
We view a small position in TIPS as a reasonable inflation hedge, and heading into 2016, an increase in this position may be appropriate. Especially at a time when an upside inflation surprise is possible and insurance in the form of TIPS is attractively priced for investors with a long-term time horizon.