I recently got behind CSX Corporation (NASDAQ:CSX) back in April of 2015 with a buy call. The fact of the matter is that this is a long standing and impressive company. It reaches much of the business and industrial areas in the eastern part of the United States. In fact, its rail network connects every major city in the eastern United States and connects to over 200 short-line railroads and more than 70 ports. I liked it as a long-term bet because it was improving efficiencies and delivering. I had recommended the stock at $32.92. The stock had been a top performer in the sector despite falling. But now it is at $23.70, meaning it has fallen $9.22 per share, or 28%. This makes it one of my worst calls in the past year. After such a fall and with the markets looking shaky, some have quipped that the company is doomed. So what should you do here?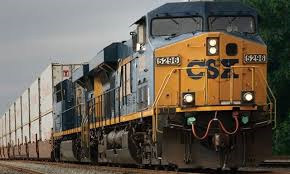 Source: mdot.Maryland.gov
To understand whether investors should hold onto CSX, we have to look at how the company is performing. The stock will ebb and flow, but we are in deep bear territory here. The stock trades right near its 52-week low. The fact is shares could go lower, but the company has actually been delivering. Wall Street is about expectations, though, and the Street is telling us for the last 6 months that it expects trouble for CSX. But why? Well, when CSX announced its Q3 earnings, it was dandy of a quarter with the company posting all-time quarterly financial results. That is saying something. Now the company is out with its Q4 earnings, and I have to say the results were about what I expected. No drastic misses, with the impact of low commodity price fears and the strong U.S dollar weighing.
The company narrowly missed on the top line with revenue coming in at $2.78 billion, which missed by just $80 million. However, it was down 12.9% year-over-year. That said, CSX saw Q4 2015 net earnings of $466 million, which was a 5% decline from the $491 million last year. This translates to earnings of $0.48, beating consensus estimates by $0.02. Thanks to the reduced share count on account of CSX's buyback program, earnings per share were down just $0.01 from the $0.49 in Q4 2014.
Now I think it is important to look at the revenue. Despite being down year-over-year, there were some pockets of growth. It also was helped by a more favorable pricing environment versus last year. But these were offset by lower fuel recovery and a shift in business mix that has been occurring throughout 2015. There was also a 6% volume decline. The strong US dollar of course hasn't helped many companies domestically, but the company saw broad growth across several of its markets. I was pleased to see expenses drop 13%. That is a major driver of the company's earnings beat estimates, in addition to the buyback program.
Expenses for fuel were significantly lower year-over-year and this is only a positive catalyst for the company, yet for the stock, anything remotely associated with oil has been punished. Given CSX is a transport stock, including for some energy companies, you can see why investors would be spooked. In fact, when combined with the company's existing cost-saving initiatives, it saw a bump in margins and improved operational efficiency. Because of this, CSX saw stronger than expected operating income of $791 million (but was down 12% year-over-year). That said, the all-important operating ratio came in at 71.6%, improving 20 basis points. This continues to be one of the lowest I have seen out of the company in years. That should have your attention. In fact, for all of 2015, the company's full-year operating ratio was 69.7%. This marks the first year in the company's history of a sub-70% operating ratio. That's impressive.
The fact is that the stronger the economy, the better the company does. The more it has to transport, the more it can effectively price. The economic recovery has been shaky and slow at best, but CSX has been running day in and day out. The decline in fuel prices has been a tremendous catalyst for the company in terms of expenses, but with a strong U.S. dollar and a questionable economy, there have been concerns. This led the stock to sell-off, and as expected revenues are down. So there is something to be said about the expectation game, but a near-30% decline seems steep. Given the improving efficiency and the generally strong earnings figures, CSX management has committed to continue to support its shareholders. In fact, you may recall that the CSX Board of Directors had recently approved an increase in the quarterly dividend and a new share repurchase program. The dividend is now $0.72 annually, or $0.18 per share per quarter. This translates to a nice healthy yield of 3.06%. The $2 billion buyback should help improve earnings and could accelerate the possibility of future dividend increases. In fact, the buyback clearly had an impact on this quarter's earnings.
Although this was a good quarter, the reality is that the headwinds are mounting. As such the company's guidance may seem weak, but also realistic. CSX expects to deliver mid-to-high single-digit earnings per share growth for 2015. That said, with low natural gas prices and high inventory levels continuing to reduce utility coal demand, I expect domestic coal volume to decline and coal weakness is likely to continue well into 2016. Further, for 2016 as a whole, the company expects earnings to come in below 2015 earnings. While that is not the best news, on the flip side, the company also expects meaningful margin expansion as it progresses towards a full-year operating ratio in the mid-60s longer term, while focusing on shareholder returns. With a 3.06% yield, I will maintain a long-term buy rating, but caution that the long haul can be longer than you think. Time buys wisely. I would not be a seller here.
Note from the author: Christopher F. Davis has been a leading contributor with Seeking Alpha since early 2012. If you like his material and want to see more, scroll to the top of the article and hit "follow." He also writes a lot of "breaking" articles that are time sensitive. If you would like to be among the first to be updated, be sure to check the box "Real-time alerts on this author" under "Follow."
Disclosure: I/we have no positions in any stocks mentioned, and no plans to initiate any positions within the next 72 hours.
I wrote this article myself, and it expresses my own opinions. I am not receiving compensation for it (other than from Seeking Alpha). I have no business relationship with any company whose stock is mentioned in this article.